Champion woman boxer knocks out hate in Central America
The term 'fighter for peace' takes on new meaning in the form of a five-time world boxing champion combating hate speech in cooperation with the United Nations.
"Knock out hate," declares Yokasta Valle who has suffered discrimination both for being a woman in a male-dominated sport and as a migrant who journeyed to Costa Rica from Nicaragua.
"Many of my colleagues told me that if they, as men, could not become champions, even less so could I as a woman," she says. "There is nothing that women cannot do. As I always tell the girls: take those speeches of hate and discrimination as fuel to achieve your goals and show the world that our capabilities are limitless."
Yokasta herself has done just that, transforming the discouragement she received throughout her career into energy to defy stereotypes and expectations.
"I started boxing when I was 13 years old, and there were always people who told me, 'You're never going to make it,'" she explains in an interview with UN News. "But those words just served as fuel for me to say, 'Okay, I'm going to show you otherwise."
She made good on that pledge, becoming the World Boxing Champion of the 105-pound weight class in both the International Boxing Federation and the World Boxing Organization.
"Yokasta Valle is one of the best athletes in the history of Costa Rica, and for the UN, it is an honor to work with a woman who has overcome great challenges, from adapting her life to a new country as a child, to facing discrimination and exclusion at different times in her life," says Allegra Baicochi, United Nations Resident Coordinator in the country.
As part of her advocacy against discrimination and hate speech, Yokasta met recently with the United Nations Special Adviser on the Prevention of Genocide, Alice Nderitu, who declares: "Yokasta Valle is not only a boxer in the ring but also a fighter for human rights."
The two found common ground in their shared struggle against discrimination. "She's a young, female boxer who is very strong in her field. She has a lot of wins, lots of titles. And she is originally from Nicaragua but moved to Costa Rica as a migrant and fought the odds that migrants fight," says Ms. Nderitu.
"Not only is she strong in the ring but she's also strong outside the ring," the Special Adviser continues. "She has a huge social media following and she talks about countering hate speech. What she says is really relatable because she speaks about how to counter hate speech against migrants."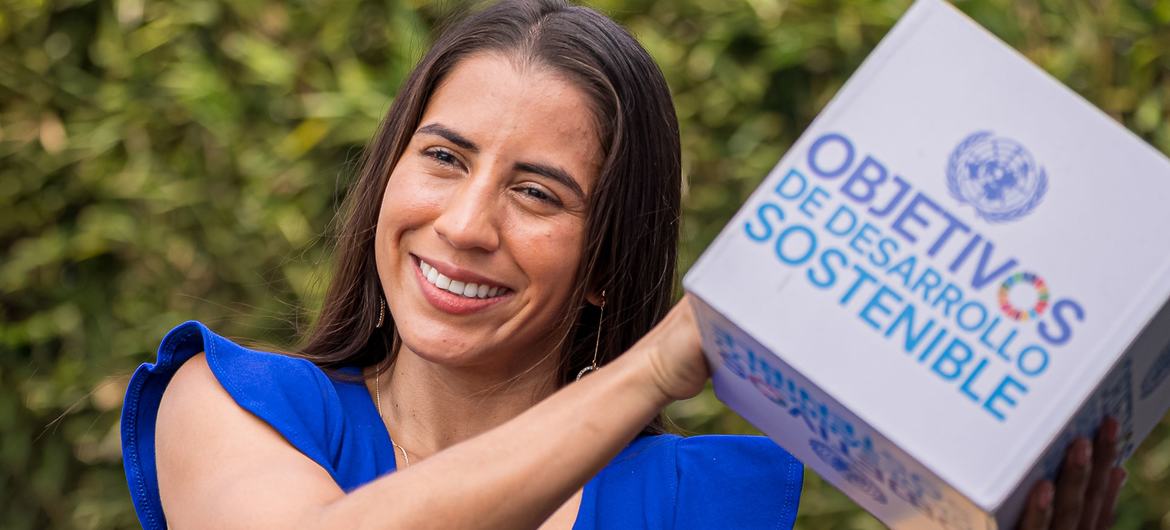 The Special Adviser praised Yokasta's messages not only on hate speech towards migrants but also gender discrimination. "She is a very strong human rights activist, and to see a strong human rights activist in a boxer, and also a very humble and nice person is a very, very good combination."
"I always suffered discrimination. First, for being a woman and for being a migrant from Nicaragua," recalls Yokasta. "There will always be people who tell you, 'This sport is not for women.' 'You don't represent Costa Rica, you represent Nicaragua. Go back to your country.'"
Yokasta understands that hate speech tends to spread on social media, so she advocates countering it. "The fact that a post contains hate speech and discrimination makes people
want to repost and comment," she observes. "You don't have to pay attention to everything you read and see. We have to see the reality of things."
On International Women's Day, March 8, the United Nations in Costa Rica announced Yokasta as its new Champion in an event held at United Nations House.
This distinction is awarded to individuals who serve as role models in areas such as sports and who promote human rights through their messages.
Yokasta expressed a strong resolve to live up to her new role. "Being a UN champion comes with enormous responsibility, and I am willing to assume it."
© UN News (2023) — All Rights ReservedOriginal source: UN News