Afghan girls' voices for education echo loudly through new global campaign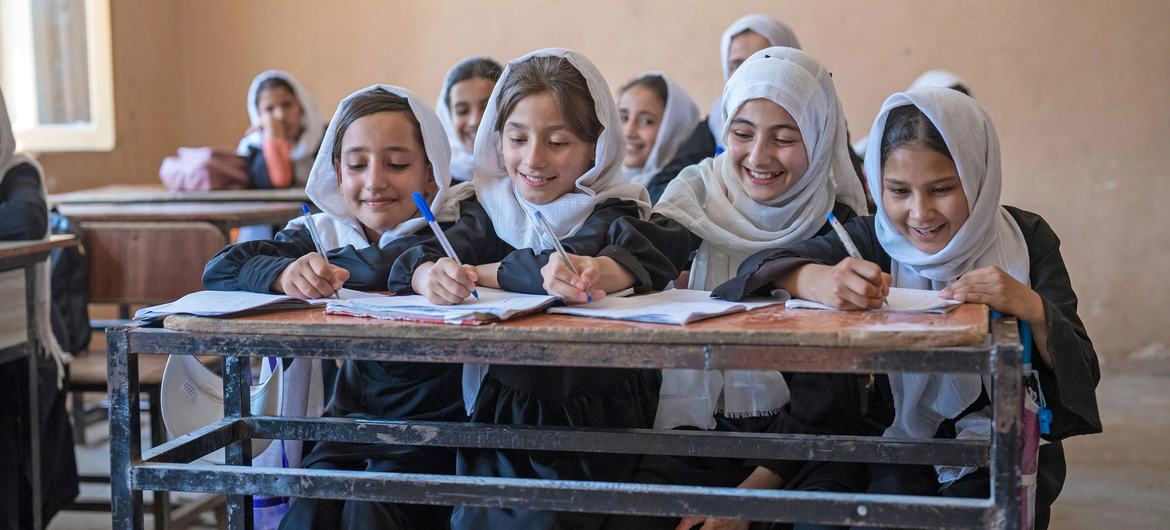 The UN fund that ensures children can continue learning during emergencies and protracted crises, Education Cannot Wait (ECW), launched a campaign on Tuesday to elevate the voices of young Afghan girls deprived of their basic right to education.
#AfghanGirlsVoices comes precisely two years after the de facto Taliban authorities seized control in Afghanistan and will continue until September 18, which marks the start of their official ban on school for adolescent girls.
Voices and visuals
The campaign was developed in collaboration with ECW Global Champion Somaya Faruqi, former captain of the Afghan Girls' Robotic Team, with compelling artwork by a young Afghan female artist.
It features a series of inspiring, heart-wrenching and determined testimonies from Afghan girls whose lives have been abruptly upended by the ban preventing them from pursuing their education and dreams.
Their powerful words are conveyed together with striking illustrations depicting both the profound despair experienced by these girls along with their incredible resilience and strength in the face of this unjust ban on their education.
"The courage of these girls in Afghanistan gives me the strength to use my own voice as an ECW Global Champion to amplify their voices to the world," said Ms. Faruqi.
"The situation is taking an immense toll on girl's mental health and rates of suicide for girls has gone up in the last two years. It's more urgent than ever to act now, and I hope that next year, we celebrate their freedom rather than mark their oppression," she added.
Worst situation globally
As per a recent report by UN experts, the condition of women and girls in Afghanistan is the 'worst globally'. The systematic curtailment of their human rights, coupled with the profound bias they face under the regime of the de facto Taliban authorities, could potentially qualify as "gender apartheid" and "gender persecution," the report said.
"The international community must hear this poignant call from the heart from Afghan girls and young women and mobilise in greater numbers and with renewed strength of purpose to condemn the violation of their rights," said UN Special Envoy for Global Education and Chair of ECW's High-Level Steering Group, Gordon Brown.
Call to action
Additionally, the campaign's timing will elevate the voices of Afghan girls onto the global stage, as world leaders gather at the UN General Assembly in New York for the Sustainable Development Goals (SDG) Summit on September 18-19.
"It is hard to think of anyone further left behind than the girls in Afghanistan who are being denied their most basic human rights, including their right to education, based solely on their gender," said ECW Executive Director Yasmine Sherif.
"We will continue to steadfastly advocate for the full resumption of their right to education in Afghanistan, and to work with our partners to deliver crucial learning opportunities to Afghan children through the community-based education programmes we support," she added.

© UN News (2023) — All Rights ReservedOriginal source: UN News