Halfway to 2030, world 'nowhere near' reaching Global Goals, UN warns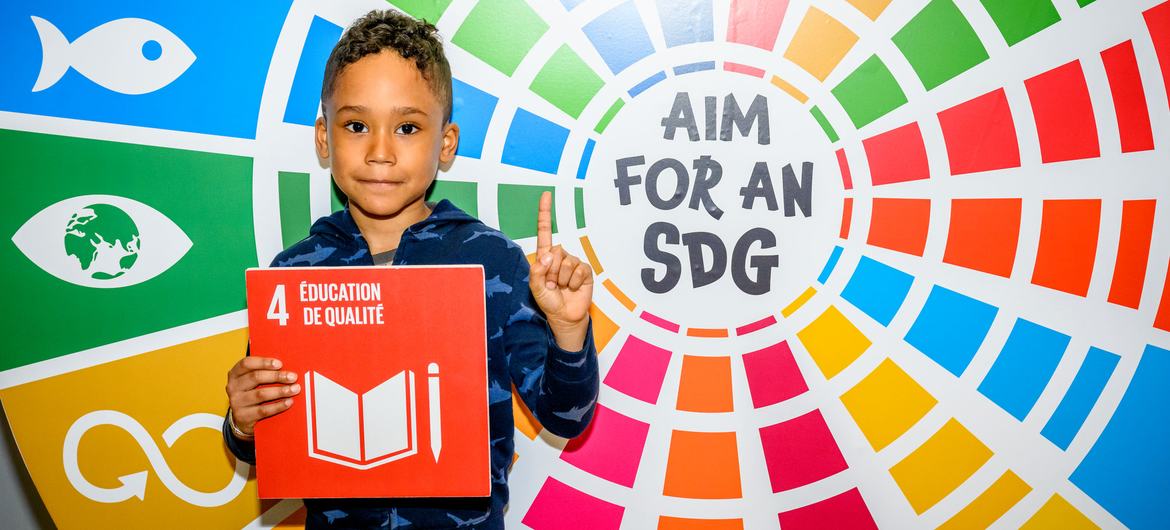 The world is "woefully off track" to achieve the Sustainable Development Goals (SDGs) by the 2030 deadline, top United Nations officials said on Monday, as ministers and policy makers gathered in New York to examine how countries can get back on track and make the transformative development agenda a reality.
UN Secretary-General António Guterressaid that while ambition, urgency and solidarity have been lacking to overcome the myriad challenges, many countries are now staring into "a financial abyss", strangling the resources needed to realize the 2030 Agenda for Sustainable Development.
"The annual SDG funding gap has risen from $2.5 trillion before the pandemic to an estimated $4.2 trillion [….] Governments are drowning in debt – with developing countries facing sky-high borrowing costs. And 52 nations are in default or close to it – with no effective system of debt relief in sight," he said.
Make 2023 count
Mr. Guterres called on countries to "make 2023 count" and to lay the foundations now for coordinated efforts to get the SDGs on track, referring to key meetings on food security, climate action, health, and sustainable development later this year.
He urged them to come to the SDG Summit, in September, with clear plans and pledges to strengthen action in their countries to 2030.
"We need ambitious national commitments and interventions to reduce poverty and inequality by 2027 and 2030. And clear policies, investment plans and partnerships to drive progress across major SDG transitions," the UN chief said.
"Above all, we need the SDG Summit to send a clear message from world leaders through a strong political declaration," he added, underscoring the need for civil society, businesses, and others "to throw their weight behind the goals" and strengthen "the global movement to deliver".
Good news and bad news
Also speaking on Monday, Lachezera Stoeva, President of the Economic and Social Council (ECOSOC), highlighted the importance of innovation, technology, and high-impact partnerships between governments, civil society, private sector and academia in driving "meaningful change".
"We are halfway to 2030 and yet nowhere near to achieving the SDGs. The bad news is we've lost seven years. The good news is, we still have seven years and victories is within our reach," she said.
Ms. Stoeva also underlined the need to tailor SDG implementation to local conditions and priorities, ensuring local governments and communities take ownership of the Goals, mobilize sufficient financial resources and attract investments.
They must also foster partnerships with a diverse range of stakeholders, including young people.
"Inclusion and participation are keys to successful SDG implementation," she highlighted.
Keep the promise
For his part, Csaba Kőrösi, President of the General Assembly, expressed hope that the SDG Summit will result in "supercharging and accelerating" implementation of the SDGs.
"The SDG Summit itself should breathe a new life into the sustainability transformation," he highlighted, urging all to be courageous, ambitious and focused on a peaceful, prosperous, and sustainable future.
"Let us keep the promise of the 2030 Agenda: the promise we have made to our eight billion stakeholders. Let us transform the world. Let us save the world," he concluded.
Central global platform for sustainable development
The High-Level Political Forum (HLPF) on Sustainable Development is the central global platform for follow-up and review of the 2030 Agenda and SDGs, the blueprint adopted in 2015 by all 193 United Nations Member States for peace and prosperity for people and the planet.
The HLPF is convened annually by the Economic and Social Council for about two weeks, including a ministerial segment of three days, to undertake a comprehensive review of select Sustainable Development Goals (SDGs). This year, the Forum reviews SDGs 6, 7, 9, 11 and 17. It also prepares for the SDG Summit, which will be held on 18 and 19 September 2023 in New York.
© UN News (2023) — All Rights ReservedOriginal source: UN News