During visit to Greece, UN official calls for enhanced refugee protection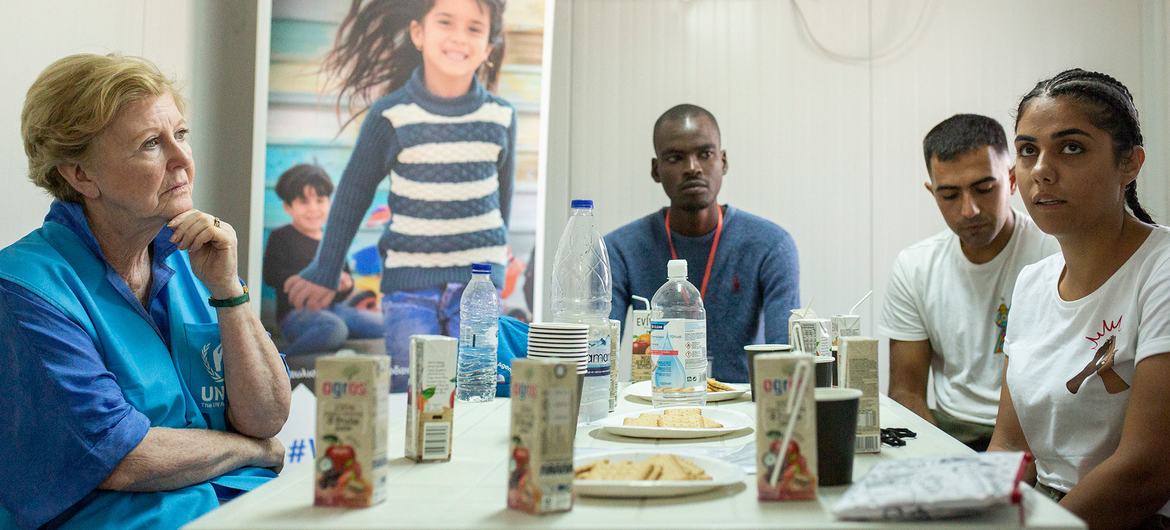 The Assistant High Commissioner for Protection with the UN Refugee Agency, UNHCR, Gillian Triggs, concluded a four-day visit to Greece on Friday, where she addressed several critical issues concerning refugees and asylum-seekers in the country.
During the visit, Ms. Triggs mentioned that one of the worst shipwrecks in the Mediterranean happened just over a month ago.
Protecting refugee rights
"The Pylos tragedy and the other devastating tragedies in the Mediterranean underscore the primacy of saving lives and protecting the rights of people forced to flee. This was my message to the authorities," she said.
She emphasized the criticality of safeguarding access to territory and asylum, ensuring a predictable and well-coordinated search-and-rescue system, and the need for responsibility-sharing and solidarity measures among States.
Ms. Triggs also raised concern about reports of summary forced returns, stressing the urgency of effective investigations and measures for prevention and remediation.
Noting that Greece and other countries at the external borders of the European Union (EU) face significant pressures in responding to irregular movements, she reiterated "the need to move towards a border and asylum management system that works for all States, while ensuring that those who seek asylum can access it and refugees are protected."
Safe pathways for refugees
Beyond the EU, she advocated for addressing the root causes and drivers of displacement through a routes-based approach and providing robust assistance to countries of origin and transit.
Ms. Triggs cited the establishment of the National Emergency Response Mechanism for Unaccompanied Minors as a best practice for the protection of children, and the relocation of unaccompanied children from Greece to various countries across Europe, as an example of responsibility-sharing in action.
She also highlighted the need for safe pathways and schemes for refugees and migrants to offer alternatives to the perilous journeys they often undertake.
Integration efforts in Greece
During her time in Greece, Triggs also visited a refugee centre and heard directly from asylum-seekers hosted there.
While efforts have been made to improve conditions, the centre remains a highly securitized environment, leading to difficulties for asylum-seekers and refugees, particularly in accessing crucial services like healthcare and psychological support.
Ms. Triggs also met with civil society organizations, discussing the essential services they provide and the difficulties they have.
She conveyed UNHCR's "praise for the dedication and hard work of NGOs in Greece" and renewed the agency's commitment to support civil society in its activities for the protection of refugees.
While appreciating Greece's efforts to enhance refugee integration in line with its National Integration Strategy, which enable 68,000 refugees to contribute to the communities hosting them, Triggs urged that these initiatives continue.
Such efforts include providing access to employment, addressing skills gaps, and streamlining documentation and procedural requirements for refugees.
© UN News (2023) — All Rights ReservedOriginal source: UN News