UN General Assembly adopts declaration to accelerate SDGs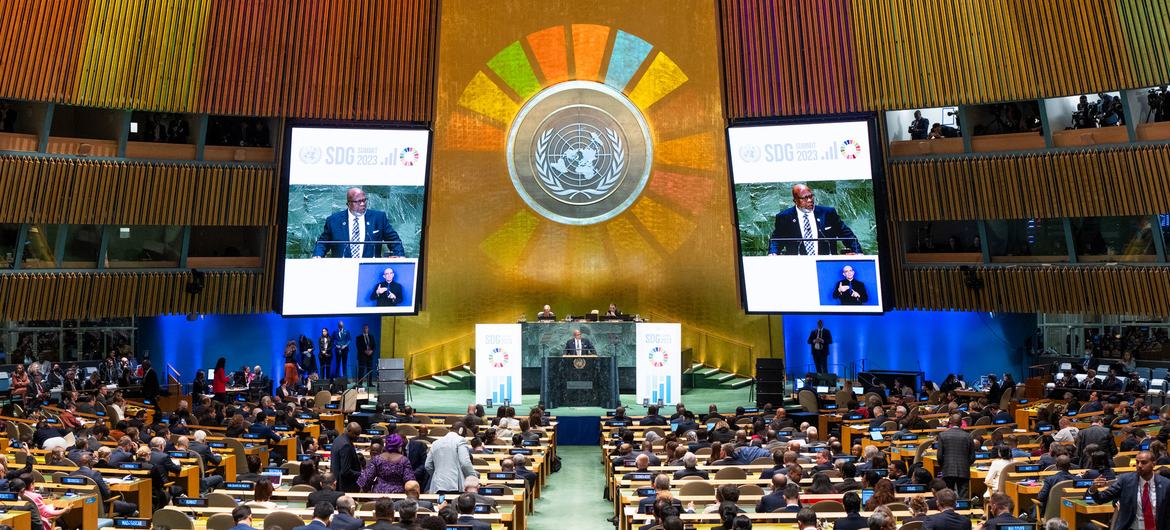 Now is the time for a global plan to rescue the Sustainable Development Goals (SDGs) which are woefully off-track halfway towards their 2030 deadline, UN Secretary-General António Guterres said on Monday in New York.
Mr. Guterres was speaking at the opening of a high-level forum at UN Headquarters where world leaders adopted a political declaration to accelerate action to achieve the 17 goals, which aim to drive economic prosperity and well-being for all people while protecting the environment.
"The SDGs aren't just a list of goals. They carry the hopes, dreams, rights and expectations of people everywhere," he said.
Going backwards
World leaders adopted the SDGs in 2015, promising to leave no one behind. The goals include ending extreme poverty and hunger, ensuring access to clean water and sanitation, as well as green energy, and providing quality universal education and lifelong learning opportunities.
Each goal contains targets, with 169 overall, but Mr. Guterres warned that currently only 15 per cent are on track, while many are going in reverse.
He said the political declaration "can be a game-changer in accelerating SDG progress."
It includes a commitment to financing for developing countries and clear support for his proposal for an SDG Stimulus of at least $500 billion annually, as well as an effective debt-relief mechanism.
It further calls for changing the business model of multilateral development banks to offer private finance at more affordable rates for developing countries, and endorses reform of the international finance architecture which he has labelled "outdated, dysfunctional and unfair."
Millions still starving
The UN chief highlighted the need for action in six critical areas, starting with addressing hunger, which he called "a shocking stain on humanity, and an epic human rights violation."
"It is an indictment of every one of us that millions of people are starving in this day and age," he added.
The Secretary-General said the transition to renewable energy isn't happening fast enough, while the benefits and opportunities of digitalization are not being spread widely enough.

Education cannot wait
At the same time, too many children and young people worldwide are victims of poor quality education, or no education at all, he continued, before shining a spotlight on the need for decent work and social protection.
Finally, he called for an end to the war on nature and "the triple planetary crisis" characterized by climate change, pollution and biodiversity loss.
Ensure gender equality
"Cutting across all of these transitions is the need to ensure full gender equality," he said. "It's long past time to end discrimination, ensure a place at every table for women and girls, and to end the scourge of gender-based violence. "
Mr. Guterres highlighted UN response to each area, including initiatives to transform global food systems so everyone can have access to a healthy diet.
Other efforts focus on boosting investment in the renewable energy transition, promoting internet access for all, creating 400 million new "decent jobs", and extending social protection to over four million people.
More to come on this developing story…
© UN News (2023) — All Rights ReservedOriginal source: UN News