UN upholds fight for a fairer world on anti-racism day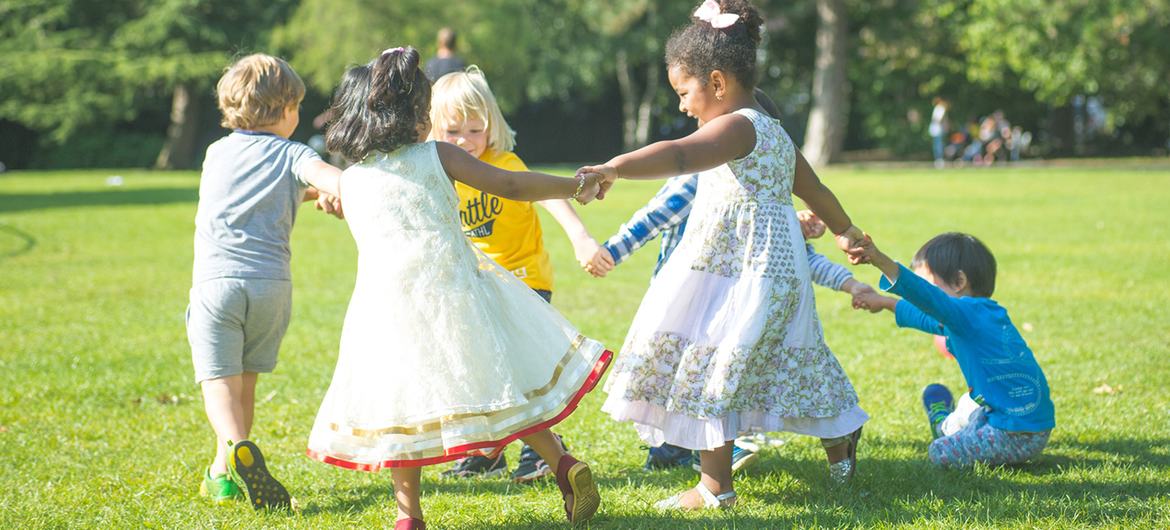 With xenophobia, prejudice, and hate speech on the rise, the UN community gathered in the General Assembly Hall on Wednesday to call for action to root out racism and discrimination across the world. 
The annual ceremony to mark the International Day for the Elimination of Racial Discrimination is held to remember the 21 March 1960 Sharpeville Massacre in apartheid South Africa. 
We gather today to celebrate the great work of those who have fought & who continue to combat all forms of racism & discrimination.

Let us learn from their lifelong commitment to justice, accountability, & peace.

Let us pledge ourselves to do the same.

UN_PGA
This year's commemoration also coincides with the 75th anniversary of the adoption of the Universal Declaration of Human Rights (UDHR). 
Harmful legacy 
Delivering opening remarks, General Assembly President Csaba Kőrösi underlined the need for "relentless efforts" to combat racism as the legacies of the racist systems of slavery, apartheid, and segregation still reverberate in communities, institutions, and "also in our minds". 
"Like a virus, racism mutates and adapts itself to different times and contexts. It is said that 'racism is like a Cadillac, there is a new model every year'. In fact, its manifestations and symptoms may change, but the breadth of its harm remains intact," he said.
Racism and hate speech are besieging societies from many directions, including through technology and online.
He said algorithms can perpetuate racial stereotypes and biases, while technology can be used to increase illegal surveillance and reinforce discriminatory practices. 
A fairer world 
Mr. Kőrösi urged countries to "work towards the fair and equal world that the UN was designed to foster". 
"We owe it to the Emmet Tills, the Malik Oussekines, the George Floyds of this world – to all those who have fallen prey to the man-made delusion that is racism," he said. 
"We owe it to the Marcus Garveys, the Rosa Parkses, the Mahatma Ghandis, the Rigoberta Menchu Tums, and the Nelson Mandelas of this world – to all those who have dedicated their lives to combatting discrimination and racial violence." 
'Playing with fire' 
UN Secretary-General António Guterres said every country is affected by racial discrimination, which he described as a deeply damaging and pervasive abuse of human rights and dignity. 
"When Governments and other authorities use racism and discrimination for political ends, they are playing with fire," he warned, noting that the resulting "conflagration of violence and atrocity crimes" has been reflected throughout history. 

Fight racism everywhere 
Mr. Guterres said he joined the UN Human Rights High Commissioner's call for all governments to adopt comprehensive, time-bound national action plans to combat racism and discrimination. 
The plans, which should be in place by December, should include anti-discrimination legislation and policies informed by evidence and data. 
The Secretary-General also outlined the UN's own initiatives to address racism within its ranks, which include appointing a Special Adviser who leads a team that is developing anti-racism training. 
"At the United Nations and around the world, we must turn the aspirations of the Universal Declaration into reality for all people, without distinction, exclusion, restriction, or preference based on race, colour, descent, or national or ethnic origin," he said. 
"In this anniversary year, let's work together to root out racism and racial discrimination and uphold the dignity and rights of all people, everywhere."  
No space for discrimination 
Around the world, too many people still face racial hatred or struggle against the shackles of racial violence and poverty, New York City Mayor Eric Adams told the gathering. 
"Discrimination has no borders," he said. "We see it in education. We see it in healthcare. We see it in climate change. We see it in access to clean water and healthy food." 
Mr. Adams took office in January 2022 and is only the second African American to serve as Mayor of "The Big Apple", home to UN Headquarters.  
He listed steps taken so far towards fighting racial discrimination in the city.  They include launching the Office for the Prevention of Hate Crimes, and promoting diversity through the 'Breaking Bread, Building Bonds' programme, which brings together people from different backgrounds to share a meal and conversation. 
"We are making progress, but we must keep climbing, as a city, a nation, and as an international community," Mr. Adams said. "In the year 2023, there is simply no space for race, gender, or sexual orientation discrimination anywhere in the world." 
More to follow on this story.
© UN News (2023) — All Rights ReservedOriginal source: UN News