Children forcibly separated from mothers at Syria's Al Hol, warns top rights expert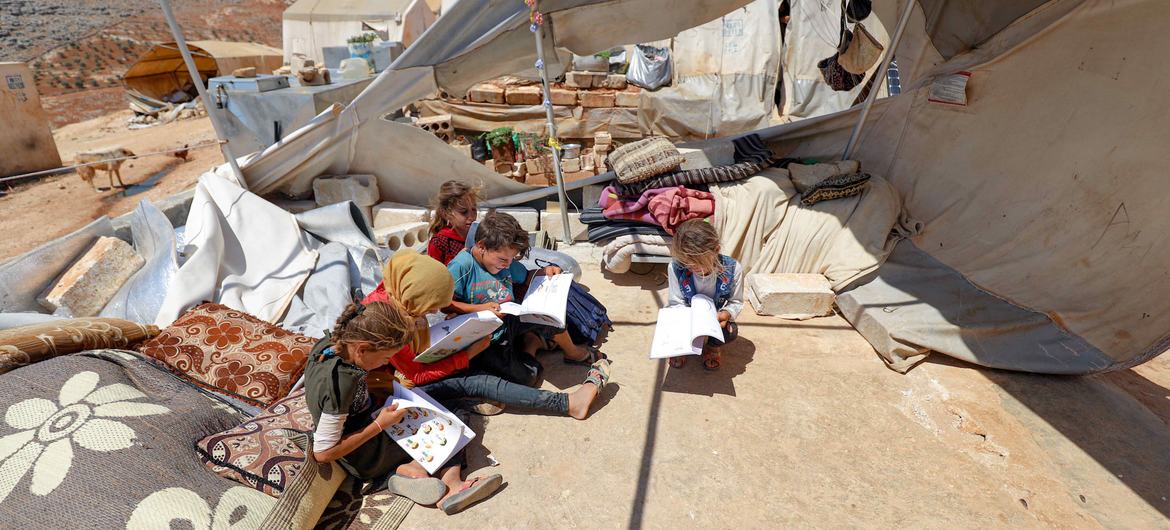 A UN-appointed independent expert expressed deep concern on Friday over the distressing treatment of children being held apparently indefinitely in prison-like conditions in northeast Syria, where they are forcibly separated from their mothers.
Fionnuala Ni Aolain, UN Special Rapporteur on the promotion and protection of human rights and fundamental freedoms while countering terrorism, is the first independent rights expert to gain access to the infamous facilities Al Hol and Al Raj, as well as other places of detention.
After her six-day visit to northeast Syria, Ms. Ni Aolain said conditions in both camps constituted arbitrary and indefinite mass detention with no prospect of legal or judicial process for those being held.
Reliable witness
"I was able to witness first-hand, including mass arbitrary detention of children, incommunicado detention, disappearances, structural and systematic discrimination for the detained person on the basis of their nationality," she told reporters.
The rights expert, who was appointed by the UN Human Rights Council in June 2017, said that she also witnessed the systematic practice of boys being separated from their mothers in the camps – "most frequently in the middle of the night or in the marketplace".
She added: "Every single woman I spoke to made clear that it was the snatching of their children that provided the most anxiety, the most suffering, the most psychological harm."
The policy is based on an unproven security risk that male children are said to present when they become adolescents.
Fear 'palpable'
"The fear of boys below 10 (of being taken away) is palpable," she recalled, after meeting large number of traumatised boys and their mothers.
Speaking in Geneva, the rights expert expressed alarm that violence and deep insecurity pervade the detention centres – where some 56,000 suspected extremists and families of alleged ISIL fighters are reportedly detained.
Eight in 10 are under 12, including "a two-year-old who's currently living in this facility, who doesn't get returned home and lives in a situation of mass, arbitrary detention throughout his or her life", she said.
Ms. Ní Aoláin also reiterated concerns around the practices of incommunicado detention and disappearances, including against children in the Gweiran Sina'a / Panorama prison, as well as a confirmed tuberculosis outbreak, exacerbating the health crisis in the facility.
Ms. Ní Aoláin's main concern was for the mass and indefinite detention of children which constitutes an "absolute contravention of international law in what appears to be a never-ending cycle of cradle to grave in detention".
Rare access
Visiting sites of detention in Qamishli, Gweiran, Al Hol and Al-Malikiyah, Ms. Ni Aolain insisted that meaningful access to places of detention was essential to ensure that serious human rights violations can be identified, reported and prevented - including in high-security sites.
The rights expert also raised concerns around the complete lack of access and oversight of the so-called "Annex" at Al Hol, where she reported seeing women who were visibly ill. The facility is home to thousands of third country nationals held for alleged security reasons.
"We cannot hold 10,000 people in a box where no one sees what happens to them and their children, it is fundamentally unacceptable by any measure of a civilised and humane treatment of persons in condition of detention," she said.
Repatriation plea
The UN Special Rapporteur appealed to the 57 countries whose nationals are detained in northeast Syria to live up to their fundamental human rights obligations by repatriating their nationals.
To date, 36 countries have repatriated Syria's third country nationals since 2019, but at current rates, it will take a minimum of 20 years before all detainees can go home.
Given that 77 per cent of those repatriated are women and children, the rights expert noted that most countries were not returning adult men - adding to further separation concerns.
Repatriation crucial
Repatriation was crucial for all those still held in northeast Syria, Ms. Ni Aolain continued, as they had been deprived "the fundamental capacity to live a dignified life in detention, including access to water, food and health care...All of these things undermine the right to life and make the return to countries of nationality absolutely imperative."
Warning about the likely future impact of inaction, Ms. Ni Aolain said that "anyone thinking about long-term security in this region - you are closing eyes to long-term security implications of holding children in these conditions."
Special Rapporteurs and other UN Human Rights Council-appointed rights experts, work on a voluntary and unpaid basis, are not UN staff, and work independently from any government or organisation.
© UN News (2023) — All Rights ReservedOriginal source: UN News