Ukraine: UN rights chief upholds need for justice one year after POW killings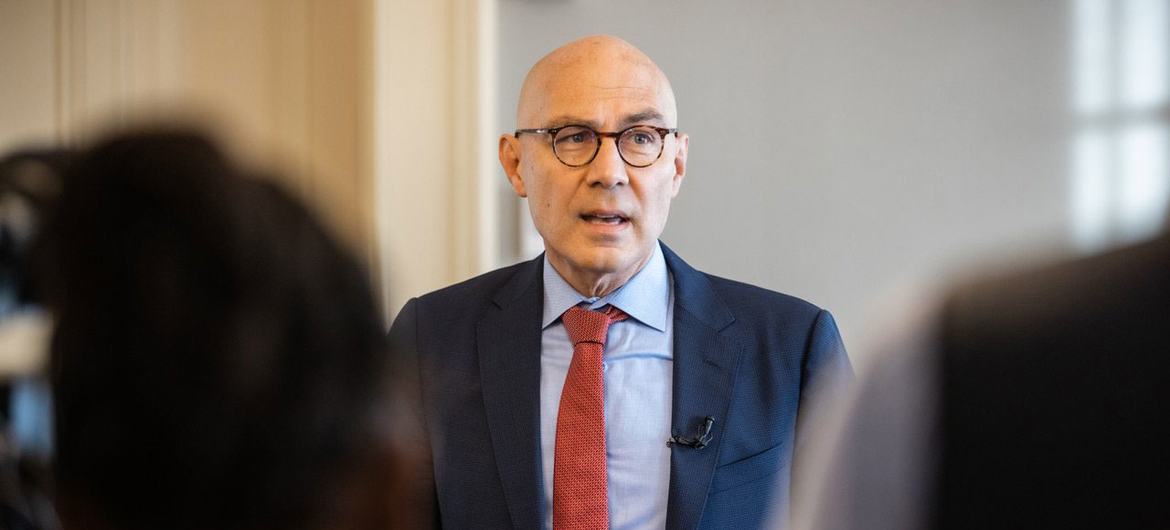 Nearly a year after at least 50 Ukrainian prisoners of war (POWs) were killed in a blast at a Russian-controlled detention facility, justice is still no closer to being served, UN High Commissioner for Human Rights Volker Türk said on Tuesday.
The "tragic killing" at the penal colony at Olenivka in the Donetsk region of Ukraine, under temporary Russian military control, occurred overnight on 28 July 2022.
Many of the POWs were Ukrainian soldiers who had surrendered at the stricken Azovstal steel plant in the city of Mariupol.
Appeal for justice
"The prisoners of war who were injured or died at Olenivka, and their family members, deserve the truth to be known, and for those responsible for breaches of international law to be held accountable," Mr. Türk said.
The human rights chief noted that staff from his Office, OHCHR, have met with the families of the victims and heard their pleas for truth and justice.
"Indeed, they have a right to truth, justice and reparations," he continued. "For all those impacted by this tragedy, we must do all we can to ensure justice is done."
No access for UN
Mr. Türk said Russia provided neither satisfactory assurances about secure access for the UN to visit the site, nor granted OHCHR requests to access areas of Ukraine under its temporary military control.
His Office, however, has been able to conduct extensive interviews with survivors and undertaken detailed analysis of available additional information, in line with OHCHR's established practice.
While the precise circumstances of the incident remain unclear, information available coupled with analysis has enabled OHCHR to conclude that the blast was not caused by a HIMARS rocket.
Prosecute the perpetrators
OHCHR said that based on the information available, it is not possible at this stage to establish the specific source of the explosion, or the exact direction from which a weapon may have been fired. OHCHR will continue to follow up on the incident.
"Prisoners of war are protected under international humanitarian law. Deaths or serious injury of POWs must be followed up by an official and thorough enquiry on the part of the Detaining Power," Mr. Türk said.
He stressed that any suspicion of criminal conduct must be promptly, thoroughly, independently, impartially and transparently investigated, and those responsible should be prosecuted.
Mines at nuclear plant
Meanwhile, experts from the International Atomic Energy Agency (IAEA) have reported seeing anti-personnel mines around the site of the Zaporizhzhya Nuclear Power Plant (ZNPP) in southern Ukraine, the UN nuclear watchdog said on Monday.
IAEA experts have been stationed at Europe's largest nuclear plant, which has been under Russian control since early in the war. Ukrainian staff remain in place.
During an inspection on Sunday, the IAEA team saw some mines located in a buffer zone between the plant's internal and external perimeter barriers.
They were in an area restricted to operating personnel and were facing away from the site. No mines were observed within the inner site perimeter.
The experts were "told that it is a military decision, and in an area controlled by military," said IAEA Director General Rafael Mariano Grossi.
"But having such explosives on the site is inconsistent with the IAEA safety standards and nuclear security guidance and creates additional psychological pressure on plant staff – even if the IAEA's initial assessment based on its own observations and the plant's clarifications is that any detonation of these mines should not affect the site's nuclear safety and security systems," he said.
© UN News (2023) — All Rights ReservedOriginal source: UN News