WHO hails Mauritius, Netherlands for tobacco control measures but global risks remain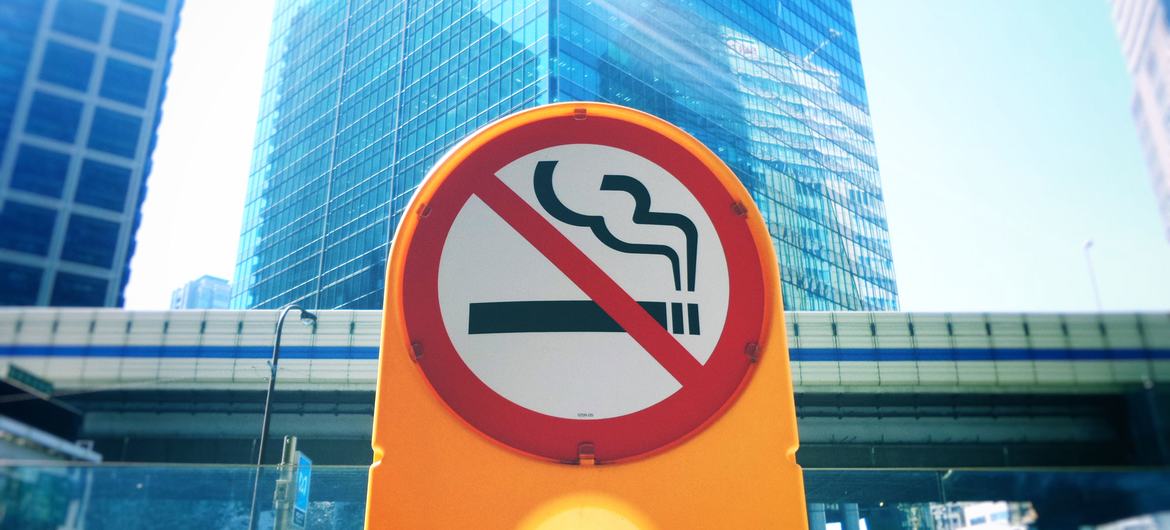 Despite the welcome news that more than seven in 10 people on the planet – 5.6 billion - are now protected by measures to curb the dangers of tobacco smoke, 8.7 million people still die from tobacco-related diseases every year, the UN World Health Organization (WHO) said on Monday.
Hailing Mauritius and the Netherlands for implementing all of the UN health agency's MPOWER tobacco control measures - a feat matched to date only by only Brazil and Türkiye - the WHO said that 2.3 billion people in 44 countries remain unprotected by tobacco control measures, exposing them to sickness and the economic burden of addiction.
In 53 countries, complete smoking bans are still not in place in healthcare facilities, the UN agency warned in a new report, despite the fact that tobacco use "continues to be one of the biggest public health threats", with a staggering 1.3 million deaths annually from passive smoking alone.
Tedros appeal
Leading calls for greater efforts to restrict tobacco use, WHO Director-General Tedros Adhanom Ghebreyesus said that progress was being "undermined" by the aggressive promotion of e-cigarettes as a safer alternative to cigarettes.
"Young people, including those who never previously smoked, are a particular target," he said. "In fact, e-cigarettes are harmful to both the people using them and those around them, especially when used indoors."
Although new WHO data indicates that the percentage of people who smoke has declined, challenges remain in regulating e-cigarettes and other heated tobacco items, the UN agency said.
"Some products are modifiable by the user so that nicotine concentration and risk levels are difficult to regulate," said Dr Rüdiger Krech, WHO Director, Department of Health Promotion.
"Others are marketed as 'nicotine-free' but, when tested, are often found to contain the addictive ingredient. Distinguishing the nicotine-containing products from the non-nicotine - or even from some tobacco-containing products - can be almost impossible. This is just one way the industry subverts and undermines tobacco control measures."
Taxing issue
In a bid to protect more people from tobacco, the UN health agency's MPOWER tobacco control measures offer advice on tackling passive smoking and on how to quit, along with warnings about the dangers of tobacco, information on bans on advertising, promotion and sponsorship and information about raising taxes on tobacco.
Other effective tobacco control recommendations include promoting smoke-free public spaces, so that people can breathe clean air and avoid "deadly" second-hand smoke, WHO said. The measure can also motivate people to quit, the UN agency said, while also helping to "denormalize" smoking and preventing young people from picking up the habit.
"Tobacco continues to be one of the top preventable causes of premature deaths and it is the only commercial product that kills half its users when used exactly as intended," said Tedros. "The past two decades provide us with rich lessons on how to address this global health threat – we must act now to save lives and stop the spread of this preventable killer."
In the last 15 years since WHO's MPOWER tobacco control measures were introduced, smoking rates have fallen, the UN agency said, estimating that the measures have resulted in 300 million fewer smokers in the world today.
According to UN health agency data, at least 151 countries are now covered by at least one of the WHO's MPOWER measures, but 44 countries have no cover at all. "It is crucial that tobacco control continues to be a global health priority," insisted Tedros.
Equally worrying is the WHO warning that children who use e-cigarettes and heated tobacco products are up to three times more likely to use tobacco products in the future.
Irrespective of countries' income levels, the UN health agency insisted that all governments could "drive down the demand for deadly tobacco, achieve major wins for public health and save economies billions of dollars in health care and productivity costs".
© UN News (2023) — All Rights ReservedOriginal source: UN News