UNHCR warns of deteriorating health conditions in Sudan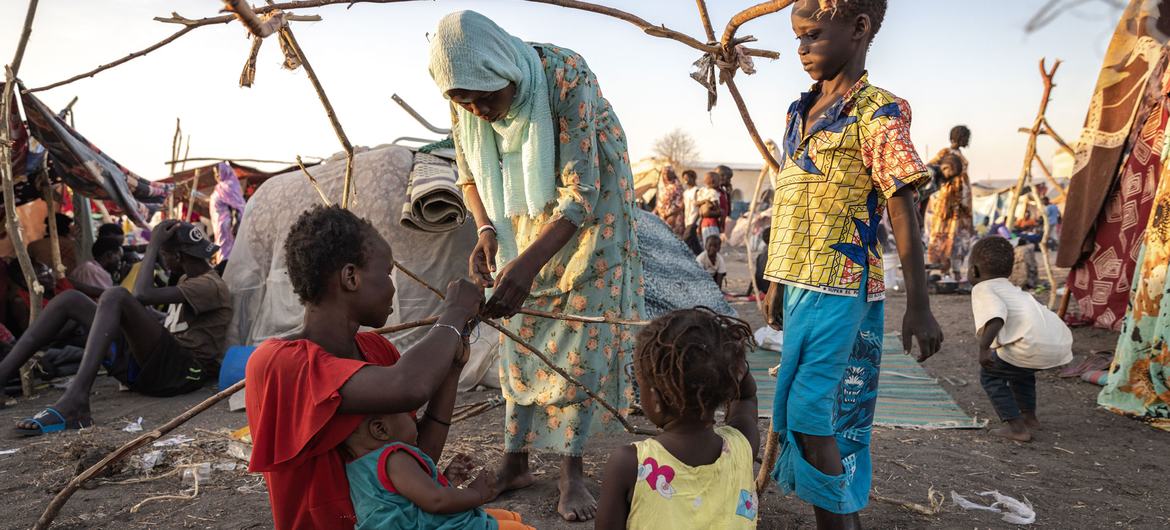 The UN refugee agency, UNHCR, issued a warning on Tuesday that health conditions are rapidly deteriorating in Sudan, where conflict has uprooted four million people.
"As many families have been on the move for weeks, with very little food and medicine, rising malnutrition rates, disease outbreaks and related deaths continue to be observed," the UN agency's William Spindler told journalists in Geneva on Tuesday.
Highlighting particular concern for conditions in refugee camps and transit centres, Mr. Spindler said that mental health services are virtually non-existent and medical supplies limited, as people continue to flee.
Chronic shortages in health staff, supply issues as well as attacks on personnel as reported by the World Health Organization (WHO), have also significantly compromised the quality of healthcare across the country.
Cholera and Malaria
UNHCR warned that cholera and malaria outbreaks are expected in coming months, amid heavy rains, flooding, inadequate health facilities and impeded humanitarian access.
Mr. Spindler said that UNHCR are worried about the impending situation.
"With the onset rains in the region, there has been quite a lot of flooding. This obviously makes the sanitation situation quite dire."
"The conditions in such a scenario are just unfortunately perfect for an outbreak of cholera and other such disease," agreed WHO spokesperson, Christian Lindmeier, emphasising that the health agency was pre-preparing for such a situation.
White Nile State
Specifically addressing the situation in White Nile State, Mr. Spindler said the lack of medicine and medical staff is seriously hampering the delivery of services for over 144,000 newly displaced people from the capital, Khartoum, across 10 refugee camps.
Analysis by UNHCR teams in White Nile shows that staff are stretched thin, with at least 70 patients per clinician per day - above what is medically recommended.
Healthcare services in danger
WHO have condemned the 53 attacks on healthcare facilities, as well as the recent attack on MSF staff in Khartoum in July, further compromising health security.
"The safety and sanctity of healthcare must be protected at all times, especially in situations of deadly violence, when the work of health care actors and safe access to life-saving services become even more vital," the agency said in a statement.
The WHO's Christian Lindmeier told journalists that there is also a lack of medical supplies in both places of active fighting and neighbouring areas, due to the sheer influx of newly displaced people.
"That is of course putting a burden on all states around and the surrounding region."
UN humanitarians have said that the situation in Sudan is "untenable" as needs outweigh what can be delivered with available resources. To date, the regional refugee response appeal is only 29 per cent funded.
According to the Federal Ministry of Health, over 12,000 people have been injured and over 1,200 dead since the start of the fighting. These figures have not been independently verified by the WHO and are only predictions.

© UN News (2023) — All Rights ReservedOriginal source: UN News