UN refugee agency concerned about situation at Mexico-US border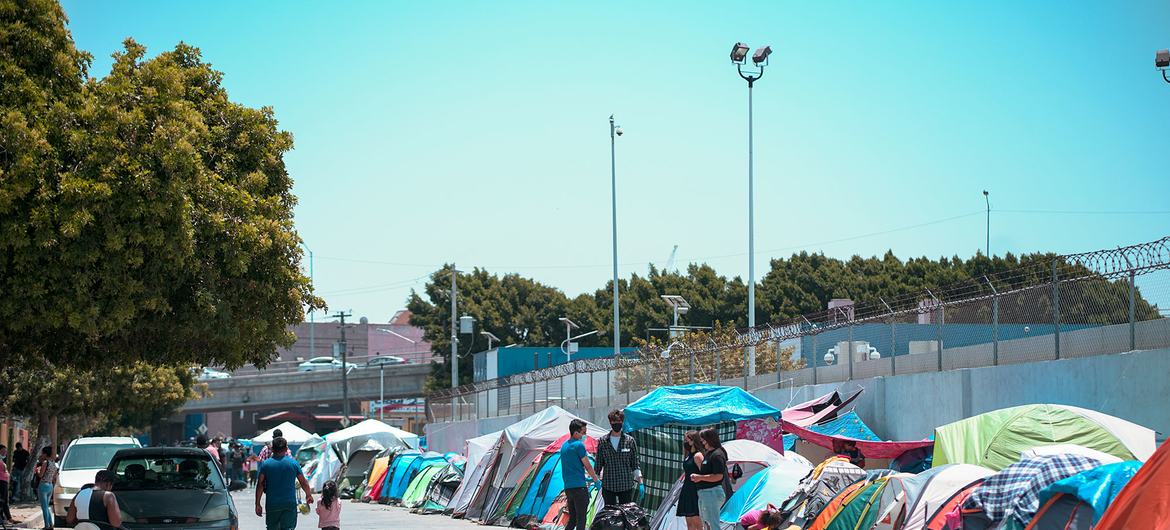 The UN Refugee Agency, UNHCR, voiced concern on Tuesday over the situation in Mexico, where refugees and migrants aspiring to get to the United States find themselves in cramped shelters, exposed to multiple risks.
At a press conference in Geneva, agency spokesman William Spindler pointed out that "the capacity to receive and provide assistance to refugees and migrants has been exceeded for months" in that border area.
"The humanitarian situation on the Mexican side of the US-Mexico border continues to be serious," he stressed, explaining that families with young children arrive there distraught and disoriented. Since shelters are almost always overcrowded, many people stay in tents in improvised camps that they set up next to the official shelters.
Assistance needed
Many of those arriving in the border area do not have access to the information that could help them make the right decisions about their options. There is a strong need for information services and legal support, the UNHCR official underscored. He added that medical attention, food assistance, shelter capacity, equipment at shelters, mental health and psychological support, as well as security, are of utmost importance there.
According to the Mexican government, in the last month there has been an increase in the flow of migrants in the country who are often transported in unsafe vehicles prone to accidents. Moreover, they sometimes travel along irregular and dangerous routes.
Asylum as a human right
Referring to the United States, the UNHCR spokesman recalled that access to safe territory for asylum seekers is a cornerstone of the 1951 Refugee Convention and refugee law, adding that governments must respect this international instrument to protect the rights and lives of refugees.
"Seeking for asylum is a human right," Mr. Spindler emphasized. He added that effective reception and processing systems at borders, including the southern border of the United States, are feasible and necessary to restore order, humanity and fairness.
The UNHCR, according to its spokesperson, is willing to work with the US authorities, as well as those of other countries, to continue seeking safe paths that asylum seekers can follow and to ensure that border and asylum measures and policies are in accordance with international refugee and human rights law.
© UN News (2023) — All Rights ReservedOriginal source: UN News