Peace our 'most fundamental job', says Guterres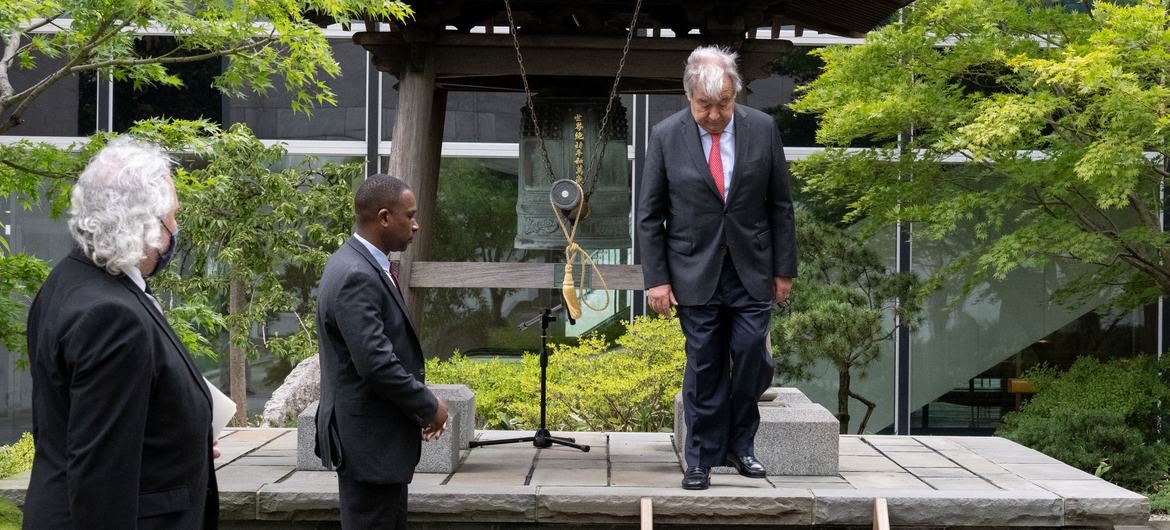 Today "peace is under assault" across communities, countries and regions, UN Secretary-General António Guterres said on Wednesday, underscoring the need for global solidarity and mutual trust.
Mr. Guterres made the appeal at a ceremony commemorating the International Day of Peace, which is observed annually on 21 September.
He emphasized the interconnectedness of peace with the wellbeing of both humanity and the environment and as a way of addressing challenges ranging from poverty and inequality to biodiversity loss.
'Push for peace'
"For people and planet alike, we can — and we must — push for peace," Mr. Guterres said.
Pushing for peace, he continued, encompassed not only preventing conflicts, but also addressing discrimination, supporting sustainable development and expanding opportunities for women and girls.
It also means accelerating the battle against climate change, ending the reliance on fossil fuels and adopting renewable energy.
"Now more than ever, we need global solidarity, collective action, commitment and mutual trust. Let us all pledge to be part of this push for peace."
Two sides of a coin
Dennis Francis, President of the 78th session of the General Assembly, also spoke, reiterating the importance of peace for sustainable development.
"We know that sustainable development – and sustainable peace – are two sides of the same coin, one cannot be realised without the other," he said.
Ahead of next week's annual General Debate, Mr. Francis urged everyone to recommit to the Sustainable Development Goals (SDGs).
"Let us recommit to a world where peace and security are a reality for all."
Bell rings out
The ceremony included traditional ringing of the Peace Bell, which was cast in the 1950s from coins and medals donated by people all over the world, including the Pope, as a symbol of hope for peace.
The Bell is rung twice a year: on the first day of spring, at the Vernal Equinox, and on 21 September to commemorate the International Day for Peace.
The Peace Bell also rang on other special occasions, such as on 26 April 2011 to mark 25 years of the devastating Chernobyl accident.
Remembering Dag Hammarskjöld
Also on Wednesday, Mr. Guterres paid tribute to former Secretary-General Dag Hammarskjöld on the 62nd anniversary of his death.
"Dag Hammarskjöld shaped our United Nations in innumerable ways – setting new standards of public service and launching our Organization on its active career as the custodian of world peace," Mr. Guterres said.
"His legacy endures, not as distant memory, but as a living guide for our shared mission.
"He recognized that the United Nations may be imperfect – but he knew it was indispensable. And he summoned us all to reach higher."
Mr. Hammarskjöld and others on board were killed in a plane crash, when their chartered DC6 aircraft crashed just after midnight on 17-18 September 1961, near Ndola (then Northern Rhodesia, now Zambia). A sole survivor of the accident succumbed to injuries a few days later.
A panel investigating the crash reported, in 2017, that it "appears plausible" that an external attack or threat may have led to the fatal crash.
The General Assembly in December 2022 decided to continue the search for answers and continue the official probe.
© UN News (2023) — All Rights ReservedOriginal source: UN News