Nigeria and Oil
Author and Page information
by Anup Shah
This page

last updated
To print all information (e.g. expanded side notes, shows alternative links), use the print version:
The Niger Delta in Nigeria has been the attention of environmentalists, human rights activists and fair trade advocates around the world. The trial and hanging of environmentalist Ken Saro-Wiwa and eight other members of the Ogoni ethnic minority made world-wide attention. So too did the non-violent protests of the Ogoni people. The activities of large oil corporations such as Mobil, Chevron, Shell, Elf, Agip etc have raised many concerns and criticisms.
A series of repressive and corrupt governments in Nigeria have been supported and maintained by western governments and oil corporations, keen on benefiting from the fossil fuels that can be exploited. As people and transnational oil corporations have been fighting over this dark nectar in the delta region, immense poverty and environmental destruction have resulted.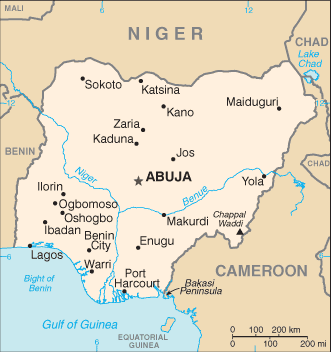 The Ogoni, Ijaw and other people in the Niger Delta, those who have been worse affected for decades have been trying to stand up for themselves, their environment and their basic human and economic rights.
The Nigerian government and the oil companies have responded by harshly cracking down on protestors.
Shell, for example, has even been criticized for trying to divide communities by paying off some members to disrupt non-violent protests.
According to Human Rights Watch, multinational oil companies are complicit in abuses committed by the Nigerian military and police.
An investigation and report by Essential Action and Global Exchange found that:
There have been many clear examples of corporate influence in the Nigerian military repressing the protestors. The military have been accused of thousands of killings, house/village burnings, intimidating people, torture and so on. From Shell's involvement in the killing of Ken Saro-Wiwa to Chevron-marked helicopters carrying Nigerian military that opened fire upon protestors, the corporations are facing harsh criticisms for the way they have been handling (or encouraging) the situation.
Criticisms abound about the way the oil companies have neglected the surrounding environment and health of the local communities. The Niger Delta is the richest area of biodiversity in Nigeria, but regular oil spills that are not cleaned up, blatant dumping of industrial waste and promises of development projects which are not followed through, have all added to the increasing environmental and health problems.
The latest government has tried to be more democratic and open, which provides hope. However, there are still a number of problems to be solved, including corruption and religious tensions between Muslims and Christians. There were riots and killings, for example, at Muslim calls for imposition of Sharia, Islamic criminal law.
For more information, the following are good places to start:
Author and Page Information
by Anup Shah
Created:
Last updated: