Iran: Executions and detentions in spotlight at Human Rights Council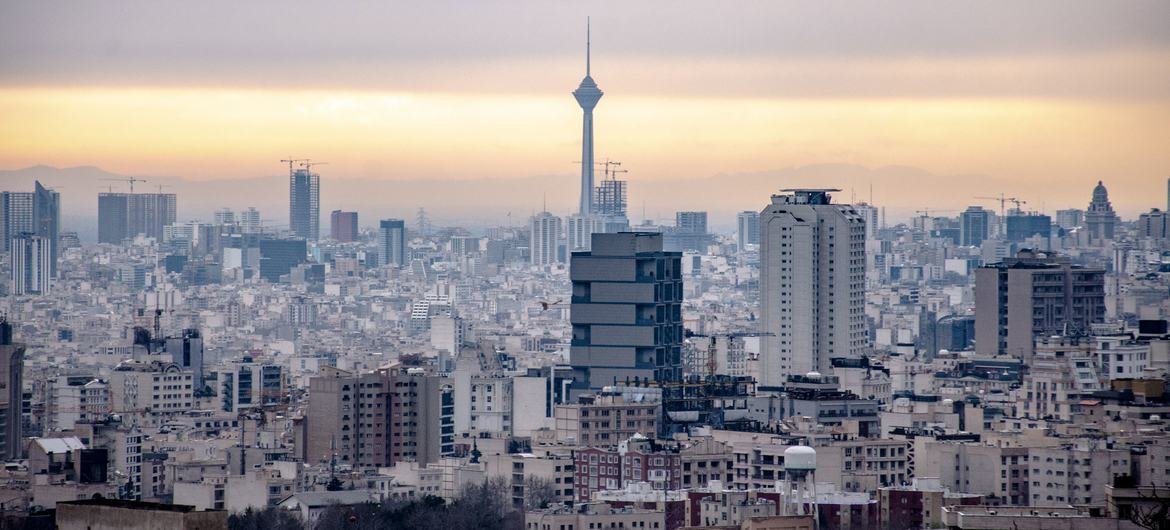 Iran faced calls on Wednesday from top UN-appointed rights investigators to halt the executions of people sentenced to death in connection with anti-Government demonstrations that have continued since the death in custody of Mahsa Amini last September.
"We have expressed concerns" over the investigation into her death, said Viviana Krsticevic, a member of the Fact-Finding Mission on Iran, speaking at a press conference in Geneva: "in particular over the fact that today her family's right to truth and justice remains unfulfilled".
She added that the investigations had "fallen short of international human rights norms, and, moreover, efforts to shed light on the circumstances of her death have been hindered."
Earlier, the Fact-Finding Mission told the Human Rights Council's 47 Member States that the overall human rights situation in Iran risked deteriorating further amid reports that new legislation is being considered, that proposes harsher punishments on women and girls not wearing their veil according to strict rules.
The death of 22-year-old Ms. Amini after her arrest by Iran's so-called morality police sparked mass protests across the country – and condemnation from independent UN human rights experts, who called her a victim of "Iran's sustained repression and systematic discrimination against women".
'Forced veiling'
"We have identified major risks of further erosion of women's and girls' rights in Iran", said Ms. Krsticevic. "We have expressed concern about the continuous repression of women and girls opposing forced veiling and their reported use of facial recognition technologies to identify and arrest them."
The rights expert also pointed to information indicating students were being suspended from classes, "or banned from dormitories for their defiance of the compulsory veiling law".
Echoing concerns about the proposed use of flogging for those defying compulsory veiling rules, Sara Hossein, Chair of the Fact-Finding Mission, said some of the penalties were "clearly what would constitute inhuman punishment under international law".
The Fact-Finding Mission – established by the Human Rights Council in November 2022 - is also investigating whether alleged poisonings of girls in schools have been orchestrated as a way to punish or deter girls for their involvement in the protests.
"Just two months after the protests occurred, a series of alleged poisonings started in dozens of schools in 28 provinces", said Ms. Krsticevic. "Reports said this may have been may have been orchestrated to punish girls or to turn them from involvement in the protests and are being duly investigated in the framework of our mandate."
Ten months after Ms. Amini's death, no official data has been made publicly available regarding those arrested, detained, charged or convicted in connection with the protests, the experts said.
But reports continue to emerge of arrests and detentions, including women and girls defying the country's forced veiling law and of family members being harassed.
"The aftermath of those protests in the form of intimidation of families and of reprisals continue unabated," said Shaheen Sardar Ali, member of the Fact-Finding Mission.
She added that according to the Iranian authorities, 22,000 people had been pardoned in connection with the protests.
"This suggests that many more were detained or charged. Unfortunately, no disaggregated data exists on the nature of the accusations against these people or on those convicted, still detained or charged for their involvement in the protests."
Those involved in the protests reportedly continue to suffer harsh punishments, including for exercising rights protected under international human rights law, the experts said.
This is despite concerns over a lack transparency in legal proceedings and failure to meet basic fair trial and due process guarantees under international human rights law.
Death penalty surge
"Since November 2022, at least 26 individuals have reportedly been sentenced to death in connection with the protests and dozens more have been charged with offences carrying the death penalty," said Ms. Sardar Ali.
"Seven men have already been executed following these proceedings marred by serious allegations of fair trial violations, including confessions extracted under torture."
To date, the Fact-Finding Mission has sent seven letters to the Iranian Government, including repeated requests for a visit to the country to gather information critical to its investigations, which have yet to be answered.
The experts met the lead Iranian officials on Tuesday, who have been appointed to the Government's Special Committee investigating the protests.
The Fact-Finding Mission is preparing a comprehensive report on its findings to the Human Rights Council for its 55th session in March 2024.
Replying in the Council on Wednesday, Iran refuted the allegations made in the report of a disproportionate response by security forces to the protests.
© UN News (2023) — All Rights ReservedOriginal source: UN News