UNHCR, IOM outline new approach to assist growing number of migrants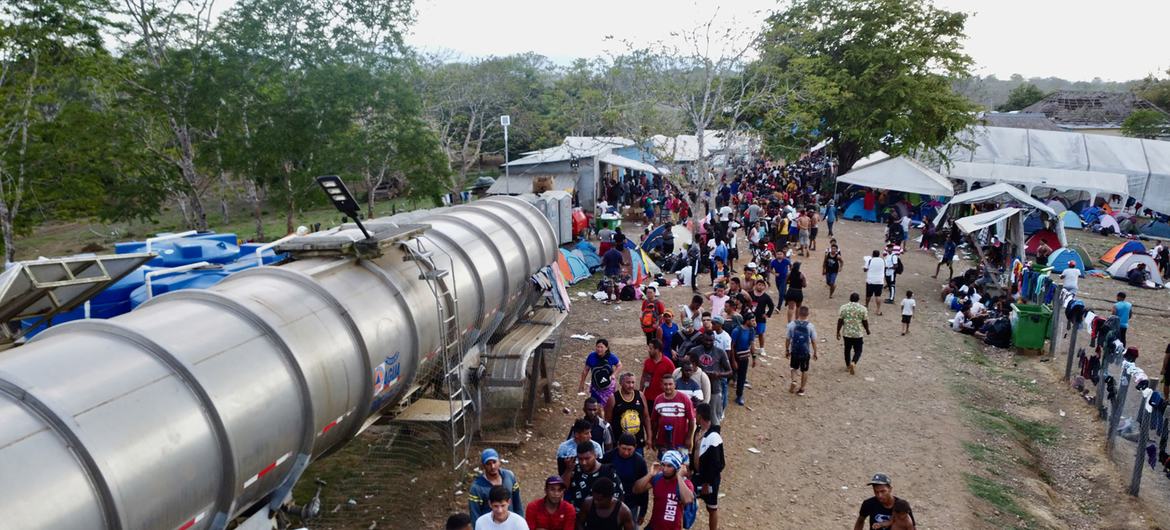 In a world characterised by economic crises, conflicts, and natural disasters, the uptick in migration is proving to be one of the most important geopolitical phenomena of the century. The adverse effects of climate change and environmental degradation are increasingly driving people from their homes.
The International Conference on Development and Migration, held on Monday, brought together several UN agencies and representatives from multiple countries involved in managing migration flows to address challenges such as irregular migration and forced international displacement.
'Complex challenges'
"Forced displacement and mixed movements are complex challenges for all: countries of origin, countries of transit and countries of destination," said UNHCR High Commissioner, Filippo Grandi.
"Addressing them requires international cooperation, resources, and patient work because there are many and overlapping reasons people move – violence, conflict, persecution for some; climate change, bad governance, lack of economic opportunities for others."
UNHCR advocated for an updated "whole-of-route" approach to address mixed flows of refugees and migrants, taking into account the entire spectrum of situations people find themselves in.
The first point of the new approach is to ensure that access to territory for asylum seekers must be respected as a fundamental human right and an obligation of States everywhere.
"Pushbacks and collective expulsions, especially to places and situations that are unsafe, are never acceptable," said Mr. Grandi
For those not in need of international protection, safe, sustainable, and dignified returns to countries of origin are critical.
The new approach also stipulates that saving lives must remain the top priority for governments everywhere, both at sea and on land.
Increasing investment
The International Organization for Migration (IOM) emphasised the importance of continued investment in managing the growing numbers.
"Last year, natural disasters displaced 32.6 million people: 7.5 million in sub-Saharan Africa alone. But this is just the beginning. The UN Framework Convention on Climate Change (UNFCCC) estimates that more than 300 million people live in communities that are extremely vulnerable to climate change," said IOM incoming chief, Amy Pope.
"No government or international organisation can do this work alone. We need to invest in partnerships in all sectors of society, we need the private sector to invest, recognising that they benefit from good migration management, and we need the support of civil society," she added.
Economic incentives
Migration, if properly managed, can contribute to the development of all countries – whether host, source, or transit – involved in this phenomenon, and societies at all levels, say the lead UN agencies on the issue.
"Evidence shows that well-managed migration spurs economic development. Considering the demographic trends and the changing global labour market, we must start now to create more comprehensive, inclusive, and strategic migration solutions and integrate more strategic and humane mobility policies into regional and national adaptation plans," said Ms. Pope.
Safer alternatives
The new approach also highlights how expanding legal migration channels like family reunification, resettlement, scholarships, and other mechanisms that provide opportunities, will be crucial to providing safer alternatives to migrants.
Addressing the root causes of displacement is the final piece of the puzzle to ending the refugee crisis, as outlined in the new approach.
"All must do much more to address the climate emergency, promote good governance, invest in development, end conflict and persecution, and protect human rights," said Grandi.
"These efforts can only be strategic if they are collective, on the part of all States and institutions concerned. I hope this conference will – finally – encourage all to work together in this direction," he added.
© UN News (2023) — All Rights ReservedOriginal source: UN News