Record crossings of perilous Darién Gap underscores need for safe migration pathways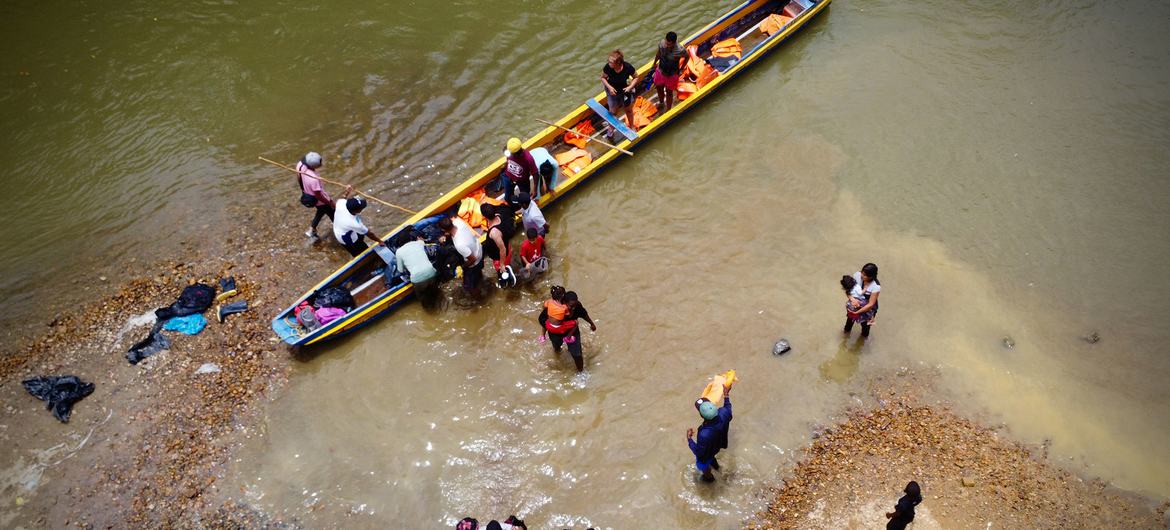 Record numbers of migrants are crossing the Darién jungle in Latin America in a desperate and perilous journey, including from as far off as Nepal and Afghanistan, UN agencies said on Wednesday, highlighting the urgency of finding safe and regular pathways.
Crossing the Darién jungle – on the border between Colombia and Panama – and its infamous and so-called Darién Gap, is an arduous undertaking, involving hikes over steep mountains, enduring torrential rain and fording swift rivers. Those on the move are also at risk of robbery and rape.
The dangerous journey speaks of not only the desperation but also the determination of those seeking a better life, or escaping violence and persecution, according (link in Spanish) to the UN International Organization for Migration (IOM).
It also highlights the urgent need for updating migration systems and a unified and human rights-based response to prevent future tragedies, said Michele Klein Solomon, IOM Regional Director for Central and North America and the Caribbean.
Last year's record matched
According to figures from the Government of Panama over 250,000 people crossed the jungle on foot in the first seven months of 2023, matching the total number for the whole of 2022, which was the highest annual figure recorded.
Among those crossing the jungle are individuals from Venezuela (55 per cent), Haiti (14 per cent), and Ecuador (14 per cent), as well as individuals from Colombia, Peru and children of Haitian parents born in Chile and Brazil.
There are also people from as far off as China, Afghanistan and Nepal, which is almost 10,000 miles, or 16,000 kilometres, away.
Need for collaborative approach
IOM and the Office of the UN High Commissioner for Refugees (UNHCR) are working with national authorities, host communities and other organizations to provide humanitarian and protection assistance.
José Samaniego, UNHCR Regional Director, said that UN agencies are stepping up their activities to address the urgent needs of refugees and migrants, especially critical support in areas such as food, shelter and medical care.
At the same time a collaborative, comprehensive and regional approach is required to better respond to humanitarian and protection needs of people on the move in Latin America and the Caribbean, the UN agencies urged.
© UN News (2023) — All Rights ReservedOriginal source: UN News