UN rights chief concludes visit to Iraq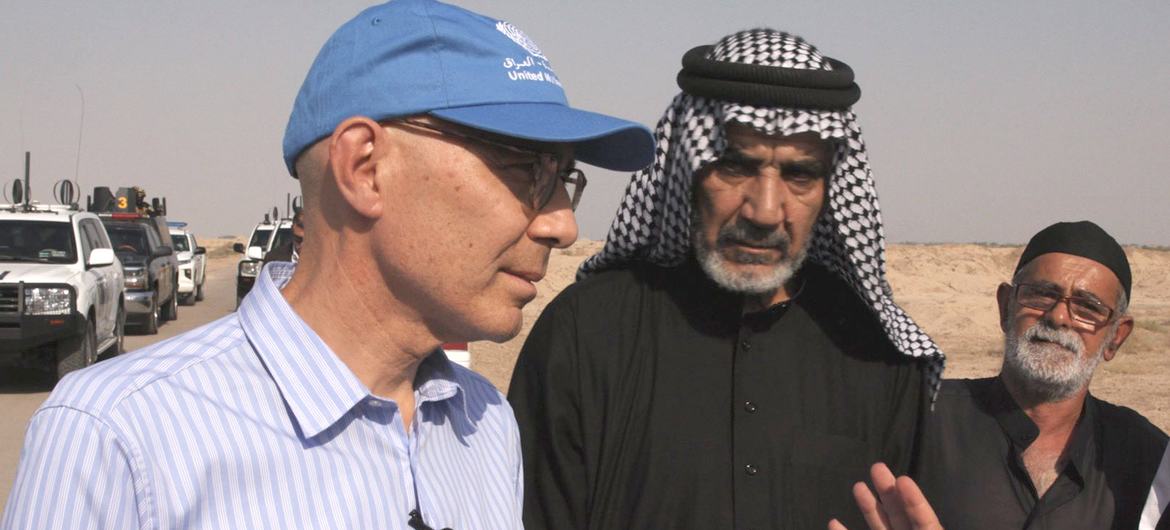 The UN rights chief concluded his first ever visit to Iraq, where he highlighted pressing human rights concerns, climate change impacts, and the need for reforms. He also called for the country's leaders to be guided by the interests of the Iraqi people in addressing the challenges they face.
Climate change crisis
Speaking at the end of his four-day visit on Wednesday, UN High Commissioner for Human Rights Volker Türk provided a first-hand account of the impact of climate change in Basra, in the country's south.
"In 50-degree-Celsius heat, in the midst of drought-ridden and barren fields, local community leaders and representatives showed me pictures of the lush date palm trees that – just 30 years ago – lined parts of the now dried-up Shatt-al-Arab waterway," he said.
"Standing in searing heat in that scarred landscape, breathing air polluted by the many gas flares dotting the region, it was clear to me that the era of global boiling has indeed begun."
Civil society representatives also highlighted the pollution problem in Basra and called for transparency about the health and environmental impacts, Mr. Türk said.
He also took note of the Government's commitment to address climate change impacts, and urged authorities to ensure meaningful involvement of those affected and respect for freedom of expression.
Human rights concerns
Furthermore, Mr. Türk stressed the need for a comprehensive response to Iraq's historical challenges, including enforced disappearances, torture, and other rights violations under the regime of Saddam Hussein, between 2014 and 2017 when Da'esh took control of vast swathes of Iraqi territory, and since then.
"Key to stopping such serious human rights violations is putting an end to the impunity that past perpetrators of human rights violations have enjoyed," he said, noting that this was a matter he discussed extensively with the Government and civil society.
He also took note of the Government's fact-finding committee and its support to victims through compensation programmes.
"Given the passage of time and lack of accountability, I have urged swift, transparent action to stem the impunity that has taken hold in relation to the Tishreen protests," Mr. Türk added, referring to the protests in October 2019 during which dissatisfaction with the then Government boiled over in the form of massive protests across Baghdad and the southern provinces.
The strengthening of judicial institutions, ratification of international conventions against torture, and a moratorium on the death penalty were also recommended.
Women's empowerment and gender equality
The High Commissioner highlighted the crucial role of women's empowerment and gender equality, and raised alarm over attempts to ban the use of these universally accepted terms as well as the threats and intimidation against women working on these issues.
"This makes no sense in the face of the massive challenges that the country has. The use of these terms is not in contradiction with any culture, religion or tradition," he stressed.
Mr. Türk welcomed the 25 per cent quota for women in Iraq's legislature and called for more women in decision-making positions, as well as more protections in law, policy and society against violence against women.
He called on leaders across society to cease the "politics of distraction".
"Human rights must not be instrumentalized to divide us – human rights are what unites us, what brings us together as humanity, in dignity," he said also warning them against the dangers of disinformation, hate speech and incitement to violence.
Recalling Canal Hotel bombing
In conclusion, the UN rights chief recalled the suicide bombing at the Canal Hotel in Baghdad 20 years ago, in which 22 UN staffers, including then High Commissioner for Human Rights Sérgio Vieira de Mello, were killed.
"These were colleagues who were in Iraq with a sincere desire to support and assist the Iraqi people in their aspirations for a better, more just future. I witnessed how these aspirations live on today," he said.
"I call on all those in positions of authority and influence to be guided by the interests and the human rights of the Iraqi people above all else and to tackle the corruption, discrimination, impunity, climate change and the remaining obstacles to lasting stability and peace," Mr. Türk concluded.
© UN News (2023) — All Rights ReservedOriginal source: UN News