Africa can become new global supply chain force: UNCTAD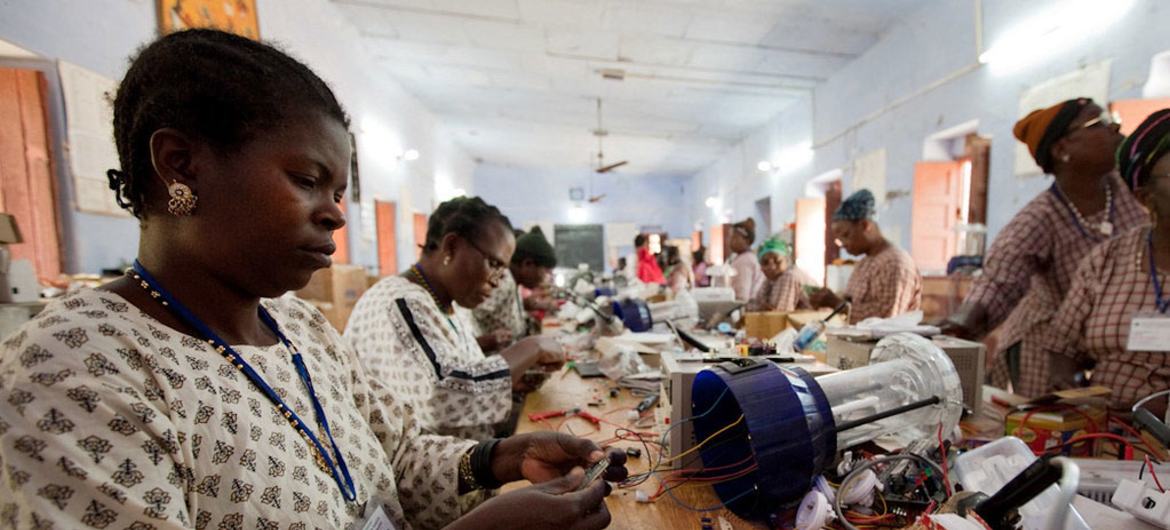 African economies should seize the opportunity to better integrate into technology-intensive global supply chains and boost prosperity, but this depends on their ability to harness key market and investment trends, the UN's trade and development body UNCTAD said on Wednesday.
In a new report, UNCTAD shows that Africa can become a major exporter of higher value-added goods, creating growth and jobs, and fuelling a rise in productivity and wages.
Launching the report in Nairobi, UNCTAD Secretary-General Rebeca Grynspan insisted it would offer a better future for the continent's economies.
Diversifying trade "builds resilience and enhances innovation", Ms. Grynspan said, adding that diversifaction was "key" for private sector development and employment opportunities for Africa's growing population.
Africa's competitive advantage
Ms. Grynspan highlighted three factors driving the "huge" opportunity for the continent. From a geopolitical point of view, countries and businesses are seeking to diversify their suppliers and thus reduce risk. Africa is well placed to tap into this trend, Ms. Grynspan said, which together with the African Continental Free Trade Area offers "great synergies" for participating in global supply chains.
Africa also has a unique advantage amid the rise of the renewable energy market, as it is a vital source of raw materials for technology-intensive industries – for instance lithium, essential to the production of electric car batteries. It has the possibility to become a destination for manufacturing and should seek to export more complex finished goods rather than just commodities, Ms. Grynspan said.
As for demographics, Africa boasts not only a dynamic, young workforce, but also a "burgeoning" middle class offering local consumer markets for hi-tech goods.
'Untapped potential'
The report analyses "untapped potential" for African countries to strengthen their position in the automobile, solar energy and pharmaceutical industries.
Encouragingly, Ms. Grynspan noted that Africa's tech ecosystem growth has already proven impressive, as "hubs in artificial intelligence, 3D printing, blockchain, fintech [financial technology] and e-commerce are thriving" in countries such as Kenya, fostering innovation and strengthening Africa's chance to capture technology-intensive global supply chains.
Higher wages and resilience
Creating an environment conducive to technology-intensive industries will raise wages, the UNCTAD chief said, underscoring that the average wage on the continent is $220 per month while in the Americas, in comparison, it is nearly $670.
According to UNCTAD, deeper integration into global supply chains would also diversify African economies, boosting their resilience to future shocks.
Attract investment
However, for this to happen, more investment will be needed, Ms. Grynspan said. The report highlights the fact that currently, only about two per cent of global investments in renewable energy go to Africa.
Paul Akiwumi, Director of UNCTAD's Division on Africa, Least Developed Countries and Special Programmes, said that in order to drive more large-scale private investment, regulatory barriers will have to be removed and regional industrial development plans put in place.
Mr. Akiwumi cited the example of a regional agreement between the Democratic Republic of the Congo and Zambia, allowing for the creation of an industrial zone for the production of electric car batteries. He also highlighted the importance of product registration and intellectual property in order to attract investors.
Urgent debt relief needed
Ms. Grynspan stressed that in order for Africa to be able to seize its competitive advantage, the continent's economies need debt relief to create fiscal space so that countries can invest in strengthening supply chains and in education for their workforce.
She recalled that African countries pay four times more for borrowing than the United States and eight times more than European nations, as shown in UNCTAD's recent "World of Debt" report.
'Change the rules'
"This must change if Africa is to achieve its full economic potential and be a major actor in global supply chains," the UNCTAD chief insisted, pledging the UN's unwavering support to nations across the continent.
Ms. Grynspan highlighted UN Secretary-General António Guterres' advocacy to "change the rules that reproduce these asymmetries" and fix the "distorted" perception of risk which international investors hold in relation to developing economies.
© UN News (2023) — All Rights ReservedOriginal source: UN News