Bridging troubled waters amid deluge, drought in the US
A global approach to tackle the ongoing water crisis is needed as vulnerable communities in the United States face historic deluge and drought - issues very much in the spotlight at the forthcoming UN-supported World Water Week.
A global approach to tackle the ongoing water crisis is needed as vulnerable communities in the United States face historic deluge and drought - issues very much in the spotlight at the forthcoming UN-supported World Water Week.
Traditional totems tower over the coastal village of Taholah in Washington state, home to the Quinault Indian Nation, an indigenous reservation.
Carved from cedar, the totems depict ancient customs, from fishing to canoeing, honouring the connection to their land and animals.
The village has itself become a totem in recent years for the impacts of a more modern threat in the US: climate change. Flooding caused by sea level rise and extreme weather is forcing this small community of 650 residents to relocate to higher ground from land they have inhabited for thousands of years.
Tsunami evacuations
Tsunami may not be a term commonly heard when discussing US weather systems, but for Quinault Councilman Ryan Hendricks, emergency drills were a habitual, if terrifying, part of his childhood.
"I have been through four tsunami evacuations here since I was a young boy," he said. "And the biggest worry, now that I have my own family, is that they come at nighttime. We have tsunami sirens that we're fortunate to have, but they say that they're good for about 10 to 15 minutes of evacuation time. That means no belongings, no pictures. You're happy just to walk away with your life."
Nation's largest effort to move climate-affected communities
In November 2022, the US Government granted $25 million each to three indigenous communities, including the Quinault. To date, this is one of the country's largest efforts to move communities in peril from the catastrophic impacts of climate change.
For the Quinault Nation, self-governed since 1990, the relocation process began two decades ago, including moving the community's health clinic.
"The dollars that we've received so far, we're very thankful, but it's a quarter of what it's going to cost to move up on the hill," said Guy Capoeman, Quinault Nation President.
Climate crisis is 'water crisis'
Johannes Cullmann, Vice-Chair of UN-Water, explained that the climate crisis "is primarily a water crisis".
Amid sea level rise from melting glaciers and a changing rainfall pattern, he said longer dry spells are related to experiencing more fires.
"All our environment changes if the rainfall changes because it is that moisture in our ecosystems [and] in the soils that lets our plants grow, but also protects us from extreme heat and dryness," he said.
Arizona drought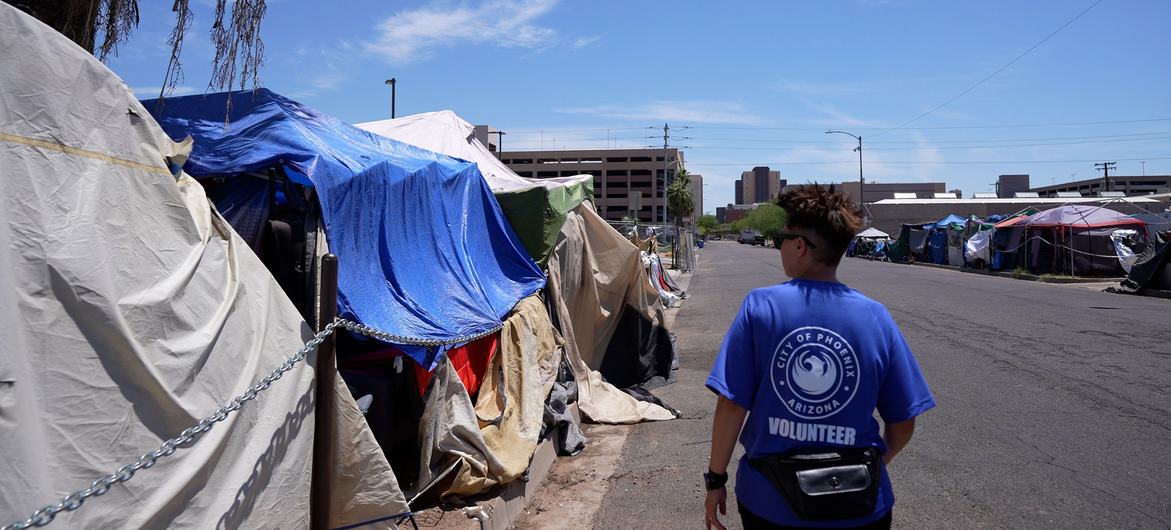 About 1,500 miles away in Phoenix, Arizona, located in the Sonoran Desert, a 23-year megadrought is raising concerns about how the city can sustain its water supply. The city is currently grappling with a heatwave. July saw 31 consecutive days of temperatures over 43°C (110°F), smashing the previous 18-day record set in June of 1974.
The World Meteorological Organization (WMO) declared July 2023 the hottest month on record.
A team of staff and volunteers with the newly established City of Phoenix's Office of Heat Response and Mitigation – the first of its kind in the US – works to rapidly supply water to the city's homeless population.
Michelle Litwin, Heat Response Program Manager, conducts outreach to vulnerable areas four times per week.
"There is definitely a higher sense of urgency," she said. "We are unfortunately seeing the number of heat-related deaths go the wrong direction every summer."
Dead pool alert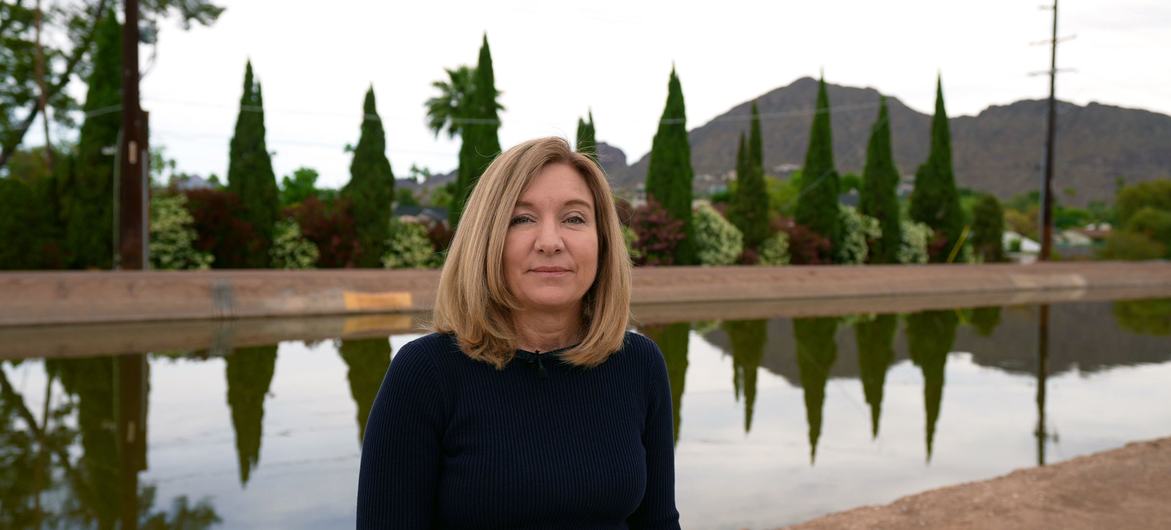 Phoenix's once robust supply from the Salt and Verde River system and the Colorado River, which serves 40 million people in the western US, has declined. Major reservoirs on the river have fallen to dangerously low levels, much of it lost to chronic overuse and drought.
"About 60 per cent of our water comes from these rivers, a little less than 40 per cent comes from the Colorado River, and a small amount is groundwater," said Kathryn Sorensen, Director of Research at the Kyl Center for Water Policy at Arizona State University. "That is a challenge for us, especially when we look at scarcity and the potential for 'dead pool'."
Dead pool is the ominous term used to describe the occurrence of water in a reservoir dropping so low that it cannot flow downstream from the dam. To address this, she said, Phoenix invested about $500 million to move water supplies from the Salt and Verde River system into areas that today are dependent on the Colorado River.
Regional, global approaches needed
UN-Water's Johannes Cullmann points out that droughts do not respect borders and must be addressed regionally, even globally.
As World Water Week begins on 20 August in Stockholm, Sweden, experts and those affected by the water crisis will come together "to explore how water can be a powerful tool to address the climate crisis, global heating, biodiversity loss, poverty, and many other water-related challenges", he said.
The issues discussed there will no doubt resonate with both Ms. Sorensen in Arizona and Mr. Capoeman in Washington state.
"In our desert city, we've never had the luxury of taking water for granted," Ms. Sorensen said. "I think it's really important to change culture."
Although Mr. Capoeman said he won't force any of his community to move, adding that change must happen to ensure its safety and way of life.
"Because without that way of life – that worldview that comes from this environment – what are we?" he said. "And are we any more Quinault?"
© UN News (2023) — All Rights ReservedOriginal source: UN News