Central African Republic: 'Tensions and divisions' eroding human rights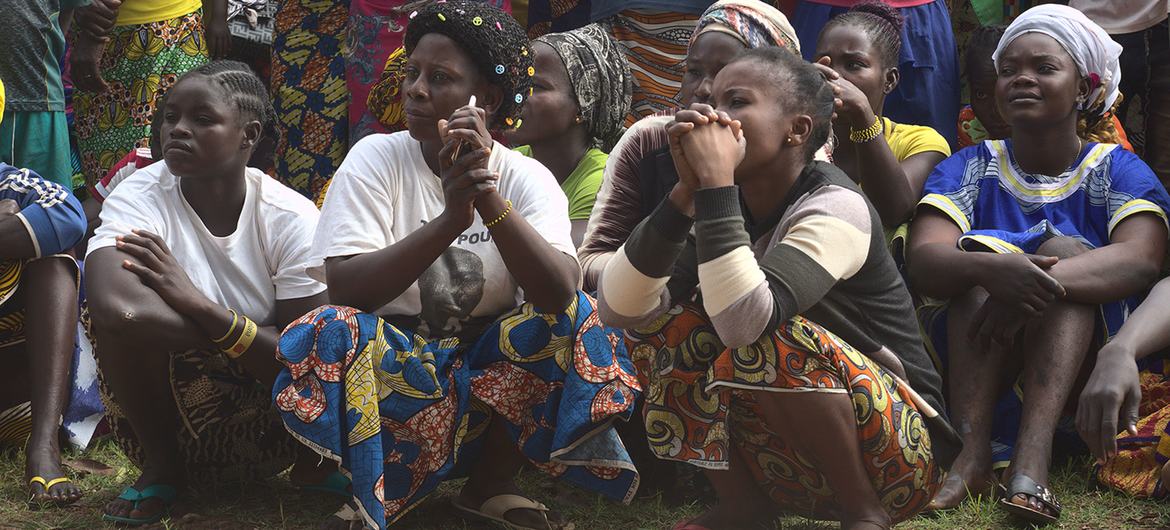 An independent UN expert expressed grave concern on Thursday over the human rights situation in the Central African Republic (CAR), calling for political dialogue and a new "climate of trust".
"Given the tensions and divisions arising from the constitutional referendum, the Central African authorities urgently need to engage all actors in a genuine political dialogue aimed at de-escalating the situation", said Yao Agbetse, the UN Independent Expert on the Central African Republic, at the end of a 10-day visit to the country.
Inclusive talks
"Only an inclusive political dialogue can provide a framework to (re)build consensus. The military approach has shown its limits and there is an urgent need for a coherent and predictable political offer," he added.
CAR has been grappling with conflict since 2012, as fighting between the mostly Christian anti-Balaka militia and the mainly Muslim Séléka rebel coalition killed thousands and left two out of three civilians dependent on humanitarian aid.
In 2013, armed groups seized the capital and then President François Bozizé was forced to flee. After a brief period of reduced violence in 2015, and elections held in 2016, fighting intensified again.
Peace talks got underway in early 2019 under the auspices of the African Initiative for Peace and Reconciliation in CAR, led by the African Union (AU) with UN support. The deal was agreed in Khartoum, but formally signed in CAR's capital, Bangui.
Elections postponed
Mr. Agbetse stressed that a calmer political environment needed to be created so that local elections, which have been indefinitely postponed, could be rescheduled immediately.
"The Government must do everything in its power to create the conditions for an inclusive, transparent, fair and democratic election, with the effective participation of women and young people," the UN expert said.
He urged the authorities to relaunch the process of implementing the 2019 Khartoum Agreement and the 2021 Luanda Joint Roadmap and to commit to the 217 recommendations of last year's Republican Dialogue by taking concrete political measures to encourage armed groups to honour their commitments.
He also stressed that Sub-regional diplomacy was "essential" for the Government to address "issues of border security, particularly with Sudan".
Attacks intensifying
Increasing attacks by armed groups, particularly the Coalition des Patriotes pour le Changement (CPC) and the rise of the Azandé Ani Kpi Gbé group in the South-East, are creating a climate of insecurity, he noted.
Direct attacks by armed groups, including attacks on villages, mining sites, fields and on roads, hurt the economy and lead to serious human rights violations.
"Insecurity is a major obstacle to the restoration of State authority," he said, noting that it also increases dependence on humanitarian aid.
Outlining the movement of thousands of refugees and asylum seekers in border regions due to the Sudan conflict, and rising tensions in Chad which have pushed families into the Paoua region, the Human Rights Council-appointed expert said severe social repercussions were being felt along with a sharp rise in the price of basic foodstuffs.
Humanitarian support
More than 72 per cent of refugees are reportedly hosted by host families, who require psychological, material, and financial support. "I call on the international community to step-up support for humanitarian operations by funding the Humanitarian Response Plan," he said.
The expert said the situation in the North-West was also very worrying due to the presence of explosive devices, which are killing and maiming mainly civilians who are "deprived of basic humanitarian assistance".
"The situation in CAR requires a combination of efforts on the humanitarian and development fronts," said Mr. Agbetse.
"Humanitarian responses dictated by the emergency must be combined with development actions that are part of a national development plan."
Experts' mandate
Special Rapporteurs and other independent human rights experts are appointed to monitor and report on specific country situations or thematic issues.
They serve in their individual capacity, are not UN staff and do not receive payment for their work.
© UN News (2023) — All Rights ReservedOriginal source: UN News