Two Years after the Taliban Took over, More Should Be Done to Rescue Afghanistan
Opinion

by David Kode, Josef Benedict (

kuala lumpur / johannesburg

)
Inter Press Service
KUALA LUMPUR / JOHANNESBURG, Aug 28 (IPS) - His name is Matiullah Wesa, a girls education campaigner who now symbolises the "war" waged by the Taliban against the education and empowerment of women and girls. Exactly two years since the Taliban took over, Afghanistan is on a downward trajectory and unfortunately, global attention that was drawn by families chasing planes to flee a few days after the Taliban assumed control of the government has waned over the last two years.
Any improvements made in advancing human rights, especially the rights of women and access to education have been quickly reversed and replaced with severe restrictions that have almost completely wiped away the rights of women in almost all sectors and spheres of life. In a brazen move that provided a clear indication to the international community that the Taliban had an anti-human rights agenda, human rights defenders and members of their families have been harassed, detained and attacked in their homes while Afghanistan's independent human rights commission was dissolved and its premises confiscated. In the absence of any internal human rights mechanism, the Taliban are only accountable to themselves and act with utmost impunity.
Matiullah was arrested in March 2023 for his dedication to provide education to girls particularly in rural areas. Through his organisation - PenPath which he founded in 2009, he campaigned for the right to education for girls, working with tribal leaders to provide mobile libraries to ensure girls have access to education. Penpath has successfully reopened 100 schools (including those closed for more than a decade due to war and the Taliban's restrictions on education) in 16 provinces.
In an interview with CIVICUS, a year before he was arbitrarily arrested, Matiullah pointed out that they had provided education facilities for about 110000 children, about 60% were girls and distributed 1.5 million stationary and collected 34000 books through its book donation campaigns. His continued detention means, at best this much needed support provided to communities has been scaled back substantively and at worse has almost completely stopped. Yet, Matiullah is just one among hundreds who have worked tirelessly to improve the lives of Afghans over the years and are unable to do so either because they are in detention, have fled the country to avoid reprisals or have been forced to self censor.
The de facto Taliban regime has over the last two years institutionalised restrictions against women, dismissed women in public service, prevented girls from attending school and university and in December 2022, banned women from working with NGOs and aid agencies. It followed this decision exactly four months later by banning women from working for the UN in Afghanistan - as they had been exempted from the previous ban.
Through the Directorate for Intelligence, the regime monitors and targets women activists on social media and those identified as protest leaders. Others who participate in protests are identified through pictures posted on social media and through interrogations and arrested. On 11 February 2023, women's rights activist and founder of the social movement - the Takhar Women's Protest Movement - Parisa Mobarez, was arrested together with her brother in Takhar province and physically assaulted before they were released.
A day after, activist Nargis Sadat was arrested for protesting against the restrictions on women's right to work and education and released after two months. In response to an announcement by the Taliban regime that it would close beauty salons, women protesters converged at the Shar-e Naw district in Kabul on 19 July, displaying protest signs with calls for 'bread,' 'work' and 'justice.' The women protesters were rounded up as security forces fired shots into the air and physically assaulted some of the women using electric stun guns.
The above restrictions are happening in a context of an ever increasing humanitarian crises exacerbated by growing social and economic challenges. Human rights groups report that the number of people living in poverty has increased to 97%, an increase of about 47% over the last three years and that more than half of the population - about 28 million people urgently need humanitarian assistance. The restrictions placed on women in government ministries and the ban on women from working for NGOs have a devastating impact on the families of these women and communities including women and children who have benefited from services provided. In addition, most women have literally been confined to their homes as they are banned from gyms, swimming pools and public parks.
Afghan women are fighting back
Despite the reprisals from the Taliban and threats of violence and arrests, Afghan women continue to mobilise to keep the face they face on the agenda of the international community. The resilience of these brave Afghan women and their sustained protests continue to shed light on the state of human rights in Afghanistan, especially at a time when the international community seems to have moved on to other crises. As women protesters, journalists and human rights defenders and families face increased attacks, protests have been moved indoors and online. Some of the protesters continue to cover their faces to avoid reprisals while others remain unveiled to encourage others.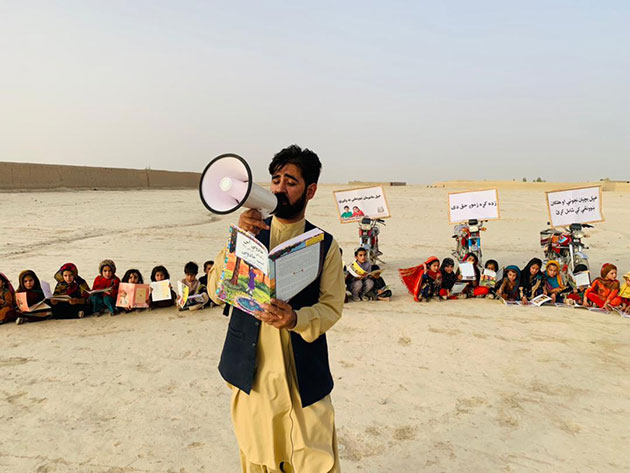 What can be done?
The current situation is especially tricky for many international actors and though the Taliban craves for international recognition to boast its legitimacy, members of the international community including the European Union, United Kingdom and India who engage with the Taliban as well as humanitarian organisations and civil society groups should respect the wishes of Afghans and not provide any form of formal recognition to the de facto regime. They should also support Afghan women rights activists in exile.
Millions of Afghans will continue to need humanitarian assistance for the foreseeable future and ongoing and future dialogues to negotiate for space and access through humanitarian corridors should be premised on respect for human rights and lifting of current restrictions on women and girls.
At the level of the United Nations, the UN Security Council Resolution on Afghanistan which accused the Taliban of violating human rights and the appointment of a Special Rapporteur on the situation of human rights in Afghanistan are important steps in the right direction but nearly not enough. The Security Council should continue to prioritise Afghanistan and push for accountability mechanisms inside of Afghanistan which would serve as some kind of a deterrent and a check on impunity. Lastly, there is a need for an intra-Afghan dialogue that is inclusive and should be led by a neutral party.
Josef Benedict is a researcher covering the Asia Pacific region for the CIVICUS Monitor. Malaysia. David Kode is the advocacy and campaigns lead for CIVICUS. South Africa
IPS UN Bureau
© Inter Press Service (2023) — All Rights ReservedOriginal source: Inter Press Service