Incoming General Assembly President to prioritize 'Peace, Prosperity, Progress and Sustainability'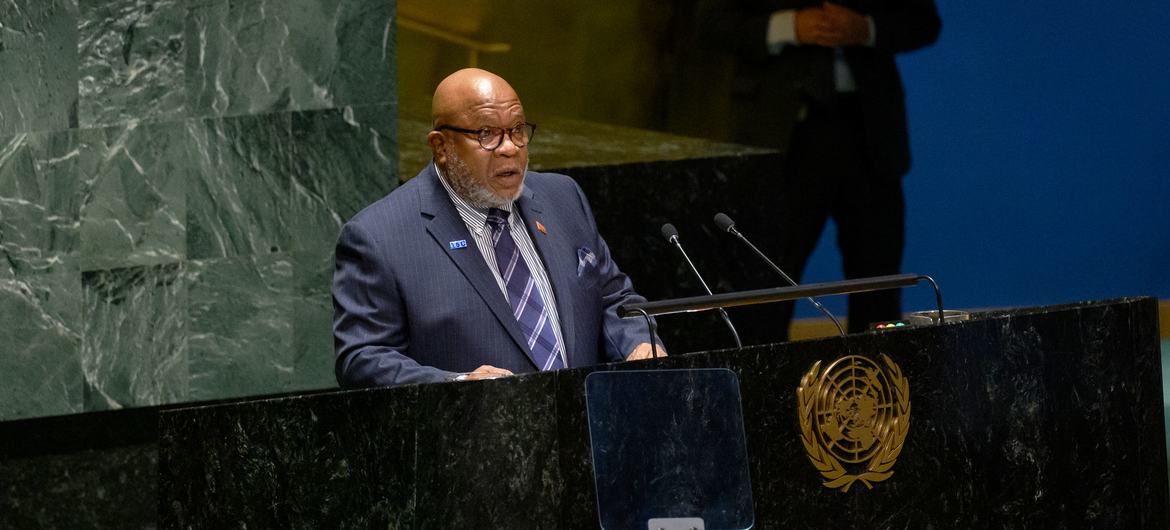 A veteran diplomat from Trinidad and Tobago was appointed President of the 78th session of the UN General Assembly on Thursday.
Ambassador Dennis Francis - who has had a nearly 40-year-career - will take the helm of the UN's main policy-making body, starting in September.
He was elected by acclamation during a ceremony in the iconic General Assembly Hall at UN Headquarters in New York.
Promoting meaningful dialogue
The General Assembly consists of all 193 UN Member States, all of which have an equal vote. Its duties include appointing the Secretary-General, on the recommendation of the Security Council, and approving the Organization's annual budget.
Mr. Francis said he will prioritize encouraging and facilitating meaningful dialogue.
"It is my hope to bring forward, with your help and support, a renewed atmosphere of conciliation, cooperation and shared commitment in addressing the many challenges and seizing every opportunity, however nascent, before the General Assembly," he said.
"I will seek to enhance current approaches and adopt new ones with probable solutions, as we endeavour to deliver or at least to strengthen the bases for delivering Peace, Prosperity, Progress and Sustainability."
He also spoke about the prominent role of education in his life and career and upheld the need to ensure all people have the chance to learn, in line with the Sustainable Development Goals (SDGs), which call for ending extreme poverty and other deprivations, by 2030.
Rebuilding trust
The current General Assembly President, Csaba Kőrösi of Hungary, noted that his successor brings a wealth of knowledge and experience to the post.
"Mr. Francis' vision for the 78th session – 'Peace, Prosperity, Progress and Sustainability' – offers a comprehensive view of the work of the General Assembly as we rebuild trust in and within this institution, tackle climate change and strive to get the SDGs back on track," he said.
With 100 days remaining in his administration, Mr. Kőrösi said he will continue to promote the use of science for a sustainability transformation, namely in preparations for the SDG Summit during the High-Level Week of the General Assembly in September,
Critical perspective
UN Secretary-General António Guterres added that Mr. Francis's tenure comes at "a deeply challenging moment", amidst conflicts, climate chaos, and escalating poverty, hunger and inequality - while the SDGs are also "slipping out of reach".
He said the incoming President also brings a critical perspective as many issues addressed in the General Assembly – such as climate change and an unjust global financial system - hit small island developing States like Trinidad and Tobago the hardest.
"We look forward to the President-elect carrying forward the theme of his presidency Peace, Prosperity, Progress and Sustainability - in the year ahead, and to bringing this Assembly together to strengthen global cooperation at this difficult moment," he said.
A distinguished career
Mr. Francis is currently the Permanent Representative of Trinidad and Tobago to the UN and has had a diplomatic career that spans nearly four decades.
During this period, he held the rank of Ambassador for 18 consecutive years until his compulsory retirement in 2016, making him the country's longest serving Ambassador.
Before leaving office as the Director of Multilateral Relations, he served as Senior Adviser to the Minister of Foreign Affairs on all multilateral matters, including Climate Change and the negotiations for the 2030 Agenda for Sustainable Development, which contains the SDGs.
© UN News (2023) — All Rights ReservedOriginal source: UN News