UN chief voices horror as scores die in migrant shipwreck off Greek coast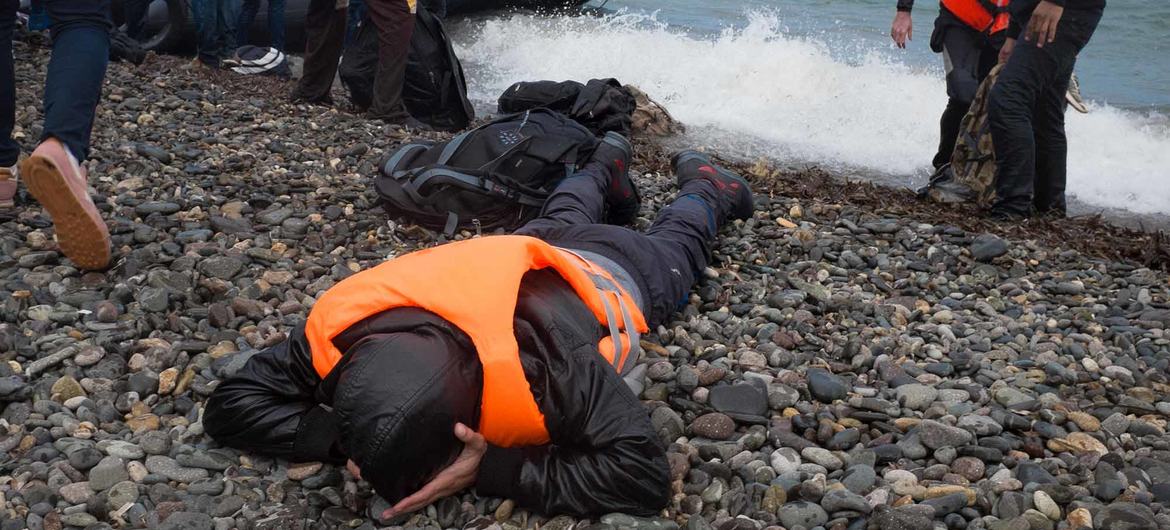 The UN Secretary-General said on Wednesday he was horrified at the news of dozens more deaths in the Mediterranean after an overloaded boat reportedly capsized and sank off the coast of Greece.
Latest news reports said the bodies of at least 79 men, women and children had been recovered, with hundreds more potentially dead or missing. The UN migration agency (IOM) estimated that at least 400 had been on board, adding that 104 survivors had been brought to shore by the middle of the day, local time.
Briefing correspondents in New York, UN Spokesperson Stéphane Dujarric said UN chief António Guterres had stressed previously "that every person searching for a better life needs dignity and safety.
'Comprehensive action' needed
"This is yet another example of the need for Member States to come together and create orderly safe pathways for people forced to flee and for comprehensive action to save lives at sea and reduce perilous journeys."
On Tuesday, IOM released figures showing nearly 3,800 people had died on migration routes within and from the Middle East and North Africa last year – the highest number since 2017, when 4,255 deaths were recorded.
The first quarter saw 441 migrants die in the central Mediterranean, and since 2014 more than 26,000 people have died or gone missing on all the routes combined.
UN refugee agency (UNHCR) chief Filippo Grandi tweeted that he felt "only sadness and anger after another deadly tragedy at sea".
"May the victims rest in peace. May the survivors find consolation and care. May governments cooperate to increase safe pathways and work together on collective solutions to address these flows."
Impossible choices
The UNHCR office in Greece pointed out that Wednesday's deaths were wholly avoidable. "We need more safe pathways for people forced to flee," the agency tweeted. "They should not be left with impossible life-threatening choices."
According to Greek media reports, the boat that sank off the coastal town of Pylos was on its way to Italy having set sail from the Libyan city of Tobruk.
The shipwreck is the deadliest off the Greek coast so far this year.
Survivors were reportedly taken to the southwestern Greek town of Kalamata and were expected to be moved to a camp outside Athens.
© UN News (2023) — All Rights ReservedOriginal source: UN News