INTERVIEW: Tackling transnational trafficking in Southeast Asia from the grass roots up

Local volunteers based in communities located on transnational trafficking routes in Southeast Asia are playing an increasingly important role in preventing the trade in illicit drugs, people and other items thanks to the support of the UN Office on Drugs and Crime (UNODC).
The agency has been working with village security units in communities in Thailand as part of its border management programme.
UNODCsays that the supply of synthetic drugs through the region "remains at extreme levels."
UN News spoke to UNODC's Regional Representative, Jeremy Douglas, and Eakkachai Suphan, a village security volunteer in the village of Sop Ruak in Thailand, which is located in the Golden Triangle, where the borders of Thailand, Laos and Myanmar converge.
Jeremy Douglas: The production and trafficking of synthetic drugs, including crystal meth and methamphetamine pills, by international organized crime gangs has increased dramatically over the last decade. This region is now one of the biggest drug trafficking corridors in the world supplying markets across Southeast Asia. These synthetic narcotics have replaced heroin which for decades was the main illicit drug being trafficked out of the Golden Triangle.
UNODC has been working with law enforcement agencies as well as local volunteer security units to disrupt the trade in drugs as well as human trafficking and the illegal trade in wildlife products and weapons.
Eakkachai Suphan: I have been a member of the Sop Ruak village security unit for about 3 years. I am part of a team of 37 men who act as part-time volunteers to support and complement the work of law enforcement agencies operating here in the Golden Triangle. I like to help my village and my community; I do this work because I want to protect our children who might be pulled into the trafficking of illegal drugs or affected in other ways.
Jeremy Douglas: The Mekong River runs along the border between Thailand, Laos, and Myanmar for around 1,000 kilometres and it's extremely challenging to monitor and patrol what is, in reality, a very remote and porous border. The local knowledge of people who live in this part of Thailand and the relationships they might have with people in Laos or Myanmar are crucial to both gathering information about the drugs trade but also to understanding the needs of people who are affected by it. So, these village security units play a key role at the grass roots level.

Eakkachai Suphan: I work two or three times a week, as needed, sometimes at night and sometimes during daylight hours, according to the intelligence that has been gathered. I normally patrol on foot from the Ruak River, which borders Myanmar and south along the Mekong River to a new immigration post which is on the opposite side of the bank to Laos.
I'm very proud when I get the chance to join operations with the Border Patrol Police and we have had some success in seizing drugs in this area from traffickers who are using boats to transport the illicit goods. It was exciting to confiscate large amounts of drugs.
Jeremy Douglas: Transnational organized crime groups anticipate, adapt and try to circumvent what governments do, and in 2022 we saw them work around Thai borders in the Golden Triangle more than in the past. Despite this, the authorities in Thailand and Laos have had considerable success seizing drugs. I visited Houay Xai on the Laos side of the Mekong where officers just the previous night had caught traffickers with 500 kilograms of crystal meth. The previous month they had intercepted 7.1 million methamphetamine pills. In Thailand, a river patrol recently apprehended smugglers with 6.4 million methamphetamine pills. Despite these positive developments, it is thought that many more million pills and thousands of kilograms of crystal meth is getting through and being trafficked to lucrative markets across Southeast Asia.
Eakkachai Suphan: I'm not concerned for my safety because we are collaborating closely with other law enforcement agencies, including security agencies, the police, army and the riverine unit. I think if all law enforcement agencies and the community police are cooperating, then we can win the battle against trafficking. I think my community feels safer because of the work we do.
Jeremy Douglas: Village security units assist law enforcement officers in monitoring suspicious activities along the riverine border and report illicit activity to the relevant authorities. They are part of a network of agencies which share information not just nationally but with neighbouring countries. UNODC has used its regional presence and excellent working relations with governments in Southeast Asia to support the expansion of border liaison offices or BLOs under its border management programme.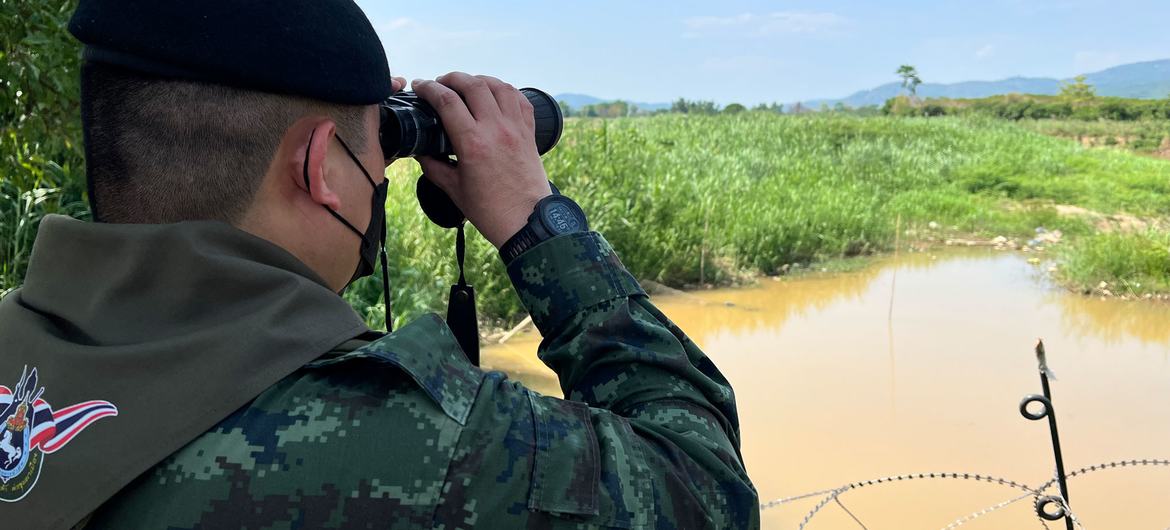 There are 120 BLOs from Myanmar in the west to China in the east and Indonesia to the south as well as Thailand, Laos, Cambodia, and Viet Nam. They enable countries in the region to work more effectively to combat illegal trafficking as they can quickly share information and take action together, for example, joint patrols.
It's an effective way to speed up the action States can take to push back on the traffickers and on organized criminal networks.
Criminal groups from across the region also started moving and reconnecting after lengthy pandemic border closures, with late 2022 and early 2023 patterns starting to look similar to 2019.
Quick facts on community volunteer units (CVUs)
CVUs patrol in an openly overt manner in order to deter smugglers crossing into Thailand, while police and army officers perform covert tactics leading to the arrest of suspects.
CVU officers carry out other community policing operations.
Officers respond to emergency situations.
Units support search and rescue operations.
© UN News (2023) — All Rights ReservedOriginal source: UN News