Ukraine war: Guterres calls for continuation of 'vital' food and fertilizer agreement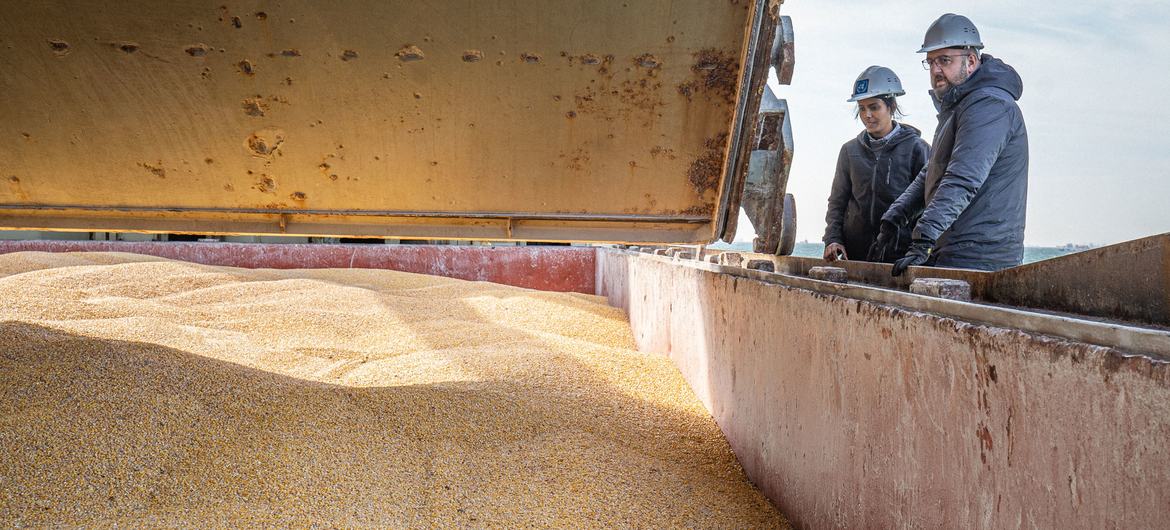 The Secretary-General on Tuesday said he was disappointed by the "slowing pace of inspections" under the UN-brokered Black Sea Initiative – the grain and fertilizer deal which has allowed millions of tonnes of food exports to leave Ukraine.
Russia confirmed that for 60 days it would continue to be a part of the Initiative and the complementary Memorandum of Understanding on food and fertilizer exports from Moscow, in late May – but the deal in effect expires on 17 July.
The UN brokered the deal guaranteeing safe passage for grain cargo ships, along with Türkiye in July last year, which is managed from Istanbul by a Joint Coordination Centre (JCC) staffed by UN and Turkish representatives along with Russia and Ukraine.
Fewer shipments
UN chief António Guterres said in a statement issued by his Spokesperson that food exports via the Black Sea have fallen from a peak of 4.2 million metric tonnes in October last year to just 1.3 million tonnes last month, the lowest volume since it came into operation.
He said he was also disappointed at the exclusion of the port of Yuzhny/Pivdennyi, near Odesa, which has reportedly not received any ships since May 2, and which is also a former Russian hub for pumping ammonia for export.
Mr. Guterres called on the parties to "accelerate operations and urges them to do their utmost to ensure the continuation of this vital agreement".
Less for those in need
The overall impact of the faltering Initiative has been a reduction in vessels coming in and out of Ukraine's sea ports, "leading to a drop in the supply of essential foodstuffs to global markets."
In its latest update issued five days ago, the JCC said that the total grain and foodstuffs exported was
close to 32 million tonnes, including just over 625,000 tonnes of grain shipped on vessels chartered by the World Food Programme (WFP).
"The Secretary-General calls on the parties to accelerate operations and urges them to do their utmost to ensure the continuation of this vital agreement, which is up for renewal on 17 July", the statement said.
UN 'fully committed'
The UN remains "fully committed" to supporting both the Initiative and the Memorandum of Understanding with Russia "so that exports of food and fertilizers, including ammonia, from the Russian Federation and Ukraine reach markets around the world safely and predictably", the UN chief's statement continued.
"This is especially critical now as the new grain harvest begins in both Ukraine and the Russian Federation."
© UN News (2023) — All Rights ReservedOriginal source: UN News