Japan: IAEA monitoring treated water release from Fukushima nuclear plant
Japan has begun discharging treated radioactive wastewater from the disabled Fukushima Daiichi Nuclear Power Station into the Pacific Ocean, 12 years on from the major meltdown there, the International Atomic Energy Agency (IAEA) confirmed on Thursday.
Experts from the UN nuclear watchdog were present to monitor and assess that all relevant international safety standards were applied, as part of a multiyear review of a process that could last for decades.
The decision to release the water into the sea has sparked criticism in Japan and the region.
Long-term commitment
The IAEA has been providing real-time data on the controlled release of the treated water, including on water flow rates and radiation monitoring.
"The IAEA has committed to be present before, during and after this process," Director General Rafael Mariano Grossi said in a video statement.
The Fukushima Daiichi Nuclear Power Station suffered major damage during an earthquake and tsunami in March 2011.
Since then, water has continually been pumped in to cool the plant's reactors. Groundwater also seeps into the site, and rainwater falls into the damaged reactor and turbine building.
'Negligible radiological impact'
The water came in contact with melted fuel, fuel debris and other radioactive substances, resulting in contamination. It was treated and diluted through a filtration process called Advanced Liquid Processing System (ALPS) and stored in specially prepared tanks.
As of June, there were some 1,000 of these tanks holding more than a million cubic meters of treated water.
An IAEA report issued last month said Japan's approach and activities to discharge the treated water were "consistent with relevant international safety standards".
Furthermore, the "controlled, gradual discharges" of the treated water would have a "negligible radiological impact" on people and the environment.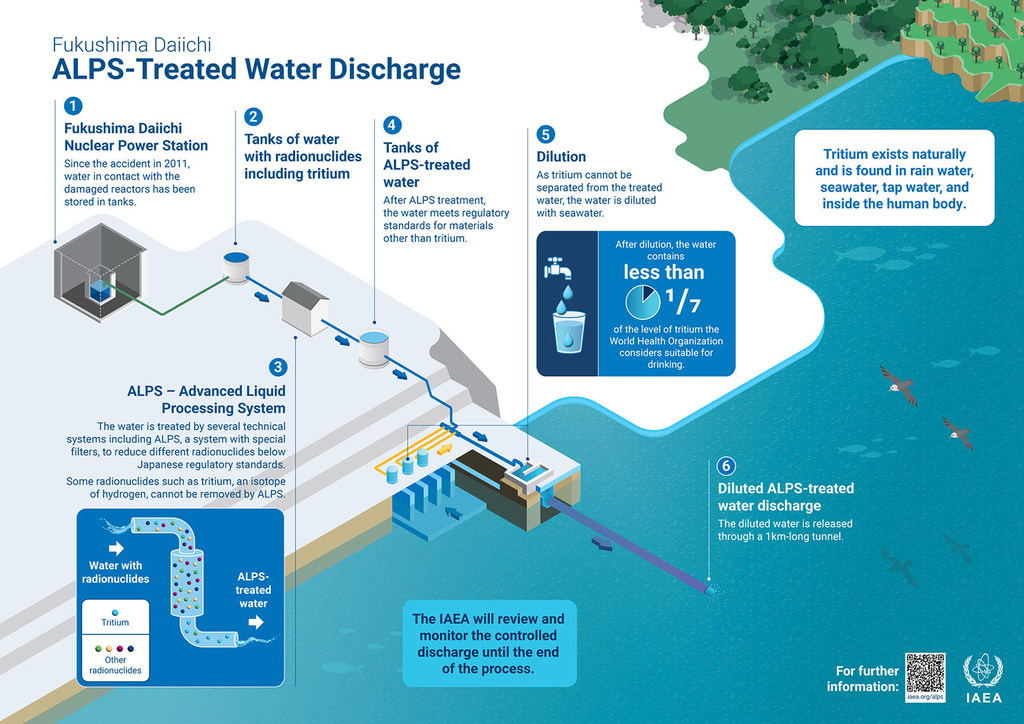 Reviews and criticism
The report was the outcome of nearly two years of work by an IAEA Task Force made up of top agency specialists advised by internationally recognised nuclear safety experts from 11 countries.
The Task Force conducted five review missions to Japan, published six technical reports, and met many times with officials from the Government and the Tokyo Electric Power Company (TEPCO), the nuclear plant's operator.
Japan's decision to release the treated water into the sea drew criticism both at home and in some neighbouring countries, according to media reports.
Protests have occurred there and in the Republic of Korea.
China also announced on Thursday that it will immediately ban seafood from Japan.
© UN News (2023) — All Rights ReservedOriginal source: UN News