IPBES Third Season of Hit Podcast Nature Insights Speed Dating with the Future Takes Listeners Inside Humanitys Relationship With Nature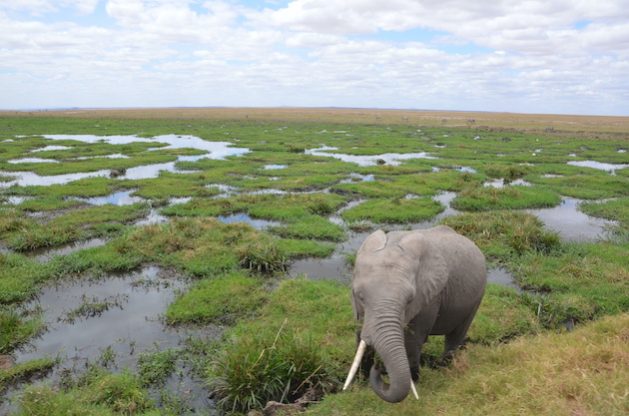 by Joyce Chimbi (

nairobi

)
Inter Press Service
NAIROBI, Aug 29 (IPS) - If you've ever heard that 1 million species are at risk of extinction and wondered what that means for you, your family, and your future – there's a podcast you won't want to miss.
Nature Insight: Speed Dating with the Future, produced by IPBES (the Intergovernmental Platform on Biodiversity and Ecosystem Services), tells the very human stories behind the science and policy of the global nature crisis, and its new third season starts today! 
Human activity is pushing other species off planet Earth at a rate never before seen in human history. One million species of plants and animals, out of an estimated total of eight million species, are at risk of extinction, many within decades.
"We are now in what some scientists consider the Anthropocene – a geological era based on the impact of humans on Planet Earth. We have touched the Earth in ways that will seemingly last forever. With that comes our impact on every other species with which we share the Earth, millions upon millions of species, many of which we do not even know yet. While we might not see it all the time, we are deeply connected and rely heavily on these species for our own well-being. These are the many values of nature, and we have a great responsibility to preserve them," says Brit Garner, Science Communicator and one of the two co-hosts of the podcast.
IPBES, often described as "the IPCC for biodiversity", is an independent intergovernmental body. Its mandate is to compile the best available evidence on nature to inform decision-makers, and it brings together experts from around the world to create reports that are often thousands of pages long. But IPBES knows that not everyone will read a 1,000-page report, so the IPBES secretariat has found other ways of bringing biodiversity science to all kinds of decision-makers around the world.
Rob Spaull, the Head of Communications at IPBES, is the other co-host of the podcast. He tells IPS the podcast provides a platform and an opportunity for people from every corner of the world to peer into the "box of science and policy on nature", to engage with complex issues that impact their daily lives, and to assess how their own choices and decisions impact nature and in return, how these choices affect nature's capacity to meet their needs. Nature Insight seeks to engage with a wide variety of decision-makers in finance, business, health, and energy and to make clear our own interlinkages with nature and biodiversity.
Explaining the podcast's title, Spaull says, "Every time you listen to Nature Insight, you are speed-dating with nature and with what the future may bring. Speed dating is about having a short time to communicate things that could change your life, and in this podcast, we try to do so by introducing listeners to people with unique insight into humanity's relationship with nature."
The podcast was started at the height of the COVID-19 pandemic, and it is now entering its third season, which will be available today, with new episodes dropping every Tuesday over the next five weeks on all the platforms where people usually engage with podcasts. Listeners should expect to meet incredible individuals whose experience can help people in every part of the global community to see solutions for the future of humans and nature but from different perspectives.
"From the great heights of the Himalayas to the farthest reaches of Antarctica, we have lined up a lot of exciting new topics and an array of experts to take us on these journeys together. In the first episode of our new season, we feature a mushroom scientist from Nepal who climbed Mount Everest and has been climbing the Himalayas in search of new species of fungi and mushrooms and for new discoveries for science, such as never-before-described species, to help fill existing knowledge gaps. We will also hear from an incredible and groundbreaking expedition that went to the South Pole, a place not known for its biodiversity and usually considered to have very little biodiversity," explains Spaull about Season 3.
"We will also speak to two very prominent environmental journalists, one from the global North and another from the South, on changes, challenges, and opportunities to reporting on nature and biodiversity over the years. There will be an episode on youth and youth engagement and another on stakeholders and the IPBES stakeholder network. Importantly, there will be an episode on invasive alien species following the launch of the new IPBES report, to be released on September 4, 2023. It's a season of great excitement, extensive travels, and unmissable insights."
Nature Insight Season 3 builds on the success already achieved in the past two years, when the podcast explored topics such as zoonotic diseases and pandemics, indigenous and local conservation, achieving transformative change, protecting coral reefs and coastal ecosystems in the context of climate change, the links between business and biodiversity, and the diverse ways in which communities attach different values to nature.
"With time and policy having passed and the pandemic having transitioned, so much has changed in three years since we started the podcast. In the third season, we are really widening the idea of what, where and who nature is and getting stories from those expansions. We get to hear from geographical locations and stakeholders we have not heard from before. We have considered the values of nature in ways we have not done in the past," Garner expounds.
Spaull points out the relevance of the podcast to implementing the new Global Biodiversity Framework, the outcome of the landmark 2022 UN Biodiversity Conference, in which nations adopted four goals and 23 targets for 2030 as a concrete plan to halt and reverse nature loss. Over six widely varied episodes of the podcast, listeners will hear from experts on the frontlines of biodiversity research and action about cutting-edge science and vibrant personal insights about some of the most critical issues facing people and the planet.
"Making the podcast has been a very exciting experience, with me in the United States, Rob in Germany, the producer in the UK and guests from all over the world. The diversity of people, places and topics has created some profound experiences for me. During the lockdown, I was in my attic at 3 a.m. speaking to an indigenous leader from Western Australia on water rights, and I realised, though isolated, we are still very much connected, and it is this connection to people and nature that enables us to do and achieve great, meaningful things," Garner recounts.
Spaull says that the podcast has only scratched the surface. In subsequent episodes and seasons, there is still new ground to capture nature in its many unique elements. Season one started during the COVID-19 lockdown, season two as the world was coming out of lockdown, and season three is happening when governments are engaging with new targets for nature. As the world moves on, it is unlikely that Nature Insights will run out of topics to discuss anytime soon.
You can subscribe to Nature Insight on all major podcast platforms or by clicking here.
IPS UN Bureau Report
Follow @IPSNewsUNBureau
Follow IPS News UN Bureau on Instagram
© Inter Press Service (2023) — All Rights ReservedOriginal source: Inter Press Service