'Humanity has opened the gates to hell' warns Guterres as climate coalition demands action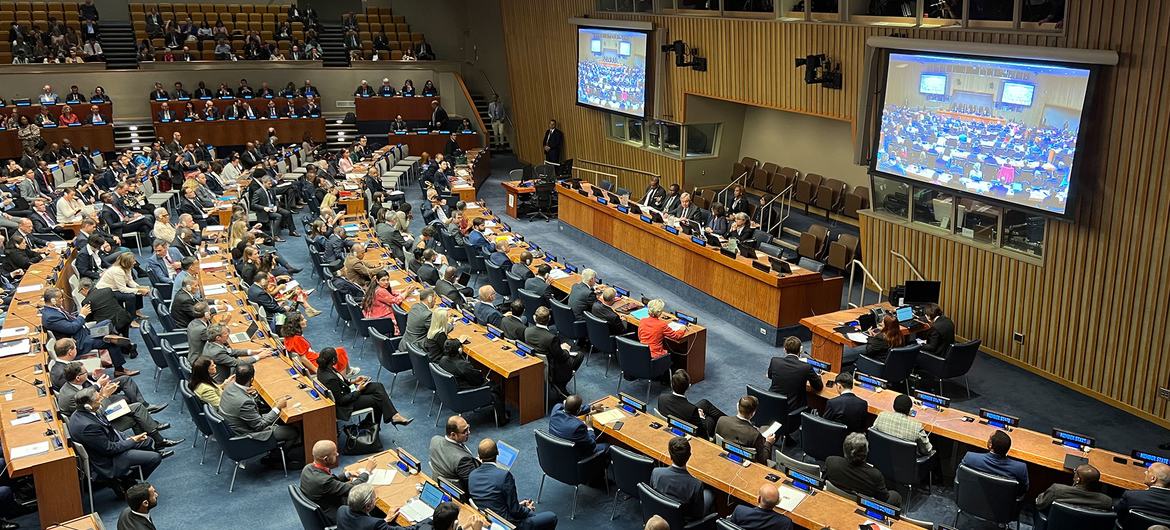 "Horrendous heat is having horrendous effects", the UN chief declared on Wednesday, as a broad global coalition of "movers and doers" politicians, business and civil society gathered in New York for the first ever Climate Ambition Summit.
Front and centre was an urgent call to action, to prevent cascading climate disasters through a just and equitable energy transition – before it's too late.
In his impassioned address on the sidelines of the UN General Assembly to politicians, business, activists and civil society leaders, Secretary-General António Guterres issued a stark warning about the dire consequences of inaction.
With extreme weather events accelerating, "humanity has opened the gates to hell," said the Secretary-General, describing distressing scenes of farmers helplessly watching crops washed away by floods, the emergence of virulent disease due to rising temperatures, and the mass exodus of people fleeing historic wildfires.
Race for solutions
"Our focus here is on climate solutions – and our task is urgent", he said.
He warned that climate action was being "dwarfed by the scale of the challenge", with humanity heading towards a 2.8°C temperature rise, increasing danger and instability.
But "the future is not fixed" he added and the Paris Agreement target of limiting temperature rise as close as possible to 1.5°C is still attainable.
"We can still build a world of clear air, green jobs, and affordable clean power for all," he said, addressing the high-level gathering of "first movers and doers".
Driving force for change
Activists are refusing to be silenced, Indigenous Peoples are rallying to defend their ancestral land, and corporate executives are transforming how they do business.
The UN chief is calling for a Climate Solidarity Pact that will hold major emitters more to account, and calling on wealthy countries to support emerging economies so they can weather the crisis.
The Acceleration Agenda calls on governments "to hit fast forward", he added.
Anger rising
The Secretary-General spoke of the need for more climate justice, recognizing the anger felt by many of the world's poorest nations disproportionately affected by a crisis they did not cause.
"Many of the poorest nations have every right to be angry," he added, explaining that promised finance had not materialized while the costs of borrowing remain sky-high.
"All parties must operationalize the Loss and Damage Fund at COP28," he urged and reminded the developed countries must meet the $100 billion commitment, replenish the Green Climate Fund, and double adaptation funding.
Creating early warning systems for everyone by 2027 is a must, too.
Rebuilding trust
The Acceleration Agenda also calls for businesses and financial institutions to embark on true net zero pathways, with a focus on transparency and credibility in emission reduction plans.
"Every company that truly means business, must create just transition plans that credibly cut emissions and deliver climate justice," the Secretary-General said.
He called for action beyond the meeting rooms of New York.
"We can – and we must turn up the tempo," he concluded, to loud applause around the room.
© UN News (2023) — All Rights ReservedOriginal source: UN News