Press Freedom Groups Denounce NSA Spying on AJ Bureau Chief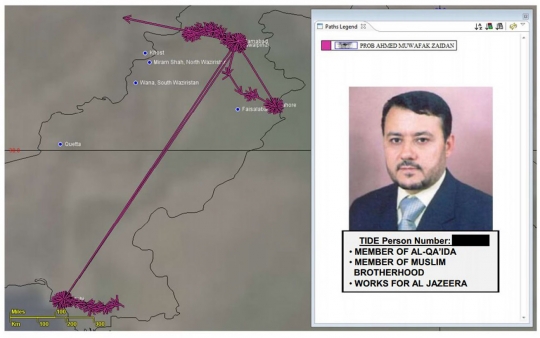 by Kitty Stapp (

new york

)
Inter Press Service
NEW YORK, May 12 (IPS) - Ahmad Muaffaq Zaidan doesn't deny that he's had contact with terrorist groups. In fact, it would have been rather difficult to do his job otherwise.
But the fact that Zaidan is a respected investigative journalist and the Islamabad bureau chief for Al Jazeera didn't seem to faze the U.S. National Security Agency, which not only spied on him, but went as far as to brand him a likely member of Al Qaeda and put him on a watch list.3
The revelations emerged late last week as part of the thousands of classified documents leaked by former NSA employee Edward Snowden.
"Given that Pakistan has been consistently ranked as one of the most dangerous countries for journalists, the news of Zaidan's surveillance further adds to the fear, restricting press freedom," said Furhan Hussain, manager of the Digital Rights and Freedom of Expression programme at Bytes for All, a Pakistani human rights group.
"Equally alarming, in this case, is the fact that by compromising the information of respected journalists, such spying also weakens the safety of their sources and media networks," he told IPS. "Zaidan's communications intercept took place through the invasive gathering and analysis of his metadata, a technique which has been frequently responsible for drone-led non-transparent persecution of hundreds of people.
"While it is often claimed that the state of Pakistan has failed to effectively protest against these violations, it may also be important to raise questions about the possible role of the state in facilitating the NSA to access vast amounts of data of those residing within its borders, in the context of its third-party SIGINT partnership."
Other press freedom groups said the case was just one more in a long-running pattern of civil liberties abuses.
"Given the flood of disclosures over the past two years about the NSA's vast range of mass and intrusive surveillance techniques and targets, it is unsurprising, but nevertheless shocking, that the intelligence agency thought it appropriate to use its capabilities to spy on an eminent journalist," Carly Nyst, Legal Director of Privacy International, told IPS.
"This case is illustrative of the grave dangers of allowing security services to exercise immense powers in the absence of proper scrutiny. By placing members of the media, who themselves play an essential accountability role, particularly in areas of conflict, under surveillance, the NSA has undermined the very values it is charged with promoting - security, democracy, and free flow of information.
"Without democratic accountability, spy agencies will continue to sacrifice civil liberties in the name of strategic gain, without sparing a thought to the critical journalistic freedom caught in the cross hairs," she added.
It's not the first time the NSA has targeted Al Jazeera. Based on leaked documents, the German magazine Der Spiegel reported in 2009 that it had hacked into the news agency's internal communication system.
According to the Committee to Protect Journalists, NSA whistleblower Russell Tice claimed in 2009 that in fact, the agency makes it a point to target journalists and news agencies.
Zaidan was targeted under the ominously titled SKYNET programme, which monitors bulk call records and searches the metadata for particular patterns.
"It's this kind of big, sweeping data gathering that worries us the most," Bob Dietz, Asia programme coordinator for the New York-based Committee to Protect Journalists, told IPS.
"If someone were to track my behavior and all the people I've come into contact with over the last 20 years, I imagine I would come up on some sort of chart ranking very high," he said wryly.
Dietz doesn't expect the situation to change anytime soon, regardless of who occupies the White House.
"This is the reality under which we live. Government agencies are relatively autonomous and attempts to control them are ludicrous…whether or not there are laws protecting us," he said.
Thomas Hughes, executive director of the London-based ARTICLE 19, said his group is deeply concerned by the Zaidan spying revelations.
"According to statements from Al Jazeera and colleagues from other networks, Zaidan is a journalist of longstanding professional reputation. Surveillance of journalists has a serious chilling effect on freedom of expression, impeding the crucial role journalists play in uncovering wrongdoing and holding governments to account for their actions," he told IPS.
"Compromising the confidentially of sources also seriously undermines the ability of journalists to perform their work and potentially endangers the wellbeing and safety of those sources."
Indeed, as noted by the Intercept, which broke the allegations, Zaidan's reporting focused on the Taliban and Al Qaeda, including several high-profile interviews with senior Al Qaeda leaders.
In strenuously denying the allegations, he patiently explained, "For us to be able to inform the world, we have to be able to freely contact relevant figures in the public discourse, speak with people on the ground, and gather critical information.
"Any hint of government surveillance that hinders this process is a violation of press freedom and harms the public's right to know," he wrote in a response to the Intercept. "To assert that myself, or any journalist, has any affiliation with any group on account of their contact book, phone call logs, or sources is an absurd distortion of the truth and a complete violation of the profession of journalism."
Edited by Kanya D'Almeida
© Inter Press Service (2015) — All Rights ReservedOriginal source: Inter Press Service