UN appeals for nuclear test ban amid 'alarming rise in global mistrust'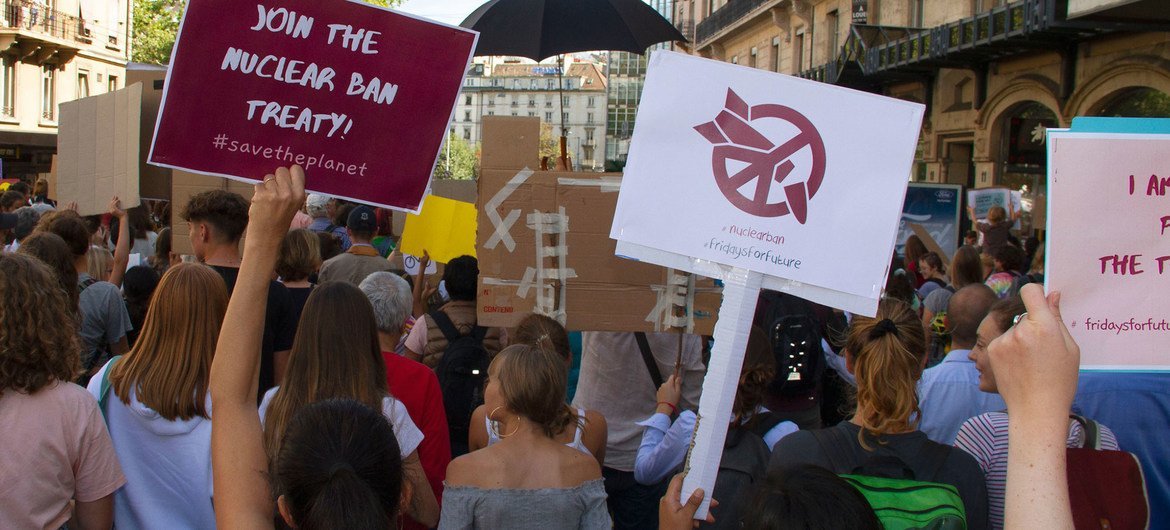 The United Nations on Tuesday called for more global action to end nuclear testing, warning against the danger of "collective suicide".
In his message marking the International Day against Nuclear Tests, Secretary-General António Guterres appealed for key countries to ratify the international treaty that bans experiments for both peaceful and military purposes.
'Recipe for annihilation'
"This year, we face an alarming rise in global mistrust and division," he said. "At a time in which nearly 13,000 nuclear weapons are stockpiled around the world — and countries are working to improve their accuracy, reach and destructive power — this is a recipe for annihilation."
The Comprehensive Nuclear-Test-Ban Treaty (CTBT) therefore represents "a fundamental step in our quest for a world free of nuclear weapons," he added.
The treaty opened for signature in September 1996 but has yet to enter into force because it must be signed and ratified by 44 specific nuclear technology holder countries, eight of which have yet to ratify it: China, Egypt, India, Iran, Israel, the Democratic People's Republic of Korea, Pakistan and the United States.
"In the name of all victims of nuclear testing, I call on all countries that have not yet ratified the Treaty to do so immediately, without conditions," said Mr. Guterres.
'Unfinished business'
The President of the UN General Assembly, Csaba Kőrösi, echoed this message during a commemorative event at UN Headquarters in New York.
"Heightened distrust, geopolitical competition and a growing number of armed conflicts have only increased the dangers in our world. Particularly if we consider the regular threats of resorting to a nuclear strike in the on-going war against Ukraine," he said.
Mr. Kőrösi called for "a human-centred approach to disarmament" as investing in nuclear weapons is simply incompatible with global pledges to achieve a more sustainable future for all people and the planet.
He said the CTBT remains "a stark reminder that we have unfinished business" and urged the remaining countries to sign and ratify the treaty.
The General Assembly President also underscored the importance of learning from history "especially at such a moment, fraught with so many dangers."
End the threat
He shared the example of a Japanese woman, Teruko Yahata, 85, who was a child when the atomic bomb was dropped on Hiroshima in August 1945, destroying the city. Today, she delivers presentations to people worldwide about the impact of a nuclear blast.
"In the name of all those who suffered from nuclear testing or nuclear detonations, in the name of our loved ones, and the future generations, it is time to prevent global nuclear destruction," he said. "It is time to put an end to the threat of our collective suicide."
The UN High Representative for Disarmament Affairs, Izumi Nakamitsu, also stressed the urgency for action.
Although the CTBT has not entered into force, it remains "a monumental testament" to the global goal of relegating nuclear weapons to history.
"The unilateral moratoria against tests adopted by the nuclear-weapon States are to be commended. However, they are no substitute for a legally binding prohibition against all nuclear tests," she said.
Walk the talk
The International Day Against Nuclear Tests has been observed annually on 29 August since 2010.
The date marks the anniversary of the 1991 closure of the Semipalatinsk nuclear test site in Kazakhstan, the largest of its kind in the former Soviet Union, where more than 450 nuclear devices were exploded over four decades.
The UN Office for Disarmament Affairs (UNODA), Kazakhstan and partners held a #StepUp4Disarmament symbolic walk at UN Headquarters on Tuesday morning, to mark the International Day – part of a global campaign to press for a world free from nuclear weapons.
© UN News (2023) — All Rights ReservedOriginal source: UN News