Afghanistan: WFP forced to cut food aid for 2 million more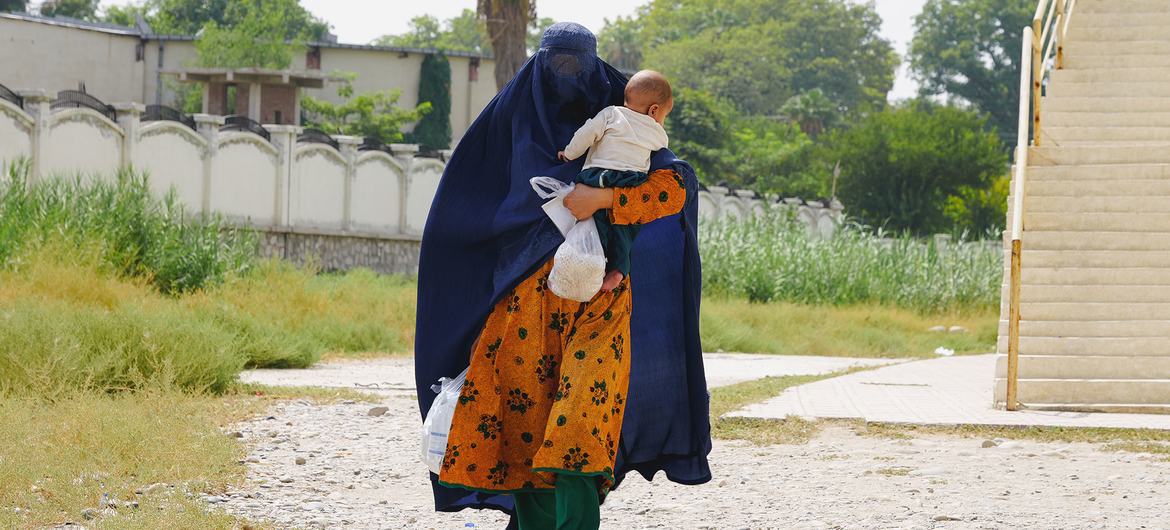 Food assistance to two million people in Afghanistan will have to be cut later this month, the UN World Food Programme (WFP) said on Tuesday.
Forced to take the drastic measures citing a "massive funding shortfall", WFP will only be able to provide emergency assistance to three million people per month across the country from October.
"Amid already worrying levels of hunger and malnutrition, we are obliged to choose between the hungry and the starving, leaving millions of families scrambling for their next meal," said Hsiao-Wei Lee, WFP's Country Director and Representative in Afghanistan.
Rations already reduced
In March, the UN food agency had to reduce rations from 75 to 50 per cent for communities experiencing emergency levels of hunger. In the following two months, it was forced to cut off food assistance to eight million people.
This brings the total number of people forced to go without WFP support this year in the country to a staggering 10 million - whilst more than one-third of the population go to bed hungry every night.
'Dire situation'
The UN agency emphasised that this will add to an already "dire situation" and have severe consequences for civilians. This is particularly true for women who are increasingly being marginalised in Afghan society, owing to their narrowing options for making a living or to feed their children.
Since the Taliban seized power in Afghanistan in 2021, they have issued a cascade of restrictive orders that amounts to "extreme institutionalized gender-based discrimination" and a systematic chipping away of the rights of women and girls, according to UN-appointed human rights experts.
The cuts also mean that approximately 1.4 million new and expecting mothers and their children are no longer receiving specialised food designed to prevent malnutrition, which will cause a sharp rise in admissions to nutrition centres, the agency warned.
Afghanistan context
Echoing that message, the UN Office for the Coordination of Humanitarian Affairs (OCHA) warned that Afghanistan is facing an unprecedented humanitarian crisis with a "serious risk of systemic collapse and human catastrophe".

Two years since the Taliban took control, 29.2 million people are now in need of assistance - over two-thirds of the country's population.
WFP response
To respond to the funding crisis, WFP has urged the international community to provide an additional $1 billion over the next six months, in order to reach 21 million people with lifesaving aid. This includes pre-positioning food for remote communities ahead of the looming, harsh winter.

"A small window of opportunity remains to avert catastrophe in Afghanistan, but we are running out of time," said Ms. Lee.

"The cost of inaction will be paid by the most vulnerable women and children reeling from the impact of 40 years of conflict, a crippled economy and a worsening climate crisis."
WFP also reported it is going through "a crippling funding crisis", forcing it to scale back life-saving assistance globally when acute hunger is at record levels. Almost half of WFP's country operations have had to cut the size and scope of their assistance programmes.
© UN News (2023) — All Rights ReservedOriginal source: UN News