Yemen: Warring parties must take concrete steps towards an inclusive peace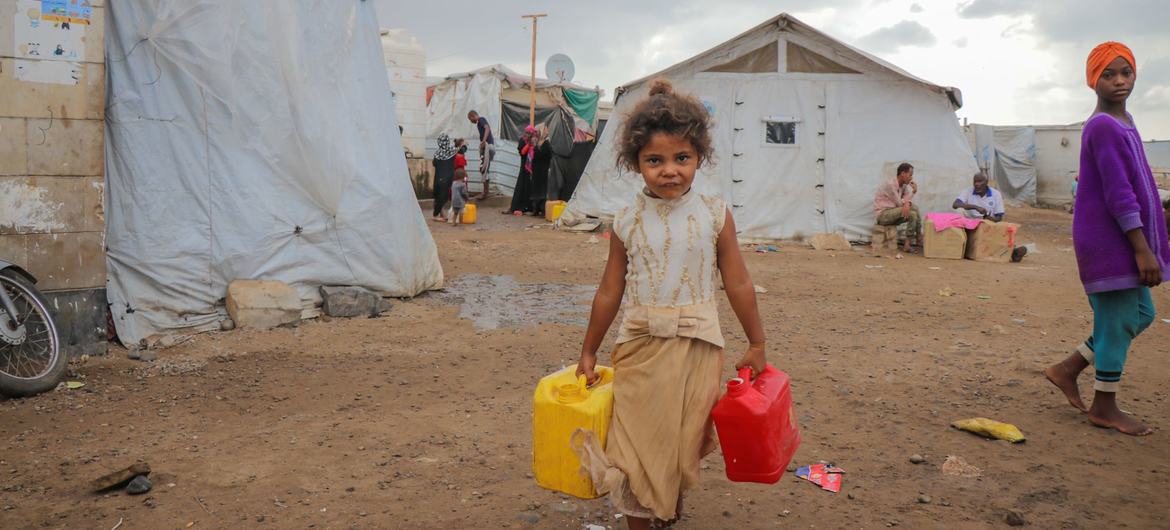 In briefings to the Security Council on Wednesday, two senior UN officials highlighted the need for progress towards peace in war-torn Yemen amid ongoing political, economic and humanitarian challenges.
UN Special Envoy Hans Grundberg provided an update on his mediation efforts, both in the country and abroad, while Edem Wosornu of the UN humanitarian affairs office, OCHA, reported on access impediments and funding gaps affecting aid delivery to millions.
Yemen continues to face a protracted political, humanitarian and developmental crisis after more than eight years of fighting between pro-Government forces, backed by a Saudi-led coalition, and Houthi rebels.
An initial two-month truce signed in April 2022 expired that October after two extensions.
Translate willingness into action
Mr. Grundberg has continued engagements with the parties and with Saudi Arabia and Oman.
"The sides continue to display general willingness to seek solutions, but this still needs to translate into concrete steps, in particular, a clear agreement on the way forward that includes restarting an inclusive Yemeni political process," he said.
He added that hostilities have not returned to pre-truce levels despite its expiration, and civilian casualties have significantly declined. However, sporadic fighting and exchanges of gunfire continue on some fronts, particularly in the governorates of Taiz, Marib, Dhale, Hodeida, Shabwa, and Sa'ada.
"Against this backdrop, there have been public threats to return to war. This rhetoric is not conducive to maintaining a fruitful mediation environment." he said, calling for restraint and dialogue.
Economic woes, power cuts
The envoy also addressed the dire economic situation in Yemen, where the warring parties "continue to resort to antagonistic economic measures" which are hurting civilians and fuelling mistrust.
He said the Yemeni Government is still being prevented from exporting petroleum products, its main revenue source, while trade remains curtailed due to restrictions, exorbitant fees and taxes.
Meanwhile, provision of basic services is deteriorating, with citizens facing electricity cuts lasting up to 18 hours in the summer heat. He welcomed a $1.2 billion Saudi pledge which will help to keep the power on and pay some public salaries.
'Fertile grounds' for violent extremism
Mr. Grundberg warned that "political and economic instability are fertile grounds for violent extremist groups."
He expressed concern over reports of the recent increase in activities of violent extremists in Abyan and Shabwa governorates, saying "this is yet another reminder of the consequences of the long-term absence of a political settlement to the conflict."
The UN envoy appealed for the continued unity and support of the Security Council and the international community for his mediation efforts.
"The fragility of the situation and its impact on Yemeni women and men highlight the urgent need to reach a consensus on the way forward," he said.
"My Office is working to convene the parties to address some of their immediate priorities to build confidence and move toward an inclusive and sustainable political settlement."
Aid access and funding
On the humanitarian front, both officials condemned the murder of World Food Programme (WFP) staff member Moayad Hameidi in Taiz governorate on 21 July.
"This attack, and others like it, show just how real the threats to the safety and security of aid workers are - from violence to kidnapping, harassment, misinformation and disinformation," said Ms. Wosornu, OCHA's Director of Operations and Advocacy.
She added that access and funding are two of the most pressing issues facing humanitarians in Yemen, amid rising misinformation and disinformation. As a result, operations are becoming even more difficult and dangerous.
"Aid workers continue to experience attempted interference in all stages of humanitarian activities, as well as extensive movement restrictions—which particularly impact our women national staff and all those they serve," she said.
The UN and partners are aiming to reach more than 17 million people across Yemen this year. However, a $4.3 billion plan is only around 30 per cent funded, and she urged greater support from the international community.
Ms. Wosornu stressed that while a political resolution to the conflict is vital, it alone will not solve the humanitarian crisis.
"Only when such progress is pursued together with improved economic conditions and the re-establishment of essential services will we see humanitarian needs begin to decrease," she said.
© UN News (2023) — All Rights ReservedOriginal source: UN News