Syria-Türkiye: UN completes 200th cross-border aid mission since February quakes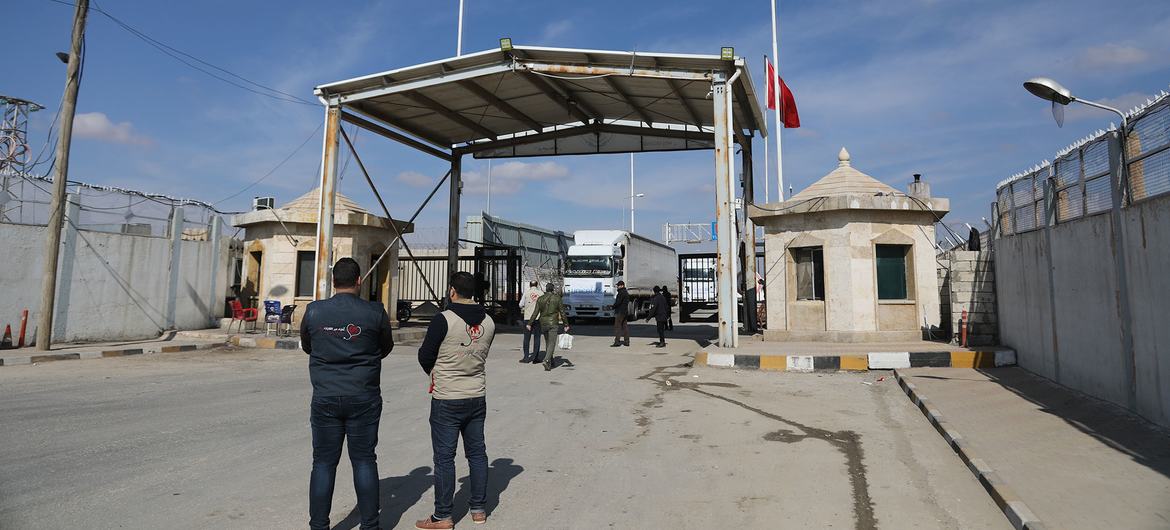 The United Nations on Tuesday announced that it has conducted 200 cross-border missions delivering aid into northwest Syria from Türkiye since the devastating earthquakes that struck the two countries in February.
The milestone mission took place on Sunday via the Bab al-Salam crossing, said UN Spokesperson Stéphane Dujarric, speaking during his daily briefing in New York.
Once in Syria, personnel from the World Health Organization (WHO) conducted monitoring visits to health facilities and agency warehouses in the cities of Afrin and Azaz. They also met with local partners.
Immense humanitarian needs
Mr. Dujarric said the UN and humanitarian partners are continuing to deliver urgently needed aid through the Bab al-Salam and Al-Ra'ee crossings, which opened earlier this year as part of the emergency response to the earthquakes.
"Today, 17 trucks carrying humanitarian shelter items from the International Organization for Migration (IOM) and the UN refugee agency (UNHCR) crossed into the northwest via Bab al-Salam," he said.
Humanitarian needs in Syria are at record highs after more than 12 years of war and in the aftermath of the double earthquakes on 6 February which left more than 50,000 dead.
Lifeline extended
The UN announced earlier this month that an agreement had been reached with the Government of Syria to re-open the main border crossing, Bab al-Hawa, to allow aid to flow into the northwest, the last opposition stronghold.
More than four million people rely on this lifeline, which was established in 2014 when the UN Security Council authorized cross-border relief deliveries.
However, the crossing closed in July after the Council failed to reach consensus on two competing resolutions on its renewal.
The Bab al-Hawa border crossing will now be accessible for the next six months, following the Syrian Government agreement. The deal also authorizes the UN to use Bab al-Salam and Al-Ra'ee border crossings for an additional three months.
© UN News (2023) — All Rights ReservedOriginal source: UN News