Ukraine: Latest Russian attack 'another example' of civilian suffering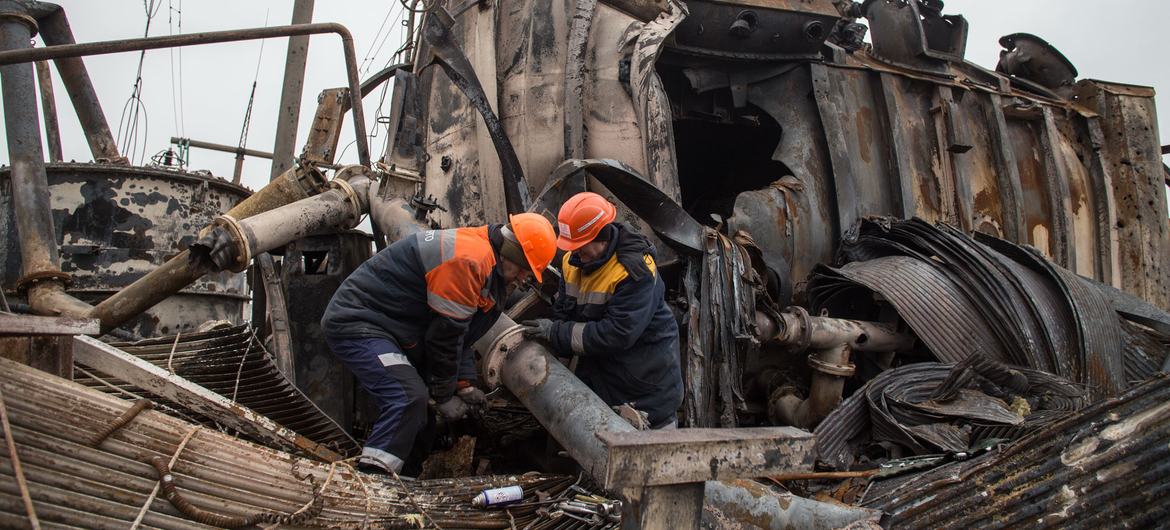 The top UN humanitarian official in Ukraine on Wednesday strongly condemned Russian attacks, including on a busy market in the town of Kostiantynivka in the Donetsk region, that reportedly caused dozens of civilian deaths and injuries, including children.
Other Russian strikes damaged schools and homes in the Zaporizhzhya region, and port and grain infrastructure in the Odesa region.
"I am shattered by the news of a series of attacks that today, once again, have left a path of death and destruction in different parts of Ukraine," Denise Brown, UN Humanitarian Coordinator in Ukraine said in a statement.
"It is a truly sad day for Ukraine. This deeply tragic and unacceptable event is just another example of the suffering that Russia's invasion inflicts on civilians across the country."
The statement also highlighted that repeated attacks on Ukrainian ports are depriving farmers of their livelihoods and the world of affordable food when millions are facing hunger in the poorest countries.
Over 9,500 killed
The attack on Kostyantynivka is one of the deadliest in recent months.
Since Russia's invasion of Ukraine on 24 February 2022 up to 27 August 2023, the UN human rights office (OHCHR) recorded 26,717 civilian casualties in the country, including 9,511 killed and 17,206 injured.
These include those killed and injured in both Ukraine-controlled and Russian-occupied territories.
OHCHR believes that the actual figures are "considerably higher", as the receipt of information from some locations where intense hostilities have been going on has been delayed and many reports are no yet verified.
Respect international law
In her statement, Ms. Brown emphasised that civilians and civilian infrastructure enjoy protection under international humanitarian law.
"Intentionally directing an attack against civilians or civilian objects or intentionally launching an attack knowing it will cause disproportionate civilian harm is a war crime," she said.
"International humanitarian law must be respected. The people of Ukraine need this cruel devastation to stop."
© UN News (2023) — All Rights ReservedOriginal source: UN News