Victor's Justice Plays Out in Côte d'Ivoire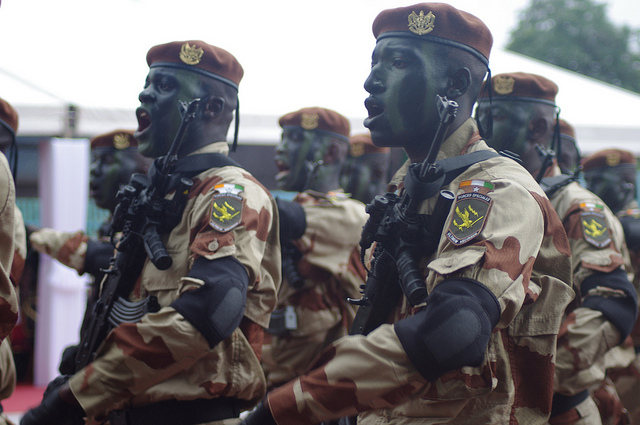 by Robbie Corey-Boulet (

abidjan

)
Inter Press Service
ABIDJAN, Feb 08 (IPS) - The extradition of high-level allies of former Côte d'Ivoire President Laurent Gbagbo from Ghana back to their home country, including a most recent one on Feb. 5, has brought renewed scrutiny to the Ivorian judiciary, which critics say is implementing a form of one-sided victor's justice since the 2010 to 2011 post-election conflict.
More than 3,000 people died in Côte d'Ivoire after Gbagbo refused to cede power despite losing the November 2010 election to his successor, President Alassane Ouattara.
Forces loyal to both Gbagbo and Alassane Ouattara allegedly committed grave crimes during the violence. But despite evidence that showed Gbagbo supporters were singled out for execution in parts of Abidjan and the country's western region, no Alassane Ouattara loyalists have been credibly investigated for alleged crimes, while 55 Gbagbo loyalists have been detained and charged with violent crimes.
Security official Jean-Noel Abehi and youth leader Jean-Yves Dibopieu were arrested in Ghana and added to the list Gbagbo loyalists taken into Ivorian custody. However, the charges have not yet been made public.
Abehi was a top gendarmerie official under Gbagbo and has been accused by a United Nations experts panel of helping orchestrate attacks on Ivorian military installations last year, while Dibopieu served as a leader in two youth organisations that have been implicated in rights abuses during the electoral violence.
"We want to call on Ivorian authorities to go further and not just target the pro-Gbagbos. Justice cannot move at two speeds. The pro-(President Alassane) Ouattaras also committed crimes. It is necessary that warrants be issued against them," Ali Ouattara, chairman of the Ivorian Coalition for the International Criminal Court (ICC), told IPS.
"These arrests are a warning to all those who have committed crimes in Côte d'Ivoire. They are strong signals in the fight against impunity," Ali Ouattara added.
The office for Abidjan's prosecutor has declined interview requests, saying the prosecutor is too busy to comment.
The extradition of Abehi and Dibopieu comes after Charles Ble Goude, head of the ultranationalist Young Patriots movement, was arrested on Jan. 17 in the coastal Ghanaian town of Tema and transferred to Abidjan, where he was subsequently charged with war crimes.
However, according to Ali Ouattara, Côte d'Ivoire does not have the capacity to try crimes of genocide, war crimes and crimes against humanity – all of which are under the jurisdiction of the ICC. And circumstances surrounding Ble Goude's detention have been less than lawful.
Since Ble Goude arrived in Abidjan, his lawyers say they have been granted only limited access to him, adding that they did not know where he was being detained, likening his transfer to a "kidnapping". Côte d'Ivoire's criminal procedure code guarantees the right to an attorney during proceedings and questioning, though Ble Goude's lawyers have said they were not informed prior to his first court appearance and raised concerns that he may have been questioned without legal representation.
After Ble Goude's second court appearance on Jan. 30, Herve Gouamene, one of the lawyers, told IPS that Ble Goude himself did not know where he was being held. All Ble Goude knew was that he was "held in a house somewhere" and that it was not a standard place of detention. His lawyers say that there are no provisions in Ivorian law for this, while Interior Minister Hamed Bakayoko has defended the detention conditions, saying they are necessary for Ble Goude's detention.
Rene Legre Houkou, president of the Ivorian Human Rights League, voiced concern about the "war crimes" charges against Ble Goude, which he described as questionable. There is no statute for war crimes in the Ivorian penal code, though the code does mention "crimes against the civilian population" that might apply in Ble Goude's case.
"It is indeed not an offense under our laws," Houkou told IPS. "A situation of this nature, which poses the question of the legality of the process, must not be taken lightly."
Ble Goude's international lawyer, Nick Kaufman, said in a statement on Jan. 19 that he had asked ICC prosecutor Fatou Bensouda whether Ble Goude was the subject of an arrest warrant from that court. According to the statement, Bensouda has refused "to confirm or deny whether or not she had or was currently seeking Ble Goude's surrender to The Hague."
The ICC has already issued arrest warrants for Laurent and Simone Gbagbo. While Alassane Ouattara's government allowed for Laurent Gbagbo's transfer in November 2011, making him the first former head of state to be taken into the court's custody, it has not yet said whether it will let Simone Gbagbo go or instead try her at home.
Justice Minister Gnenema Coulibaly has previously argued that Côte d'Ivoire's judiciary has been reformed since Laurent Gbagbo's transfer in November 2011, and is now capable of trying complex cases stemming from the post-election violence.
Because war crimes constitute one of the three categories of crimes falling under the ICC's jurisdiction, filing war crimes charges against Ble Goude could be an attempt to strengthen the claim that the country's judiciary can handle complex cases stemming from the conflict. But concerns still remain.
"The one-sided justice for Côte d'Ivoire's post-election violence needs to swiftly change if the Alassane Ouattara government is to break from Côte d'Ivoire's dangerous legacy of impunity," said Corinne Dufka, senior West Africa researcher at Human Rights Watch.
© Inter Press Service (2013) — All Rights ReservedOriginal source: Inter Press Service