Cash Transfers Drive Human Development in Brazil
by Fabiola Ortiz (

rio de janeiro

)
Inter Press Service
RIO DE JANEIRO, Jul 31 (IPS) - Every day, Celina Maria de Souza rises before dawn, and after taking four of her children to the nearby school she climbs down the 180 steps that separate her home on a steep hill from the flat part of this Brazilian city, to go to her job as a domestic. In the evening she makes the long trek back up.
For 25 years, Souza has lived at the top of the Morro Vidigal favela or shantytown, located in the middle of one of the wealthiest neighbourhoods in Rio de Janeiro.
In this favela, home to some 10,000 people, the houses, many built by the families themselves, are squashed between the sea and a mountain.
Originally from Ubaitaba, a town in the northeast state of Bahia1,000 km north of Rio de Janeiro, Souza, 44, left her family when she was just 17 to follow her dream of a better life in the big city.
She was part of the decades-long massive wave of people fleeing drought in the impoverished Northeast to make a living in the more industrialised south.
"I'm tired of living in the favela," she complained to IPS. "I dream of one day having a house with a room for each of my kids. I tell them to be responsible and to study so they won't suffer later. I wish I could go back to school, but it's hard for me to find the time."
Souza, a mother of six children between the ages of 12 and 23 – the oldest two have moved out – has a monthly income of around 450 dollars a month.3
Nearly half of that comes from Bolsa Familia, a cash transfer programme created by Luiz Inácio Lula da Silva (2003-2010) when he first became president and continued by his successor Dilma Rousseff.
In 2013 Bolsa Familia reached its 10th anniversary as the leading social programme in this country of 200 million people.
It benefits 13.8 million families, equivalent to 50 million individuals – precisely the number of people who have been pulled out of extreme poverty over the last decade.
But 21.1 million Brazilians are still extremely poor, according to the latest official figures, from 2012.
The International Social Security Association (ISSA), based in Switzerland, granted a prize to Bolsa Familia in October for its contribution to the fight against poverty and support for the rights of the most vulnerable.
According to ISSA, it is the world's largest cash transfer scheme, with a cost of just 0.5 percent of Brazil's GDP. The programme's 2013 budget was 10.7 billion dollars, and it is currently part of the Brasil Sem Miséria (Brazil Without Poverty) umbrella programme.
"I had heard of it and they told me it was a subsidy that the government gave kids who were enrolled in school and vaccinated regularly. We were really doing badly, we didn't even have enough to eat," Souza said.
For over a decade, her children have benefited from Bolsa Familia. The family initially received a total of just 40 dollars, but the amount has steadily increased. Souza, who has been married twice, has raised her children alone since breaking up with her second husband.
"This money helps me a lot," she said. "They criticise it, saying it's charity, but I don't see it like that. You have to work too. With the Bolsa money, I buy school supplies, food, and clothes and shoes for my children. It doesn't cover everything, but it's a huge help."
Souza hasn't forgotten the days when she went hungry, or the occasional nights when she had no roof over her head – both she and her two older children, when she separated from her first husband. "I told my children: eat, because just seeing you get some food nourishes me," she said. Now she and the four children still at home live in a crowded two-room house.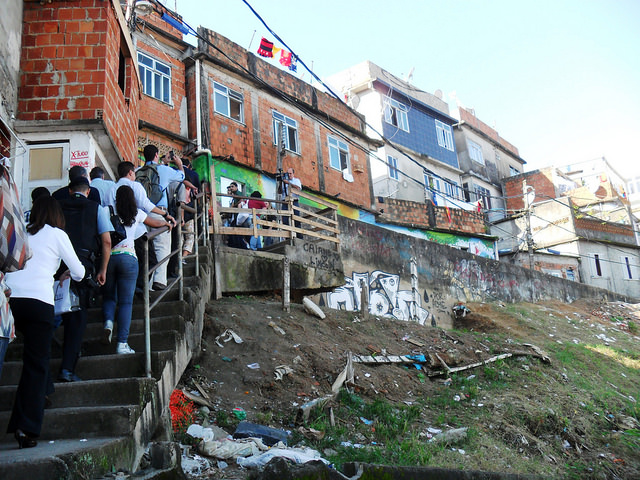 Souza, who had very little formal schooling, works mainly in the informal sector, although when she first came to the city she found a job in a women's accessories factory. She is constantly battling poverty, and hopes that her children will have better opportunities.
She is one of the innumerable examples of Brazilians who are trying to improve the lives of their families, while this country attempts to revert years of neglect and a historical lag in human development.
Thanks to this effort, South America's giant has moved up on the Human Development Index (HDI).
In the latest HDI report, released by the United Nations Development Programme (UNDP) Jul. 24, Brazil ranked 79 among the 187 countries covered.
But in Latin America, Brazil is behind Chile (41), Cuba (44), Argentina (49), Uruguay (50), Panama (65), Venezuela (67), Costa Rica (68) and Mexico (71).
Andréa Bolzon, coordinator of the Atlas of Human Development in Brazil, told IPS that the country has made significant progress in the last 20 years.
The Atlas draws up Brazil's contribution to the Human Development Report, which includes the HDI. The theme of this year's report was Sustaining Human Progress: Reducing Vulnerabilities and Building Resilience.
Underlying the improvement, she said, "are policies that were implemented, like the increase in the minimum salary, affirmative action measures to reduce racial inequality, the boost to employment and Bolsa Familia itself."
The HDI, created in 1980, is a measure derived from life expectancy, education levels and incomes. In 2013, life expectancy in Brazil averaged 73.9 years, schooling averaged 7.2 years, and gross national income per capita was 14,275 dollars.
Between 1980 and 2013, Brazil's HDI value increased 36.4 percent. In 1980 life expectancy was 62.7 years, schooling averaged 2.6 years and GNI per capita was 9,154 dollars.
"Brazil is one of the countries whose human development has improved the most over the past 30 years," said UNDP representative in Brazil Jorge Chediek during the presentation of the data in Brasilia.
But inequality is still a huge problem in Brazil, Bolzon said. "We have to invest in universal quality public systems, especially in health and education, because they have effects on other indicators."
The increase in the years of schooling among families is precisely one visible change, she said.
"We see it from generation to generation in the same family," she said. "People who studied very little have children who have more years of schooling; there is a big difference in terms of education."
Souza and her family fit that pattern: she has a fifth grade education, while her 12-year-old daughter is in sixth grade today.
"I studied very little; I had to drop out when I was 12 to work, because I had to help my parents put food on the table," said Souza. "I want my kids to have much more than I had – a good education and good jobs."
Isis, her youngest daughter, knows all about the difficulties her mother has faced and the sacrifices she makes in order for them to have a better life. "I love going to school, and I love math. When I come home, I help my mom and I tidy up the house. My mom tells us to study a lot to have a better futrue. I know what her life has been like, and I do that," she told IPS with a smile.
© Inter Press Service (2014) — All Rights ReservedOriginal source: Inter Press Service