South Sudan faces 'make or break' year on road to lasting peace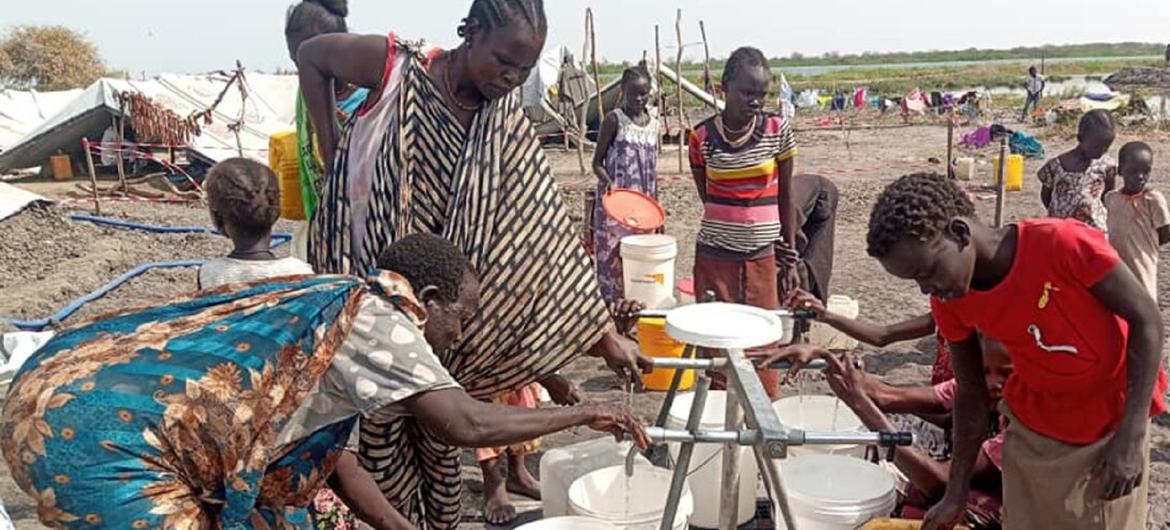 South Sudan sits at a critical crossroad, with swift action needed to quell chronic intercommunal clashes, ramp up assistance to ever more communities in need, and advance progress towards a durable peace, senior UN officials told the Security Council on Monday.
"We see 2023 as a 'make or break' year and as a test for all parties on the peace agreement,"said Nicholas Haysom, Special Representative of the Secretary-General and Head of the UN peacekeeping mission in South Sudan (UNMISS).
✅4.9M people reached with humanitarian aid
✅4M+ people received food assistance & livelihood support
✅1.2M+ people reached with healthcare

Check out @OCHASouthSudan's 2022 Humanitarian Response in Review: https://t.co/mROxWKB4AThttps://t.co/A9IUAqyQVP

UNOCHA
Briefing the Council on the UN Secretary-General's latest report on South Sudan, he offered a priority action plan for the critical phase of implementing the nation's milestone 2018 peace agreement designed to end a devastating civil war.
He also shared progress and reflections during the reporting period of 1 December to 15 February, which saw escalating humanitarian needs amid violence, displacement, hunger, climate shocks, and public health.
'Stark choice'
"The leadership of South Sudan is now facing a stark choice," he said. "They can embark upon a path of mutual cooperation and reconciliation in the urgent implementation of their peace agreement, or they can take a low road which privileges self-interest and conflict over nation building."
Reporting limited progress in implementing the agreement and its road map to peace, Mr. Haysom welcomed the transitional Government's commitment, but said current "slippages" in meeting agreed timelines remain a concern. On the heels of parties extending timelines by two years, he said "neither stakeholders nor the international community are of a mind to contemplate further extensions".
"We believe there are some key hurdles that the parties must clear in order to successfully position South Sudan to complete the final leg of the transitional phase," he added, pointing to several areas for action.
Inclusive new constitution, elections
Drafting a new constitution is a critical opportunity to foster harmony and prevent a repeat of the civil conflict that has defined the last decade, he said. This requires an inclusive process that gives a voice to all South Sudanese, including marginalized communities, he said, calling on the Government to fast-track the process, including ending Parliament's lengthy recess.
Following a Government request for assistance ahead of the planned elections in 2024, he said a 2021 assessment mission indicates that efforts should focus on creating the architecture and environment for safe elections.
"There is a need to fast-track all preparatory work now," he said, urging that the transitional Government finalize the legal framework and reconstitution of the National Elections Commission.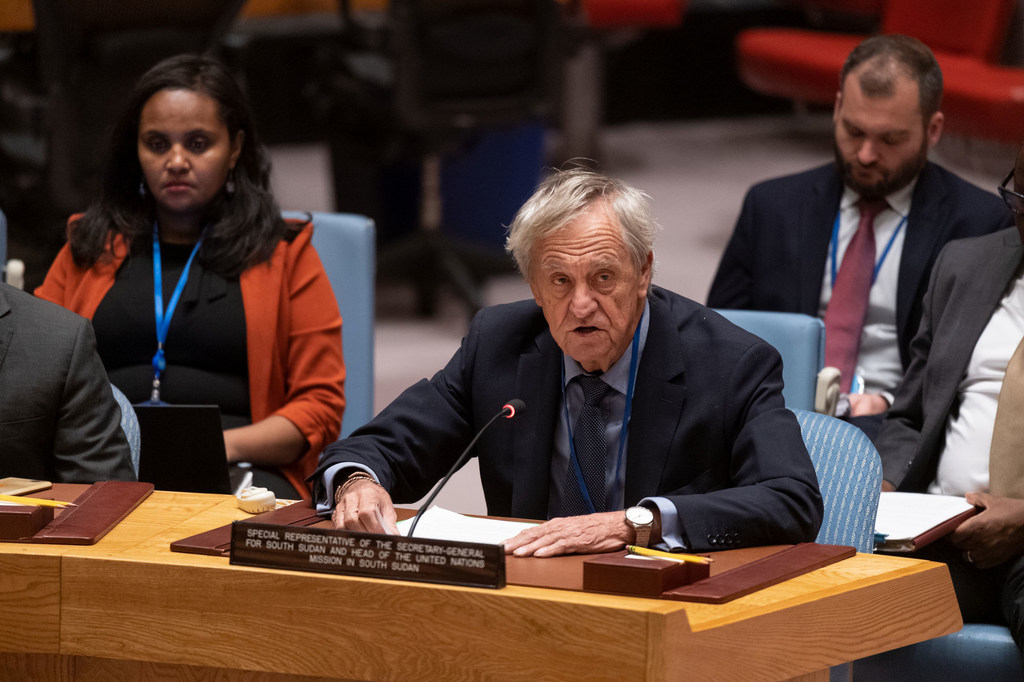 Expand civic space
Expanding civic and political space "will be a defining legacy of the transitional period," he stressed. "It constitutes the ultimate criteria by which the credibility of the electoral process will be judged and set the foundation for a stable democracy which can avert further conflict."
For its part, UNMISS is engaging stakeholders to ask critical questions towards fostering a safe civic space, he said.
He also took note of messages stemming from the recent International Conference on Women's Transformational Leadership, held in the South Sudan capital of Juba. Calls for action at the gathering insisted on more protected space for women and girls "to embrace their role as change agents", he said.
Spates of violence
The final hurdles pertain to humanitarian conditions and security, he continued. Appealing for an urgent start to strengthen and deploy the so-called Necessary Unified Forces – a truly national army, police and coherent security operation – he said they "can either be an asset or a liability during the transition".
Concerned about spates of intercommunal violence, where ethnic or tribal dimensions threaten to unravel hard-won peace gains, he expressed shock at a recent cycle of revenge killing and the unacceptable practice of kidnappings and use of gender-based violence as a tool of war.
With civilian protection being the "heartbeat" of the UN mission, he noted the seven human rights reports published by UNMISS, which include recommendations for improving the areas of justice, accountability, and reconciliation.
In addition, UNMISS has requested UN Headquarters to conduct a capability study to consider whether there is a case for strengthening uniformed deployments within its authorized mandate ahead of the electoral cycle.
"These priorities are all mutually reinforcing," he said. "There is still sufficient time to achieve the ideals, goals, and timelines as set out in the peace agreement. We would want to believe that the South Sudanese would make the most of this fast-closing opportunity."
Noting that climate shocks and conflict continue to affect the humanitarian situation, he said the current $1.7 billion response plan to reach 6.8 million people in need, remains only three per cent funded.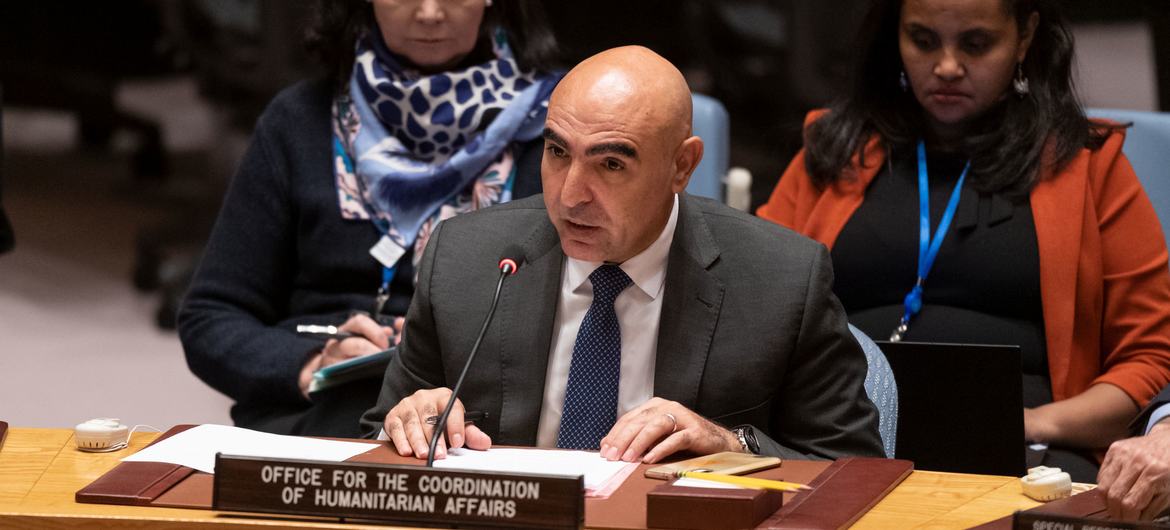 Worsening humanitarian needs
Elaborating on the current worsening situation, Tareq Talahma, Acting Director of the Operations and Advocacy Division at the Office for the Coordination of Humanitarian Affairs (OCHA), said record high needs are growing.
🗓️Save the date
0⃣7⃣ March 2⃣0⃣2⃣3⃣
🕙 10:00-11:30 AM (Geneva Time)

@CHRSS to present its7⃣th Annual #MandateReport 📘 at the @UN_HRC session #HRC52

The new report📘 to explain, in detail, the #HumanRights situation in #SouthSudan🇸🇸

Watch Live on @UN_HRC
Follow us 4⃣updates! https://t.co/rs8kCjSQMW

UNCHRSS
In 2023, 9.4 million – 76 per cent of South Sudan's population – may need humanitarian aid, he said. An estimated 7.8 million people may face food insecurity, with many facing catastrophic conditions, including more than 1.2 million children under age five facing acute malnutrition.
Compounding that, conflicts have triggered major displacement, and climate change shocks have further driven humanitarian needs, he said.
Despite South Sudan being one of the most dangerous places for humanitarian workers, partners have reached 5 million people with aid.
Call for early action
However, early action is vitalto prevent further suffering, he said, adding that OCHA aims at expanding efforts to reach, among others, more than 2.2 million people who remain internally displaced, some since 2013.
Sustainable solutions are needed, he said, citing examples of ongoing efforts, including a four-year strategic development plan to support conflict and disaster-affected communities.
At a time when there is an urgent need to ensure safe access to reach those requiring assistance, cooperative international efforts must address the driversof the protracted crisis, he said, calling on the Security Council for its support.
"Together, we need to do more in 2023," he said. "We urge all actors to ensure the de-escalation of violence and uphold commitments."
Human Rights Council
To address the current situation and ongoing concerns, the UN Human Rights Council will consider the latest report on South Sudan on Tuesday.
© UN News (2023) — All Rights ReservedOriginal source: UN News