Diplomacy in Yemen reaches new pitch following year of relative calm, Security Council hears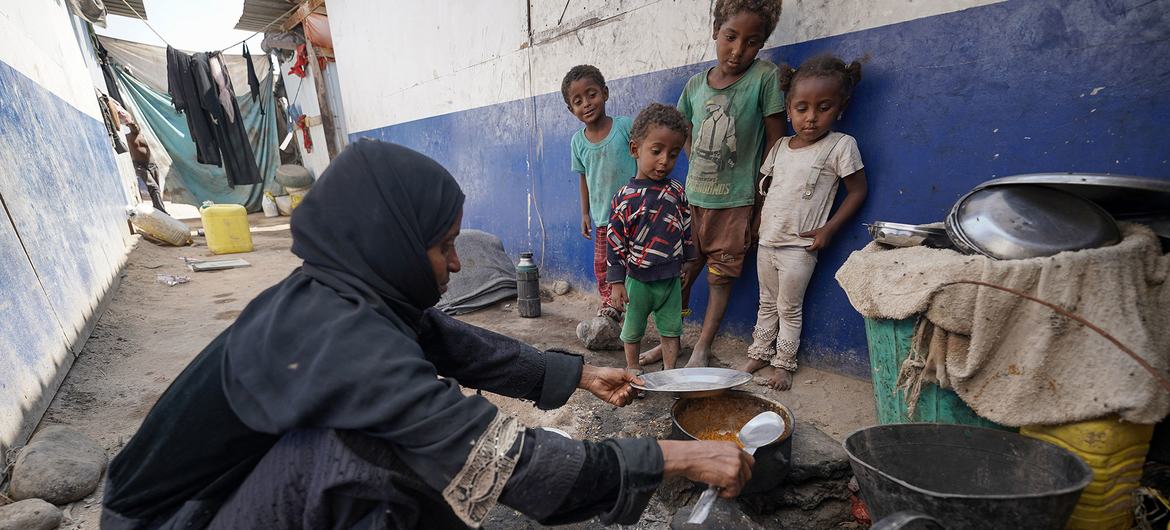 With the holy month of Ramadan fast approaching, warring parties in Yemen must build on relative calm across the country and the April 2022 truce – which is largely holding, despite its official lapse in October – to negotiate a nationwide ceasefire and address the dire humanitarian needs there, senior UN officials told the Security Council on Wednesday.
"The truce can only be a stepping stone," said Hans Grundberg, the UN's Special Envoy for Yemen.
Reiterating that short-term solutions and piecemeal approaches can only bring partial relief, he outlined a range of fresh diplomatic efforts currently underway to bring the conflict to a sustainable end.
Truce holding, despite lapse
The nearly decade-long conflict in Yemen – and the resulting massive, protracted humanitarian emergency – began in 2014 when Houthi insurgent militias first took control of the country's capital and largest city, Sana'a.
Years of diplomatic efforts to resolve the crisis have followed, with the April 2022 truce agreement representing a major breakthrough, and yielding one of the longest lulls in fighting since the war began.
Though the truce officially lapsed in October, after being renewed several times, Mr. Grundberg told the Council today that some of its most important elements are still in place.
For example, commercial flights continue to operate three times a week between Sana'a and Amman, Jordan, and fuel ships continue to enter ports in the city of Hudaydah, along with other vital goods.
Major steps have also been seen in recent days in UN-led efforts to prevent a catastrophic oil spill from the moored FSO Safer, with the announcement of a deal to purchase the decaying oil tanker.
Diplomatic 'step change'
The Special Envoy cited a "step change" in both the scope and depth of diplomatic discussions on the crisis, praising regional efforts by Saudi Arabia and Oman in particular, and calling on all sides to provide time and space for those efforts to bear fruit.
"Impatience at this juncture risks a return to a cycle of violence and risks unravelling what has been achieved so far," he warned.
While the overall military situation in Yemen is relatively stable, it remains highly fragile, and reports of an uptick in the number and intensity of clashes in several frontline areas – particularly Ma'rib and Ta'iz – is cause for concern.
Calling on the parties to exercise maximum restraint at this critical time, Mr. Grundberg emphasized that any understanding reached as part of the ongoing discussions must be urgently translated into a "Yemeni-Yemeni agreement" under UN auspices.
'Staggering emergency'
Also briefing the Security Council was Joyce Msuya, UN Deputy Emergency Relief Coordinator, who agreed that the 2022 truce, and the fact that many of its key provisions have been maintained, have brought about a number of positive developments.
The number of people going hungry in Yemen fell by almost 2 million people in the last year. 
However, she warned that Yemen remains a "staggering" emergency, with more than 17 million people counting on aid agencies for assistance and protection in 2023.
Restrictions on women aid workers
Meanwhile, aid workers continue to face access restrictions, and in Houthi-controlled areas, Yemeni female aid workers are still unable to travel without male guardians – both within and out of the country – which is causing serious disruptions in the ability of agencies to assist women and girls safely and reliably. 
"We know donor funds are tight, and other crises are competing for their support," said Msuya.
She nevertheless called on countries to urgently honour all pledges made at a recent Yemen funding conference in Geneva, and to fully fund the UN's $4.3 billion humanitarian response plan for the war-ravaged nation.
© UN News (2023) — All Rights ReservedOriginal source: UN News