Haiti: 'Take urgent action now' urges ECOSOC President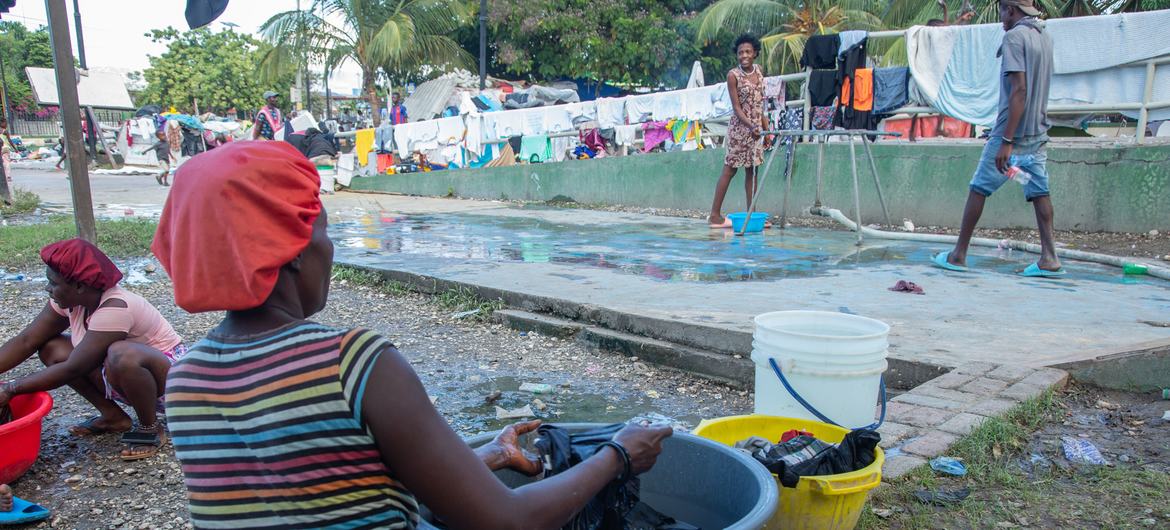 Words are not enough to alleviate the multiple crises afflicting Haiti, said the President of the UN Economic and Social Council (ECOSOC) on Friday, in an appeal for urgent international action.
Lachezara Stoeva was addressing a special crisis meeting on Haiti organized by ECOSOC to address the country's urgent food security needs and noted that the humanitarian response plan for this year is only 22.6 per cent funded.
Wake-up call
"This plan targets 3.2 million Haitian people whereas around 5.2 million Haitian people are in need. This should be our wake-up call", she told the group of Prime Ministers, UN aid chiefs, civil society and other stakeholders gathered at UN Headquarters in New York.
During the high-level meeting, both the Executive Director of the World Food Programme (WFP) and UN Children's Fund (UNICEF) announced they would be travelling to Haiti in the next few days to highlight the depth of the crisis there.
The recent earthquake, flooding and landslides, have exacerbated political and economic turmoil combined with rampant insecurity and violence perpetrated by armed gangs – all of which has triggered a food and health crisis for millions.
"We must learn the lessons of our past efforts in Haiti. A whole-of-society approach that engages the Haitian people would be key to building resilient food systems", she said, calling for bold thinking combined with immediate action.
'Alarming' descent
Bob Rae, Chair of the ECOSOC Advisory Group on Haiti said the crisis was continuing to deteriorate "at an alarming rate."
Humanitarian needs have doubled in the last year. Now 1.8 million Haitians are facing emergency levels of food insecurity and nearly five million do not have enough to eat. "This represents half of the country's population", he added.
UNICEF delivering: Russell
UNICEF chief Catherine Russell warned that the country was "on the precipice of catastrophe."
She reminded the meeting the agency had worked in Haiti for decades and remained deeply committed to supporting all children there.
"Alongside our partners, we are engaging with community leaders and other relevant stakeholders to facilitate the safe movement of humanitarian workers and supplies", she said.
"We are also expanding our response in health, nutrition, protection, education, water, sanitation and hygiene. So far this year, we have screened more than 243,000 children under five for wasting, helped nearly 70,000 women and children access healthcare, provided more over 417,000 people with safe water and reached 30,000 children with learning materials."
Action is now long overdue, she said, announcing her intention to go to Haiti "in the coming days" to assess the collective response and "reiterate UNICEF's commitment to helping the Haitian people."
Investments and action are sorely needed for Haiti, she said.
"Let's work together to make sure this happens. Together we can join with the Haitian people to break through the cycle of crises and begin building towards a more peaceful and hopeful future."
Welcome focus on 'forgotten crisis': McCain
WFP chief Cindy McCain, said she would be on the ground next week, "so I welcome your focus on this forgotten crisis."
The situation is dire and getting worse every day, she added.
"Hunger has reached record levels. 4.9 million people – almost half of the population – are acutely food insecure. This includes 1.8 million people who are at serious risk of starvation."
She said that "a coordinated and well-funded humanitarian response must be part of the broader strategy to restore security and political stability in Haiti."
Despite the challenges, WFP has stayed and delivered, with support for 1.8 million people and the aim of reaching 2.3 million through this year, having already supported 1.4 million with lifesaving food and livelihood support so far.
"But we urgently need the support of the international community. Without additional funds, we will not be able to reach all those we are targeting for help", Ms. McCain stressed.
"Ladies and gentlemen: we must act now, and work together to get food and cash transfers to the millions of people who are relying on us. Together we can make a difference - and help the people of Haiti rebuild their shattered lives."
Build local food resilience
The UN's Humanitarian and Resident Coordinator in Haiti, Ulrika Richardson, told the special meeting that the UN was working hand-in-hand with the Government, together with local and international partners, to make food systems more resilient.
This includes a recent national policy and strategy for food security and independence, and it must not be forgotten how the impact of climate change and climate risks are jeopardizing food supplies.
The UN in Haiti is promoting local production and boosting local farming, through measures such as basing school food programmes on locally produced crops. By 2030, she said all food programmes should be entirely locally sourced.
"Addressing root causes of instability and restoring social and economic wellbeing in Haiti can be achieved through promoting food sovereignty, recalibrating agrifood policies, fostering stakeholder consensus and leveraging international support."
© UN News (2023) — All Rights ReservedOriginal source: UN News