Medical Abortion Expands Women's Rights in Argentina
by Daniel Gutman (

buenos aires

)
Inter Press Service
BUENOS AIRES, Jun 23 (IPS) - Viviana Mazur is a doctor at the Santojanni Hospital in Mataderos, a working-class neighborhood in Buenos Aires. She has witnessed the advances in women's rights in Argentina, where until 2020 abortion was only allowed on two grounds, while it is now available on demand up to 14 weeks of pregnancy.
"Today what we see at the hospital is that most women come in for a consultation very early; in many cases they do so as soon as their period is late. This makes it possible to resolve almost all abortions with medication, in the woman's own home, with medical advice and monitoring," she said.
Mazur, who is also coordinator of Sexual Health in the Buenos Aires city government, said there are many advantages of medication abortion over the traditional surgical procedures.
"It's less traumatic and less risky for the woman and it's less costly for the public health system," she told IPS.
In Argentina, as a result of years of struggle by the women's rights movement, since January 2021 abortion has been decriminalized. In the last stage of the fight, mass demonstrations by women - and also men - wearing green headscarves, which has become a pro-choice symbol in Latin America, filled the streets.
Since then, Law 27,610 on Access to Voluntary Interruption of Pregnancy allows any woman to have an abortion up to the 14th week of pregnancy free of charge and without having to explain the reasons for her decision.
Until the law came into force, access was severely restricted: a Supreme Court ruling in effect since 2012 authorized what was called Legal Termination of Pregnancy, only in the case of rape or if the pregnancy endangered the woman's life or health.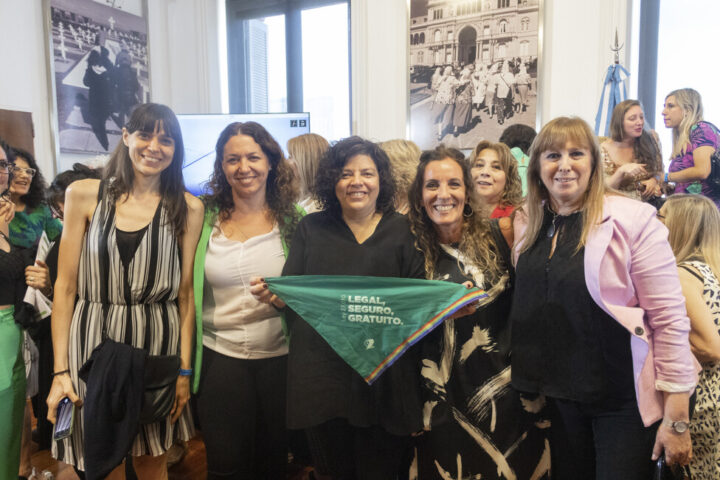 More abortions recorded in 2022
In 2022, the first full year in which the law allowing abortion on demand was in force, 96,664 abortions were performed in the public health system of this South American country of 46 million inhabitants, according to official data. This marked a significant increase over 2021, when the total was 73,847, partly due to the rise in abortions in the public health system.
"More than 85 percent of abortions in 2022 were performed with medication," Valeria Isla, the national director of Sexual and Reproductive Health, told IPS. "The good news is that today these are safe practices taking place within the health system. In any case, since until recently most abortions were clandestine, we believe it is too early to draw conclusions with respect to the number. The figures have yet to stabilize," she added.
Isla explained that her office provides training to health personnel from all over the country on how to perform abortions and that medications are distributed, as well as equipment for manual vacuum aspiration, which is a less risky medical procedure in a doctor's office than dilation and curettage, which is performed in an operating room.
In this sense, since 2022 the incorporation of mifepristone into the Argentine health system, in addition to misoprostol, which has been used for years to perform medical abortions, has been a great step forward.
The combination of mifepristone and misoprostol, called "combipack", makes abortions more efficient and less painful for women, and in fact the combination of these two drugs for pregnancy termination is one of the techniques recommended by the World Health Organization (WHO) since 2005.
Last year, the WHO ratified both as essential drugs for providing quality health services and backed their efficacy and safety for abortion.
Isla explained that since last year the national government has been distributing mifepristone in public hospitals thanks to a donation from the United Nations Population Fund (UNFPA).
Since March of this year, mifepristone has been fully available also for the Argentine private health system, since the governmental National Administration of Medicines, Food and Medical Technology (Amnat) authorized its sale in pharmacies.
This has allowed the "combipack" to be used in recent months in the private health system as well, where women now also have easier access to abortion.
"The incorporation of mifepristone has been very important on a day-to-day basis to make abortion easier for women, because it means less misoprostol is used, side effects are reduced and the whole process can be carried out at home, with prior and subsequent checkups," Florencia Grazzini, a social worker at a primary care clinic in the municipality of Lanús, on the outskirts of Buenos Aires, told IPS.
Grazzini began providing support to women who needed access to abortion long before the legalization of voluntary termination of pregnancy. She worked for years at the Kimelú counseling center, formed by feminist activists and serving the southern area of Greater Buenos Aires.
She said that while access to abortion has now been greatly facilitated, for some women termination of pregnancy is still a stigma.
"Despite the fact that with the law there is no need to gjve a reason for abortions up to 14 weeks of pregnancy, the justification for the decision continues to appear in the record of the consultations," Grazzini pointed out.
She added that, "We are working so that people can share how they feel about their situation, but we don't want them to feel that they need to explain in order to access an abortion."
She said the women are told that they do not need to explain why they wish to have an abortion, although psychological assistance is provided to those who request it.
Abortion, however, sometimes encounters resistance from health professionals themselves. This was reflected in May, when the Ministry of Health updated the Protocol of Care and urged the "elimination of all requirements that are not clinically necessary for the safe practice of abortion."
Specifically, it called for the elimination of waiting or reflection periods and the requirement of parental or partner consent.
The need for support
More data that shows that the legalization of abortion has not eliminated all the actual barriers is provided by Socorristas en Red (roughly, "Helpers Online Network"), a women's organization that provides nationwide support for women who need an abortion.
In 2022, the network received 13,292 calls from women who wanted to terminate their pregnancies.
Only 10 percent of them had abortions in the public health system and the rest had abortions that they arranged elsewhere. The organization provided them with psychological assistance, information, instructions, WhatsApp messages, phone calls, and virtual and face-to-face company by "socorristas" or helpers. With all this they found greater comfort than in the health system.
This picture is completed by the visible inequality in access to abortion in different areas of the country.
Although the number of public hospitals and health centers that perform abortions reached 1793 in 2022 - against less than 1000 in 2021 - in some provinces the supply is very limited. For example, in the northern provinces of Santiago del Estero and Chaco there are only eight and nine health institutions, respectively, that perform abortions.
"In some places there is resistance from officials and a lack of knowledge among fellow workers about outpatient treatment with medications," Ana Morillo, a social worker in the province of Córdoba, in the center of the country, told IPS.
Morillo, who is an activist and member of the Network of Professionals for Choice and the organization Catholics for Choice, said the advocacy work of the women's rights movement has made Cordoba one of the provinces with the greatest access to abortion, since there are 180 hospitals and health centers that perform the procedure.
"The greatest inequalities are between cities and rural areas, where it is much more difficult to access an abortion. These are the disparities in the country on which we still have to work the hardest," she said.
© Inter Press Service (2023) — All Rights ReservedOriginal source: Inter Press Service