Sudan crisis: You don't dare ask refugees where the men have gone, say UN aid teams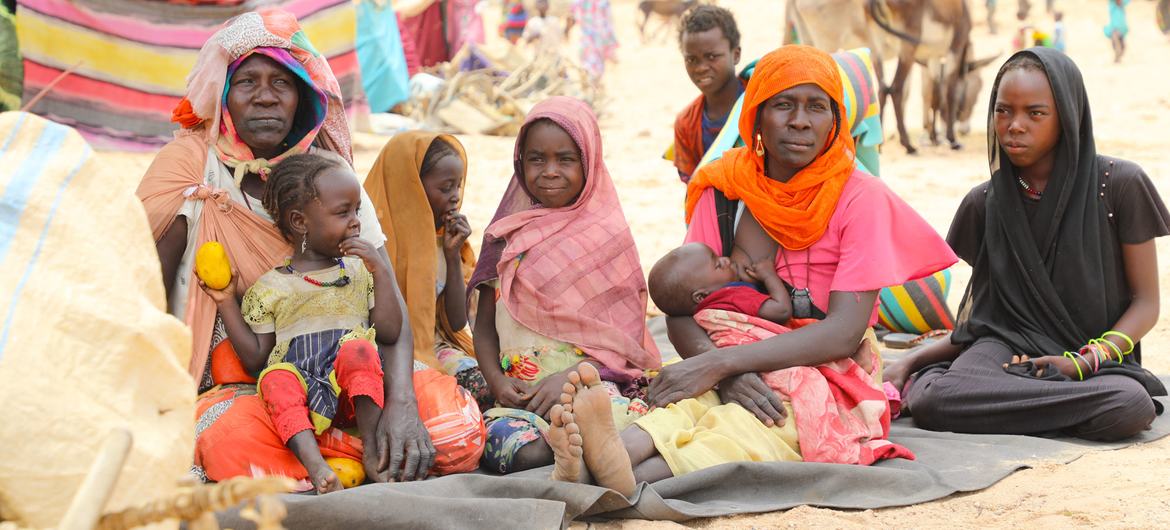 As conflict continues to rage in Sudan, UN humanitarians expressed alarm on Tuesday at a surge in the number of people fleeing across the border to Chad.
From the World Food Programme (WFP), Chad Country Director Pierre Honnorat, said that 20,000 people crossed into Chad just last week.
Speaking to journalists via Zoom from Zabout refugee camp in Goz Beida, Mr. Honnorat described desperate scenes: "We can see that they have suffered, many lost family members and we don't even dare ask them, 'Where are the men?' The answer from the mothers is often that they were killed. So, you just see many women, many children".
The new arrivals are among the more than 230,000 refugees and 38,000 returnees who've been uprooted by deadly clashes in west Sudan's Darfur states.
'We need support, not hope'
Many are seriously wounded and have harrowing stories of the violence they have experienced, Mr. Honnorat said, as he appealed for financial support to help the victims of Sudan's conflict, which began on 15 April and has been marked by the use of heavy weaponry and airstrikes involving rival military forces.
"This is not over at all, we really need support, it's no longer about hope, we give them hope, safety, but they really need to eat every day," the WFP official said, adding that "the situation is really critical."
In order to scale up WFP's response on the Chad-Sudan border, the UN agency needs a minimum of $13 million every month.
Dying at nutrition centres
Urgent priorities include treating the wounded and helping dangerously malnourished children crossing from Darfur into Chad. According to WFP, one in 10 displaced youngsters from Sudan is malnourished.
"Every week children are dying at the nutrition centres, this is a reality," Mr. Honnorat said. "The malnutrition rate for children now is just too high and we need to be extremely quick in prevention to make sure that that who are under what we call moderate to acute malnutrition can urgently get what they need so they don't fall into the severe malnutrition."
According to the UN refugee agency, UNHCR, the conflict has displaced more than 2.5 million people inside the country and across borders into neighbouring countries. Before the crisis erupted, there were 1.1 million refugees in Sudan, mainly from South Sudan, Eritrea, Ethiopia and Syria.
Latest data from UNHCR indicates that Chad has opened its borders to more than 190,000 refugees, second only to Egypt, which shelters more than 250,000.
'So little funding'
In recent weeks, WFP has constructed six temporary health units, including two now used as a makeshift hospital and medical logistics, and four as transit points for new refugees crossing into Chad.
"I've rarely seen such an important crisis with so little funding", said the WFP country director. "I was also at the border, on the bridge, what's left as a bridge. It's a constant flow and the ones that are coming now are in much worse situations than those who arrived in the first days."
Many of those arriving in Chad from the Darfurs are seriously wounded amid reports that fleeing civilians have been deliberated targeted with an increasing ethnic dimension to the violence.
© UN News (2023) — All Rights ReservedOriginal source: UN News