UN chief hails SE Asia for vital role 'building bridges of understanding'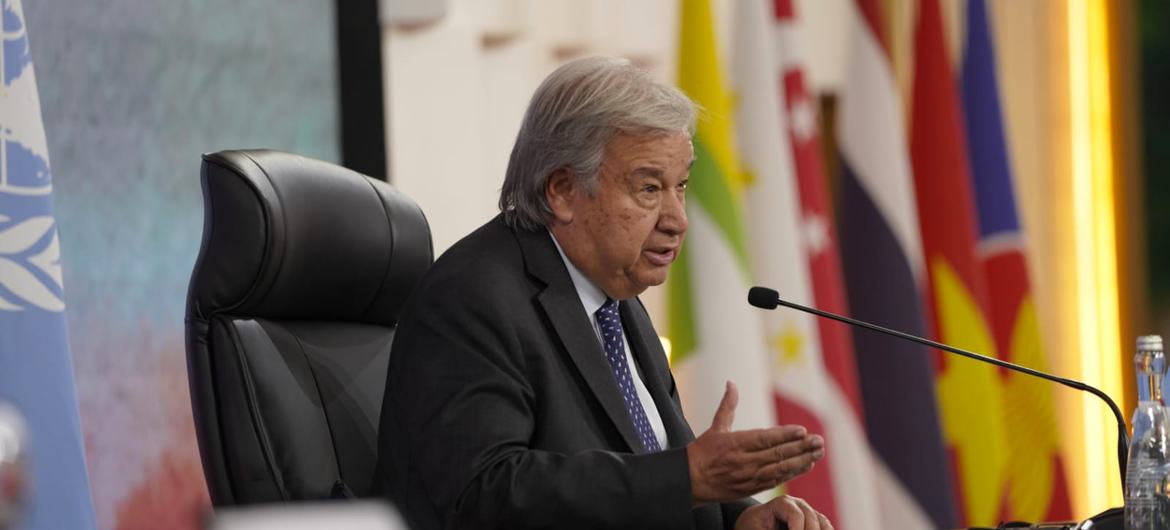 Amid rising geopolitical tension, Southeast Asia is fulfilling a "vital role in building bridges of understanding" worldwide said the UN chief on Thursday.
António Guterres was speaking in Jakarta, Indonesia, at the opening of the ASEAN-United Nations Summit, addressing Member States of the Association of Southeast Asian Nations and declaring "our partnership is more important than ever."
Tests 'as far as eye can see'
The international community faces tests "as far as the eye can see – from the climate emergency to a global cost-of-living crisis…to raging conflicts…to growing poverty, hunger, and inequalities."
With the risk of what he has often called a Great Fracture growing, he said ASEAN's bridge building role was needed "in a world that is increasingly multipolar and that requires strong multilateral institutions to go with it – based on equity, solidarity, and universality."
Mr. Guterres said he was grateful for the ASEAN bloc of ten nations' "steadfast support for multilateral solutions."
There are more than 5,000 peacekeepers deployed from ASEAN countries and a Community Vision plan in place taking the region to 2045.
He noted ASEAN's convening power in a region that represents "the most dramatic divisions in today's world". The body's "commitment to dialogue and experience in conflict prevention are crucial pillars of stability", he added.
He praised Member States for the constructive diplomatic efforts being made – from the Korean Peninsula to the South China Sea – in line with international law.
Crushed hopes in Myanmar
Mr. Guterres did not mince his words addressing the most intractable crisis in the region – the military regime in Myanmar that ousted the democratically-elected Government and national figurehead of Aung San Suu Kyi, in February 2021. She and other leaders remain in jail.
"Brutal violence, worsening poverty, and systematic repression are crushing hopes for a return to democracy."
He described the situation as simply "untenable".
"Over one million Rohingya remain in Bangladesh, in the world's largest refugee camp. And, regrettably, the conditions for their safe, voluntary and dignified return are not yet in sight. Much more is needed", the UN chief told delegates.
He voiced his appreciation for ASEAN's principled approach and reiterated the UN's call for a unified strategy to end the suffering across Myanmar.
Clarion call to junta
"My call to the military authorities of Myanmar is clear: free all detained leaders and political prisoners; open the door towards the full restoration of democratic rule."
On the climate crisis, he lamented the human-driven "assault against the planet", and noted that ASEAN States were among the most biodiverse in the world, and the most vulnerable to disasters.
There's still time to limit the worst impacts of climate change he declared, and meet the goals of the 2015 Paris Agreement limiting global warming.
ASEAN 'uniquely positioned'
He said ASEAN was "uniquely positioned" to be a leader in global, sustainable, just, inclusive and equitable energy transition.
But greater ambition is needed along with greater support, repeating his call for developing countries to honour their commitments to developing nations.
Finally, he called for greater action in Southeast Asia to realise the SDGs, or Sustainable Development Goals, including an SDG Stimulus of $500 billion a year.
"I count on ASEAN member States to help raise global ambition in the vital months ahead", said the UN chief.
"And you can always count on my wholehearted support to shape a future of peace and prosperity for the people of Southeast Asia and the world."
Speaking to journalists in the Indonesian capital later, the UN chief made clear the world needs "cooperation on all fronts" to create a better future for all:
© UN News (2023) — All Rights ReservedOriginal source: UN News