Sudan: UN 'will never stay neutral' amid war and human rights abuses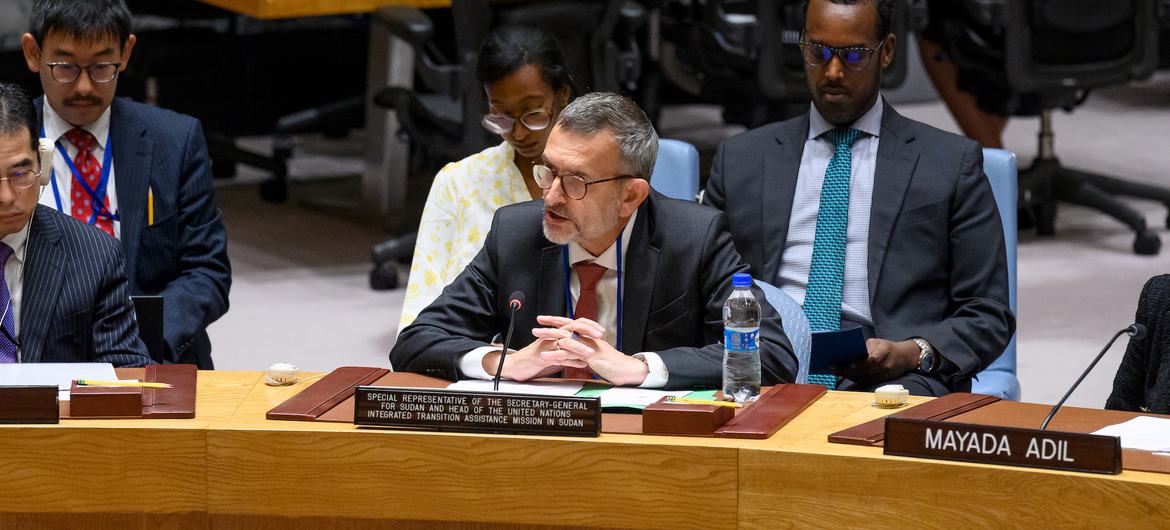 Both Sudanese Government forces (SAF) and their rival Rapid Support Forces (RSF) are responsible for abhorrent rights violations as they battle for supremacy, the UN envoy to the country said on Wednesday.
But he stressed the UN "will never stay neutral" when it comes to demanding accountability for war crimes and other human rights abuses.
Final briefing
Volker Perthes, Special Representative of the Secretary-General for Sudan, was addressing the Security Council for the final time.
He announced he will step down from the role, more than six months since the start of a brutal conflict between the rival militaries inside the country.
The resignation will be accepted, Secretary-General António Guterres said in response to a journalist's question at a press conference, after Mr. Perthes made his announcement.
"He has very strong reasons to resign and I have to respect his will and accept his resignation," the UN chief said.
Abhorrent violations
Mr. Perthes told ambassadors that while the SAF conducted indiscriminate aerial bombing, most of the sexual violence, lootings and killings were conducted or tolerated by the RSF.
"Both sides are arbitrarily arresting, detaining, and even torturing civilians and there are reports of extrajudicial killings," he said.
He called for the 15-member Council to "impress on the warring parties that they cannot operate with impunity, and there will be accountability for the crimes committed."
Full-blown civil war
The conflict, which started between SAF and RSF military formations, "could be morphing into a full-blown civil war", Mr. Perthes said.
He recalled the situation in April, where both sides did not heed calls for de-escalation and dialogue, instead building up their forces in the capital, Khartoum.
"Let me be clear, for the benefit of history, that regardless of who fired the first shot, both sides were clearly setting the stage for war. The warring parties chose to settle their conflict through fighting, and it is their duty to the Sudanese people to end it."
The UN envoy informed the Security Council that until the last moment, he and other partners warned that it would only take a spark to ignite armed confrontation.
"This is sadly what happened."
Stepping down
Mr. Perthes' stepping down comes amid fierce criticism from the Government, according to media reports.
Calls for his removal reportedly included a letter, in May, to the Secretary-General from military ruler General Abdul Fattah Al-Burhan, Chairman of the Sovereign Council of Sudan.
"The Secretary-General is proud of the work done by Volker Perthes and reaffirms his full confidence in his Special Representative," Mr. Guterres' spokesperson said in a tweet at the time.
© UN News (2023) — All Rights ReservedOriginal source: UN News