Guterres urges G77 and China to champion multilateralism 'rooted in equality'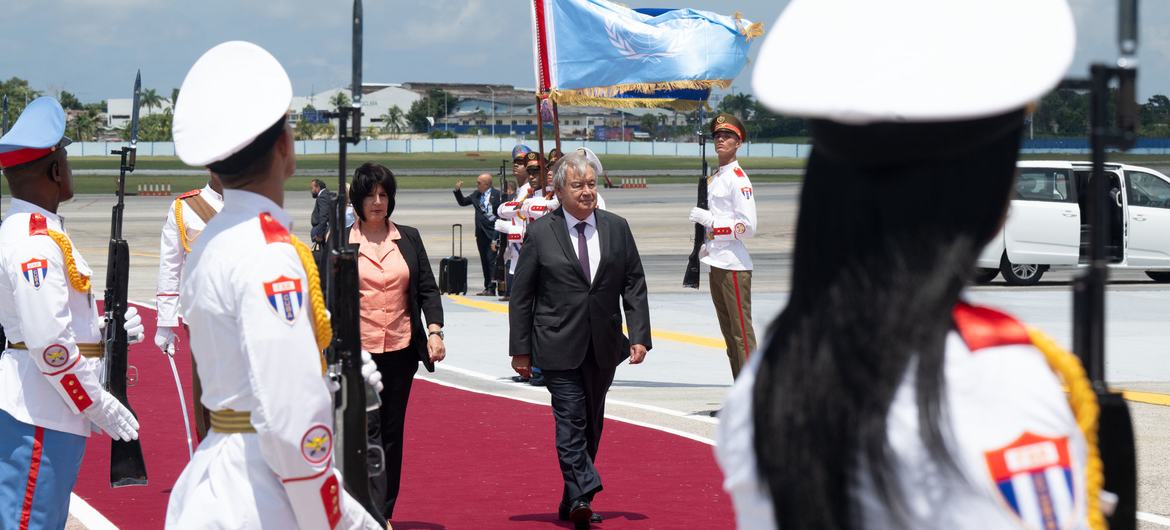 UN Secretary-General António Guterres appealed to leaders from the Group of 77 developing countries (G77) and China to "fight for a world that works for all", in his address to their summit in Havana, Cuba, on Friday.
"I count on your Group, who have long been champions of multilateralism, to step up, to use your power, and fight," he said.
"Champion a system rooted in equality; champion a system ready to reverse the injustice and neglect of centuries; and champion a system that delivers for all humanity and not only for the privileged."
World failing developing countries
Mr. Guterres noted that although these countries have lifted hundreds of millions out of poverty in recent decades, they are now facing myriad crises, with rising poverty and hunger, rocketing prices, soaring debt, and surging climate disasters.
"Global systems and frameworks have let you down," he told leaders gathered in the Cuban capital. "The conclusion is clear: the world is failing developing countries."
He said change will require action at the national level to ensure good governance, mobilise resources and prioritise sustainable development. At the same time, this national ownership will have to be respected.
Science, technology and innovation
The Secretary-General upheld the need for strong, effective multilateral institutions as the international community moves to "a multipolar world".
He recalled that many current institutions – particularly the UN Security Council, the International Monetary Fund (IMF) and the World Bank - were established "when many developing countries were shackled by colonial rule and had no say on their own affairs, or on global affairs."
He said the summit's theme of science, technology and innovation can promote solidarity, solve common problems, and help towards achieving the Sustainable Development Goals (SDGs). However, today "they frequently inflame inequalities and entrench divisions", he said, pointing to inequities between developed and developing nations in accessing COVID-19 vaccines and digital technology.
Mr. Guterres added that finance is another area for urgent global action. Many developing countries are unable to service their debts due to the lingering effects of the pandemic, the global cost-of-living crisis, and extreme climate impacts.
Deliver climate financing
"The world needs climate justice as it needs financial justice," he said.
"Developed countries must deliver the promised $100 billion, double adaptation finance by 2025, and recapitalise the Green Climate Fund. Every person on earth must be protected by an early warning system by 2027 against natural disasters."
Mr. Guterres expressed hope that next week's Climate Ambition Summit, taking place at UN Headquarters in New York, "will be able to drive real progress".
He also called for countries meeting at the COP28 UN climate conference this November to operationalise the Loss and Damage Fund, which the G77 and China has championed.
A fairer future
In his speech, the Secretary-General noted that he has proposed measures to make the global financial architecture more representative and responsive to the needs of developing countries.
He has also proposed an SDG Stimulus that would provide $500 billion annually in affordable long-term finance for sustainable development and climate action in developing countries.
The UN chief has convened the SDG Summit next week and a related Summit of the Future next year.
He said they represent "real opportunities to reshape the international system and international institutions to make them reflect today's realities instead of the realities that existed after the Second World War to create a fairer future for developing countries."
The UN has also developed a Global Digital Compact aimed at securing a just transition to a digital economy, and that everyone benefits in the new technological era.
The Compact is being negotiated by countries ahead of the Summit of the Future, and Mr. Guterres urged the G77 and China to play a leading role.
"New rules for new technologies cannot just be written by the wealthy and the privileged," he said.
© UN News (2023) — All Rights ReservedOriginal source: UN News