Insecurity in Dominican Countryside Threatens Local Food Supply
by Ivet Gonzalez (

mata mamÓn, dominican republic

)
Inter Press Service
MATA MAMÓN, Dominican Republic, Dec 28 (IPS) - "Sometimes we have too much water, which washes everything away," Cecilia Joseph, originally from Haiti, said in heavily accented Spanish while pulling up a ñame root (a kind of yam) on her farm in the municipality of Santo Domingo Norte in the Dominican Republic.
Joseph was referring to the frequent flooding caused when the Ozama, Cabón and Tosa rivers, which run through the rural area of Mata Mamón 30 km north of the Dominican capital, overflow their banks.
The heavy rains hurt her subsistence crops – corn, banana, papaya, avocado, ñame and mango – which sometimes produce a surplus that she sells, complained this small, thin, agile 70-year-old.
Cecé, as she is known here, depends completely on her one-hectare farm for a living, because her son and her husband are both dead.
This community of 1,714 inhabitants, where most people are small farmers like Joseph, is one of 1,100 that are registered by the civil defence agency in the province of Santo Domingo as vulnerable to flooding and landslides due to the overflowing of rivers and the lack of stormwater drainage systems.
Besides the threats posed to their health - and to their very lives - local farmers consulted by IPS say the environmental problem has reduced their production levels, and as a result they don't have enough food anymore to feed their families.
"Five years ago I stopped planting rice and pumpkin on the land next to the river, because it overflowed its banks more and more frequently, to the point that it wasn't worth investing there, just to lose everything," said 56-year-old José Corcino, who also works as a skilled construction worker to support his family.
"We have made several requests through the United Hearts Association of Farmers of Mata Mamón for the state to dredge the rivers so they won't overflow their banks. But everything has been in vain. We still can't plant our crops," complained Corcino, one of the more than 100 members of the organisation.
"We are going hungry because we don't grow enough to be able to swap products with other local farmers," he said. "And we don't have markets here. Sometimes people come in trucks, selling vegetables and things, or we have to go and shop at La Victoria, which is six km away."
Corcino, a father of three, grows banana, guava, soursop, avocado and mango to feed his family, on the one-hectare plot of land where his house is located. And farther away, on a 1.5-hectare plot where he used to grow rice, he grazes his 15 head of cattle, mainly dairy cows.
"Every afternoon I bring the cattle to my yard because the thieves take everything," he said, referring to another factor that is a hindrance to agriculture. In his view, what the farmers in Mata Manón need is less vandalism and rustling, and more environmental services and investment, to boost local food production.
Today, 1.5 million of the Dominican Republic's 9.3 million inhabitants are still malnourished, even though the country managed to reduce the number of people suffering from hunger in the last 20 years, according to the United Nations Food and Agriculture Organisation (FA0).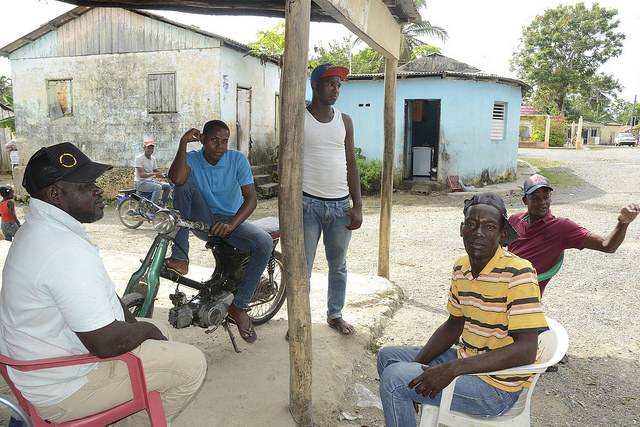 Food insecurity and poverty are largely rural phenomena in this Caribbean nation which shares the island of Hispaniola with Haiti, according to the Panorama of Food and Nutritional Security in Central America and Dominican Republic 2014, published for the first time this year by FAO.
In fields in the Dominican Republic, where food availability is determined, it is small farmers and blacks who suffer the most, according to the study.
"Peasant farmers have to feel security for themselves and their families in terms of labour, income, food, and access to school and healthcare. And environmental security is also important, because sometimes heavy rains fall and wipe away their crops," said Manuel Rodríguez at the Labour Ministry's Agriculture Office.
He said the office offers advice to help generate more secure jobs, as part of a larger government programme aimed at increasing employment in agriculture from the current 20 percent to 40 percent of the total workforce.
According to the Ministry of Agriculture, only 609,197 people work in this sector: 559,428 men and 49,769 women.
"Peasants are abandoning their land today because there isn't any money or work. But in the next few years, the Dominican countryside is going to undergo a radical change," the official predicted.
The project will also involve technological modernisation projects like the expansion of greenhouse areas, initiatives for incorporating more women in farming, reduced interest payments to the agricultural bank, and more credit for farmers.
The Dominican Republic is a major exporter of peppers, tomatoes and cucumbers, while production of Chinese vegetables is growing, said Rodríguez. This country is also one of the world's leading exporters of organic tropical products like bananas.
However, Dominican society is marked by a high level of inequality, and hunger and malnutrition are still top-priority problems, as recognised by the authorities when parliament approved a law on food and nutritional sovereignty and security in 2014.
Mata Mamón, a "batey" – a term that refers to rural shantytowns that originally sprung up on sugarcane plantations, as well as to urban slums surrounding cities and populated mainly by Haitians and Dominican-Haitians - is an area of potted roads lined by earth-floored wooden shacks and a few modest cinder-block dwellings.
"We have made some progress in education and among the youth, who have calmed down," said Cornelio Guzmán, chairman of the Human Rights Committee for the last 15 years, with regard to the declining rates of juvenile delinquency and the construction of a local school.
"With respect to economic questions, the community has almost no income because the rivers destroy the crops and it's impossible to fight the theft of cattle, goats and pigs, because we only have one policeman," lamented the 44-year-old activist.
Edited by Verónica Firme/Translated by Stephanie Wildes
© Inter Press Service (2015) — All Rights ReservedOriginal source: Inter Press Service