Top UN official for Africa calls for added action to stop piracy's spread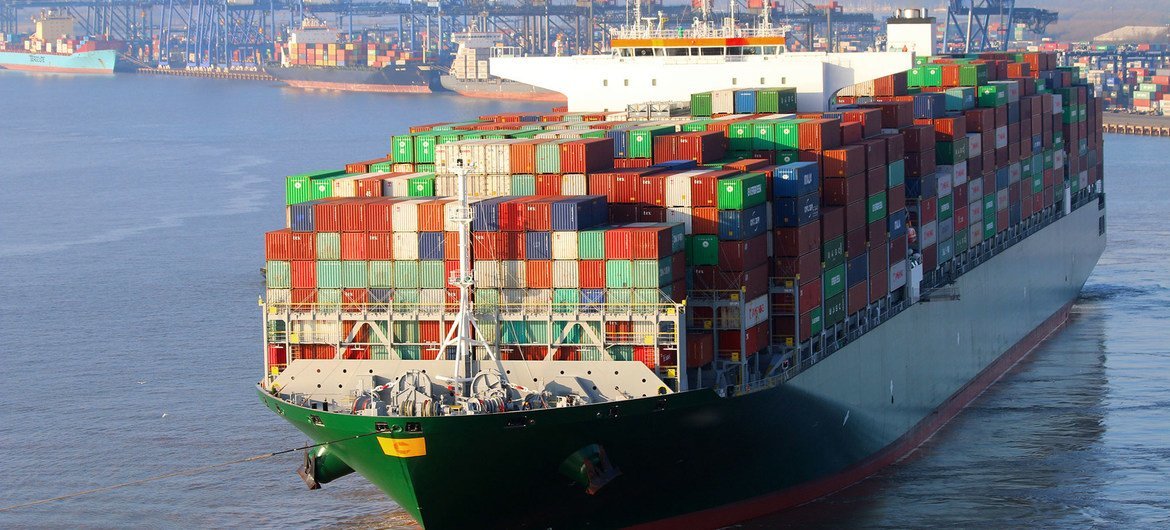 International cooperation is making waves in combatting piracy in West Africa, but addressing its root causes and ensuring sustainable funding must fully eliminate threat, which is spreading to other regions, a top UN official told the Security Council on Wednesday.
Despite gains made in tackling sea-faring criminal groups, "piracy incidents continue to threaten the safety of maritime traffic in the region," said Martha Pobee, UN Assistant Secretary-General for Africa in the Departments of Political and Peacebuilding Affairs and Peace Operations.
Effective deterrents
Since her last briefing on maritime security in November, she said a steady decrease in piracy incidents in the Gulf of Guinea was in large part due to interventions by national authorities and regional and international partners.
Together, these effective deterrents against criminal groups have been buttressed by the ongoing operationalization of the so-called Yaoundé architecture, established in 2013 with the signing of the related Code of Conduct by actors in the region, she said, noting that four out of five interregional coordination centres are now functioning.
Such efforts, including forming joint naval task groups, have enhanced cooperation and information sharing while forging a centralized process for maritime security that bridges national and regional capacity gaps, she said.
Threats shifting waters
However, gaps remain, she cautioned, calling for increased support to fill them. These include such challenges as the lack of appropriate equipment and of sustainable financing to ensure the full operationalization of the Code of Conduct.
"Rapidly addressing the challenges that hamper the full operationalization of the Yaoundé architecture is critical to maintaining current gains," she cautioned.
Recent figures already suggest that "incidents are steadily shifting from the waters of West Africa towards the maritime domain of the UN Economic Community of Central African States, she said.
Following trends
From 2016 to 2021, the pirate groups in the region altered their patterns, shifting their focus towards "kidnapping for ransom" piracy, according to the UN Secretary-General's report on piracy in the region.
A study by the UN Office on Drugs and Crime (UNODC) Global Maritime Crime Programme showed that "kidnapping for ransom" piracy peaked in 2020, with approximately 140 individuals reportedly abducted at sea, the report showed.
The study revealed that the pirate groups operated indiscriminately, targeting vessels of all types, including fishing vessels, and increased their activities further afield. Several cases at the time were reported beyond 200 nautical miles from shore.
Concerted efforts
Against this backdrop, the number of cases of piracy and armed robbery at sea, including kidnapping for ransom, decreased to 45 in 2021 from 123 in 2020, due to national efforts, the Secretary-General's report found.
The report noted that deterrence effect was further amplified by the deployment of non-Gulf of Guinea navies, including through the continuous presence of ships under the European Union Coordinated Maritime Presences operation, from Denmark, France, Italy, Portugal, and Spain, as well as the regular patrols of navies from Brazil, Canada, India, Morocco, Russia, United Kingdom, and the United States.
UN assistance
For its part, the UN stands ready to assist, Ms. Pobee said.
Highlighting several ongoing efforts, she said UNODC is, among other things, providing technical and logistic support for joint patrols.
Together, the UN Office for West Africa and the Sahel (UNOWAS) and the UN Regional Office for Central Africa (UNOCA) have developed an inter-regional project to conduct a review of the Code of Conduct, which will be critical in galvanizing support for these activities at a time when piracy remains a threat to the Gulf of Guinea region.
Key action areas
Underlining several key areas essential for success in reviewing the Code, she said nations must first update legal frameworks. Meanwhile, enhanced coordination between the Interregional Centre and partners "remains vital".
In addition, actors must address the root causes of piracy to eliminate the threat, she said.
"To effectively eliminate the threat posed by piracy and armed robbery at sea, national stakeholders, regional and sub-regional organizations and international partners must also actively seek to address the underlying social, economic and environmental challenges that underpin the recruitment of individuals into maritime criminal networks," she said.
In this regard, it would be important for the review process, when launched, to include a focus on prevention, consider ways of enhancing more participatory community-based engagements in the architecture, and generate sex-disaggregated data on the impact of maritime crime on women, girls, men, and boys to better inform policy options and actions.
"Without traction on this front, overall progress in curbing this menace will be limited," she warned.
For more details on this and other meetings occurring throughout the UN system, visit our dedicatedUN Meetings Coverage page.
© UN News (2023) — All Rights ReservedOriginal source: UN News