Sudan: Four months of conflict 'destroying people's lives and violating their basic human rights', humanitarians warn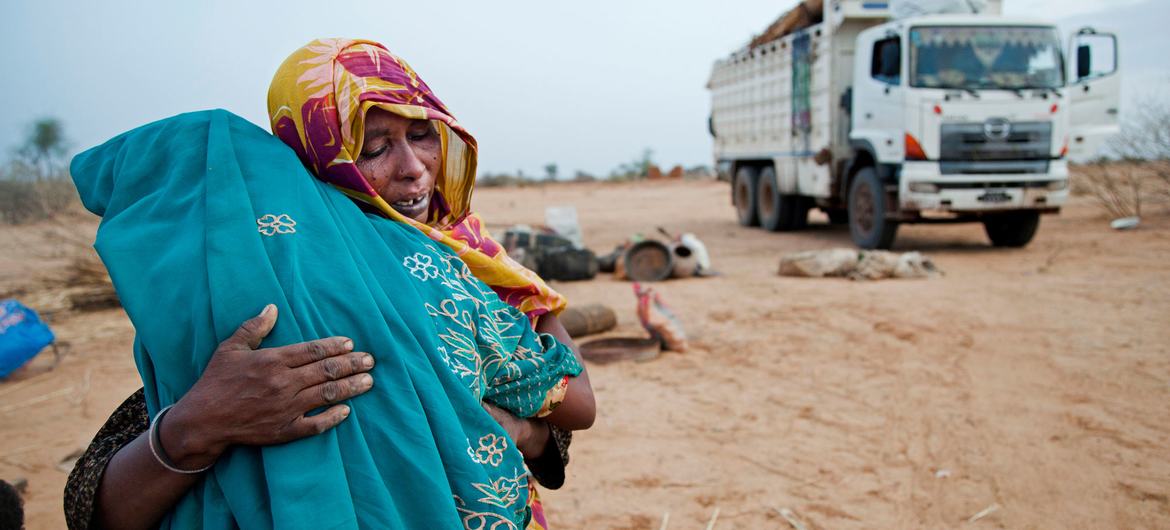 After four months of war in Sudan, UN humanitarians on Tuesday called for action to be taken to end the conflict which is having a "devastating impact" on people's lives, health and well-being.
In a statement, UN High Commissioner for Human Rights Volker Türk warned that the "disastrous, senseless war in Sudan, born out of a wanton drive for power, has resulted in thousands of deaths, the destruction of family homes, schools, hospitals and other essential services, massive displacement, as well as sexual violence, in acts which may amount to war crimes".
Over four million flee conflict
William Spindler, spokesperson for the UN refugee agency UNHCR, noted that over 4.3 million people have been forced to flee since conflict erupted on 15 April between the Sudanese Army and the paramilitary Rapid Support Forces (RSF).
Latest UN data indicates that more than 900,000 refugees and asylum seekers have fled to neighbouring countries and 195,000 South Sudanese have been forced to leave Sudan.
Mr. Spindler added that within Sudan, over 3.2 million people have been internally displaced, including more than 187,000 refugees already living in the country at the start of the crisis.
Echoing that message, UN World Health Organization (WHO) spokesperson Dr Margaret Harris warned that some 67 per cent of hospitals in the affected areas were out of service, denying access to care for "tens of thousands of people".
'Death sentence' for children
The WHO official further noted that the UN agency had verified 53 attacks on healthcare, adding that 11 people have been killed and 38 injured.
In the context of "insecurity, population displacement and non-functional laboratories", Dr. Harris sounded the alarm about the difficulty of controlling ongoing outbreaks of measles, malaria and dengue. Conditions are even more dangerous for children, she said, with about one-third of under five-year-olds now chronically malnourished. "Measles and malnourishment equals a death sentence for children under five," she said.
Threat for women and girls
The situation is also particularly dangerous for women and adolescent girls, stressed Laila Baker, Regional Director for The United Nations Population Fund (UNFPA), with 2.6 million women and girls of reproductive age requiring humanitarian assistance.
Some 260,000 women are now pregnant and almost 100,000 are expected to give birth in the next three months. But without critical services, including hospitals and safe delivery, "their lives and those of their children and the babies that are going to be the future generation are severely at risk", Ms. Baker said.
The threat of sexual violence is an additional danger for women and girls, warned UN human rights office, OHCHR. According to spokesperson Liz Throssell, OHCHR had received credible reports of some 32 incidents of sexual violence against 73 victims by 2 August. This includes at least 28 incidents of rape. Men in Rapid Support Forces (RSF) uniforms were implicated in at least 19 incidents as perpetrators, but "the actual number of cases is likely much higher," she said.
Ms. Throssell reiterated that the UN human rights chief, Volker Türk, had repeatedly reminded senior officials in Sudan that there is "zero tolerance" for sexual violence. "Perpetrators must be held accountable and such violence must be clearly and unequivocally condemned," she said.
Possible war crimes
Adding to the calls for action, Jens Laerke, spokesperson for the UN Office for the Coordination of Humanitarian Affairs (OCHA) warned that the war is "destroying people's lives and their homeland and violating their basic human rights".
He urged all parties to the conflict to "end the fighting, protect civilians, and give humanitarian organizations unfettered access" to all areas of Sudan. The attacking of civilians, looting of humanitarian supplies, and targeting of aid workers and hospitals throughout the past four months "may amount to war crimes and crimes against humanity."
© UN News (2023) — All Rights ReservedOriginal source: UN News