Despite challenges, Africa 'poised for progress' – Guterres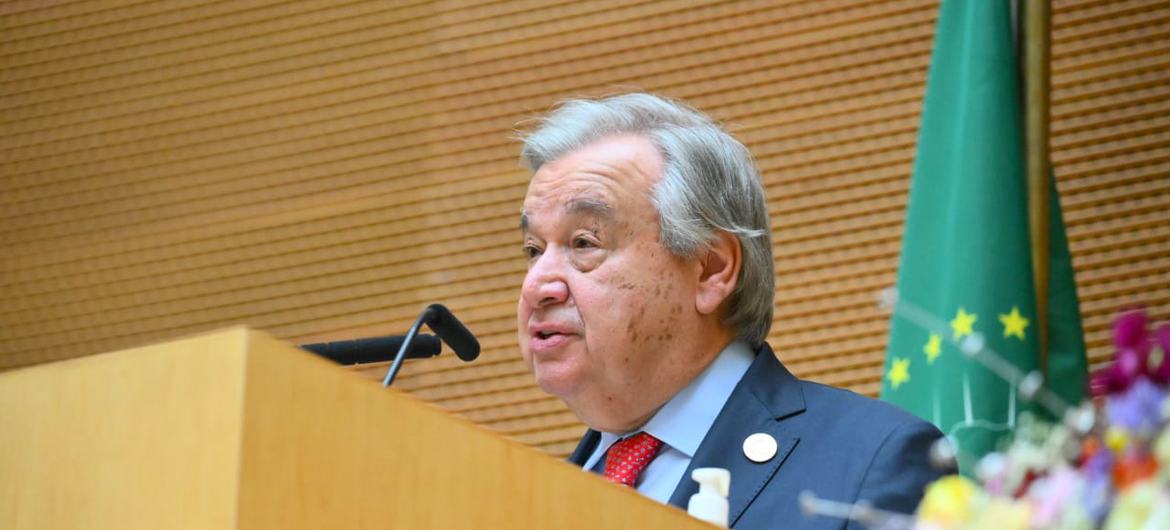 UN Secretary-General António Guterres expressed his support for an integrated, prosperous, and peaceful Africa on Saturday, in remarks delivered to the African Union Summit, which is being held in the Ethiopian capital, Addis Ababa.
Mr. Guterres praised the many African Union (AU) initiatives aimed at bringing about this vision for the continent – including Agenda 2063 a blueprint for the Africa of the future, and the Decade of Women's Financial and Economic Inclusion – and the decision to focus on the African Continental Free Trade Area at the Summit which, he said, represents a "truly transformative pathway to job creation and new sources of prosperity for Africans, especially for the youth".
Tests on every front
Nevertheless, the UN chief did not underestimate the "enormous tests" Africa is facing, crises that are "greater than any in our lifetimes", and demanded action.
On the economic front, Mr. Guterres called for more financial support for a continent that is, he said, being hit by a dysfunctional and unfair financial system, inequalities in the availability of resources for the recovery from the COVID-19 pandemic, and a cost-of-living crisis exacerbated by the consequences of the Russian invasion of Ukraine. 
The financial system, declared the UN chief, routinely denies African countries debt relief, and charges extortionate interest rates, starving them of investment in vital areas, such as health, education, and social protection.
The answer, according to Mr. Guterres, is a radical transformation of the international financial system, centred on the needs of developing countries.
Ensure a just transition to clean energy
Moving to the climate crisis, Mr. Guterres acknowledged that a transition to a clean energy future must address issues of energy access and development challenges, on a continent rich in fossil fuel sources, where millions are without electricity.
He said that, in order to decarbonize and develop, African countries need wider access to technologies such as battery-storage systems, components, and raw materials. 
A "tidal wave of support" from developed countries is needed, he said, to match the leadership shown by several countries on climate issues; he cited Kenya's green economy strategy, efforts to protect the tropical forests of the Congo, South Africa's Just Transition Energy Partnership, and the AU's ambitious Green Stimulus Programme. 
The African Union is taking inspiring steps to help realize the enormous potential of this great continent, @antonioguterres at the opening ceremony of #AUSummit2023.

Full remarks 👇
https://t.co/6nXCDojQ2B

📷 UN Photo\Daniel Getachew https://t.co/4QEjfes0Oj

UN_Spokesperson
This support, continued Mr. Guterres, must include delivering on a fund for the losses and damage caused by the crisis, a doubling of adaptation finance, and ensuring that every country has early warning systems in place, affording protection from extreme climate shocks.
Africa needs peace
On the subject of peace and security, Mr. Guterres noted that the UN's role is becoming more complex each year, with more conflicts, terrorism, and insecurity. He called for a more flexible and efficient system, as outlined in the UN New Agenda for Peace, which is aimed at reinforcing the Organization's peace missions.
This new agenda, explained the Secretary-General, needs to link peace to sustainable development, climate action, and human rights, with a greater participation of women and youth.
Mr. Guterres concluded by expressing his hope that the Twenty-First Century could be Africa's century, and the determination of the UN to work with each African country, in order to free the continent's enormous potential, and overcome the obstacles that are blocking its path.
© UN News (2023) — All Rights ReservedOriginal source: UN News