Sudan: Attacks based on ethnicity may amount to war crimes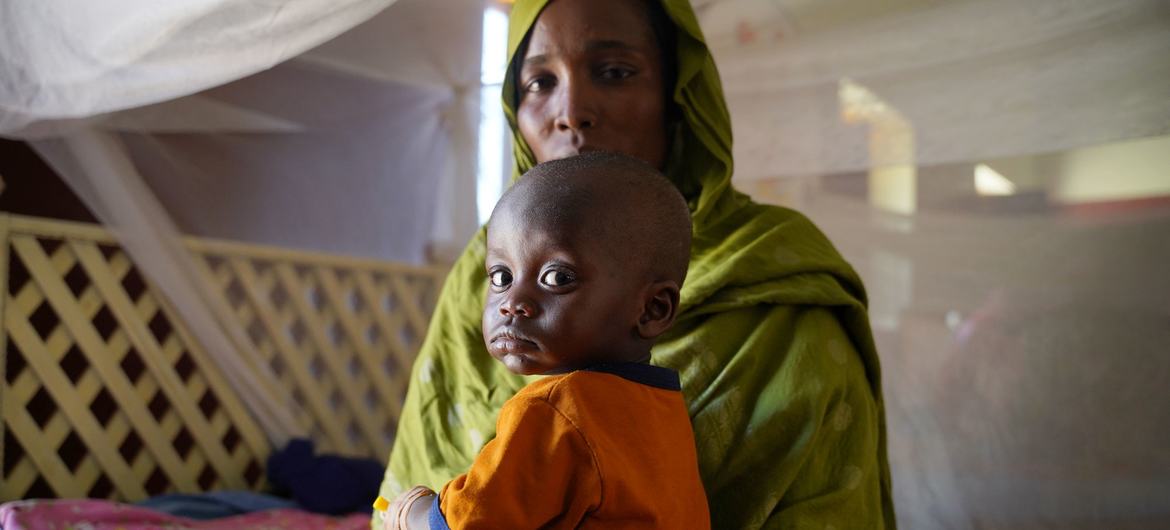 The ongoing conflict in Sudan has raised the spectre of ethnic violence and crimes against humanity, senior UN officials warned on Tuesday. UN Secretary-General António Guterres said he was deeply concerned about the increasing ethnic dimension, and appalled at reports of large scale violence in Darfur.
Fighting between the Sudanese Armed Forces (SAF) and rival military group the Rapid Support Forces (RSF), which erupted in mid-April, has left thousands dead or injured, and displaced more than a million.
Communities also continue to face severe shortages of food, access to medical supplies and restricted movement out of conflict areas, while allegations of sexual violence against women and girls have emerged.
'Deeply worrying'
UN Special Representative for Sudan, Volker Perthes, said the security, human rights and humanitarian situation continue to rapidly deteriorate across the country, particularly in the greater Khartoum, Darfur and Kordofan areas.
Mr. Perthes, who also heads the UN Integrated Transition Mission in Sudan (UNITAMS), said he was particularly alarmed by the situation in El Geneina, capital of West Darfur, where the violence has taken on ethnic dimensions.
"While the United Nations continues to gather additional details regarding these reports, there is an emerging pattern of large-scale targeted attacks against civilians based on their ethnic identities, allegedly committed by Arab militias and some armed men in Rapid Support Force (RSF)'s uniform. These reports are deeply worrying and, if verified, could amount to crimes against humanity," he said.
Two decades ago, thousands were killed across Darfur, and millions displaced, in fighting between Sudanese Government forces backed by allied militia known as Janjaweed on one side, and rebel groups on the other.
Document all violations
Mr. Perthes added the UN "condemns in the strongest terms all attacks against civilians and civilian infrastructure, whatever the form and whoever the alleged perpetrators are."
He emphasized that the security forces and non-State armed actors must uphold their duty to respect the right to life and refrain from attacks against civilians, in line with international humanitarian law.
"While I am encouraged that in some areas, local communities and state authorities have taken proactive measures to help de-escalate and mediate, it is important to ensure that all violations are documented and protected for accountability purposes," he said.
UNITAMS will continue efforts to monitor the situation and towards engaging with all parties to reach a peaceful resolution to the conflict, in coordination with regional and international partners.
Genocide expert's condemnation
Meanwhile, UN Special Adviser on the Prevention of Genocide, Alice Wairimu Nderitu, has strongly condemned the ongoing fighting and the parties' "blatant disregard for ceasefires", her office said in a statement.
Ms. Nderitu was also gravely concerned by renewed fighting in the capital, Khartoum, particularly targeted missile attacks against two neighbourhoods on Sunday, which killed 18 people and injured many others.
"In addition to human rights violations and abuses committed in Khartoum, the Special Adviser is alarmed by reports that the security vacuum and the protection gap in several states has been exploited by armed groups, including the Janjaweed and other rebel armed groups," the statement said.
"These groups have allegedly been retaliating against ethnic communities on the basis of their ties to the main parties to the conflict, the Sudanese armed forces and the RSF. These attacks, if confirmed, could amount to war crimes and crimes against humanity."
No justification for reprisals
The Special Adviser also warned of the potential of war crimes in Darfur, where hundreds have been killed and injured in reported clashes between members of different groups.
Homes have been looted and burned, and the hospital in El Geneina was also attacked. As civilians flee the fighting, homes abandoned by Masalit communities have been occupied by Arab communities, according to reports.
Although tensions between ethnic communities are not new in Darfur, they could not be used as a justification for reprisal, the statement said.
Civil war fears
"The violence in West Darfur is shocking. If it continues, it can develop into renewed campaigns of rape, murder, and ethnic cleansing amounting to atrocity crimes," the Special Adviser warned.
Ms. Nderitu feared that if left unaddressed, the violence and intercommunal clashes occurring in some areas of Sudan could engulf the entire country in a civil war, with high risks of atrocity crimes being committed.
The Special Adviser stressed that the SAF and RSF leaders have a responsibility to protect civilians, and to respect international human rights and humanitarian law.
She also called for an urgent and consolidated ceasefire, and for accountability for human rights violations and abuses.
UN chief 'highly worried'
UN Secretary-General António Guterres is "highly worried about the increasing ethnic dimension of the violence in Sudan, as well as by reports of sexual violence", his spokesperson said in a statement issued later on Tuesday.
Mr. Guterres is deeply concerned about the situation in Darfur and appalled by reports of large-scale violence and casualties across the region, particularly in El Geneina, and other areas, including the city of Nyala in South Darfur, and in Kutum and El Fasher, located in North Darfur.
UN Spokesperson Stéphane Dujarric said the Secretary-General reiterates his call for the SAF and RSF to cease fighting and commit to a durable cessation of hostilities. The parties were also reminded of their obligation to protect civilians.
"The Secretary-General reaffirms the United Nations' commitment to supporting the Sudanese people," Mr. Dujarric added.
"With nearly nine million people now urgently requiring humanitarian aid and protection in Darfur, he stresses the need for an end to looting and widened access so aid can reach those who most need it."
The UN chief also paid tribute to humanitarian workers, especially local partners, who risk their lives to deliver assistance.
© UN News (2023) — All Rights ReservedOriginal source: UN News