Biodigesters Boost Family Farming in Brazil
by Mario Osava (

afogados da ingazeira, brazil

)
Inter Press Service
AFOGADOS DA INGAZEIRA, Brazil, Jun 24 (IPS) - "The biodigester really gives a huge boost to those who have the courage to do things," said Maria das Dores Alves da Silva, based on her own experience as a 63-year-old small farmer.
She did not hesitate to accept the offer of Diaconia, a social organization of Protestant churches in Brazil, to acquire the equipment to produce biogas on her farm in the rural area of Afogados da Ingazeira, a municipality of 38,000 people in the state of Pernambuco in the Northeast region of Brazil.
At first she did not have the cattle whose manure she needed to produce biogas, that enables her to save on liquefied petroleum gas, which costs 95 reais (20 dollars) for a 13-kg cylinder - a significant cost for poor families.
She brought manure from a neighboring farm that gave it to her for free, in an hour-long trip with her wheelbarrow, until she was able to buy her first cow and then another with loans from the state-owned Banco del Nordeste.
"Now I have more than enough manure," she said happily as she welcomed IPS to her four-hectare farm where she and her husband have lived alone since their two children became independent.
Das Dores, as she is known, is an example among the 163 families who have benefited from the "sertanejos biodigesters" distributed by Diaconia in the sertão of Pajeú, a semiarid micro-region of 17 municipalities and 13,350 square kilometers in the center-north of Pernambuco.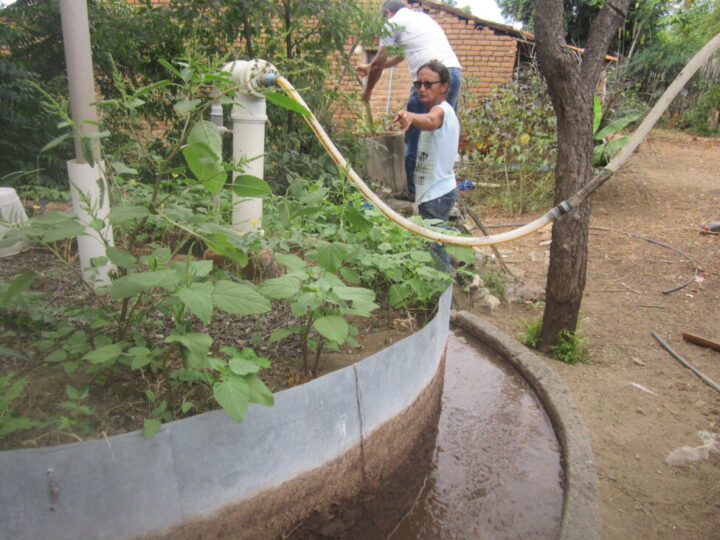 Biofertilizer
In addition to using the biogas, she sells the manure after it has been subjected to anaerobic biodigestion that extracts the gases - the so-called digestate, a biofertilizer that she packages in one-kilo plastic bags, after drying and shredding it.
Every Saturday, she sells 30 bags at the agroecological market in the town of Afogados da Ingazeira, the municipal seat. At two reais (40 cents) a bag, she earns an extra income of 60 reais (12.50 dollars), on top of her sales of the various sweet cakes she bakes at home, at a cost reduced by the biogas, and of the seedlings she also produces.
The seedlings provided her with a new business opportunity. "The customers asked me if I didn't also have fertilizer," she said. The biodigester produces enough fertilizer to sell at the market and to fertilize the farm's crops of beans, corn, fruit trees, flowers and different vegetables.
This diversity is common in family farming in Brazil's semiarid Northeast, but even more so in the agroecological techniques that have expanded in this territory of one million square kilometers in the northeastern interior of the country, which has an arid biome highly vulnerable to climate change, subject to frequent droughts, and where there are areas in the process of desertification.
The Pajeú river basin is the micro-region chosen by Diaconia as a priority for its social and environmental actions.
Energy and food security
"We seek to promote energy, food and water autonomy to maintain more resilient agroecosystems, to coexist with climate change, strengthening community self-management with a special focus on the lives of women," Ita Porto, Diaconia's coordinator in the Pajeu ecoregion, told IPS.
"The production of biogas on a rural family scale fulfills the needs of energy for cooking, sanitary disposal and treatment of animal waste and reduction of deforestation, in addition to increasing food productivity, with organic fertilizer, while bolstering human health," said the 48-year-old agronomist.
More than 713 units of the "sertanejo biodigester", a model developed by Diaconia 15 years ago, have been installed in Brazil. In addition to the 163 in the sertão do Pajeú, there are 150 in the neighboring state of Rio Grande do Norte and another 400 distributed in six other Brazilian states, financed by the Caixa Econômica Federal, a government bank focused on social questions.
"Hopefully the government will make it a public policy, as it has already done with the rainwater harvesting tanks in the semarid Northeast," said Porto.
More than 1.3 million rainwater harvesting tanks for drinking water have already been built, but some 350,000 are still needed to make them universal in rural areas, according to the Articulation of the Semi-Arid (Asa), a network of 3,000 social organizations that spearheaded the transformative program.
The value of manure
"One cow is enough to produce the biogas consumed in our stove," said Lucineide Cordeiro, on her one-hectare farm where she grows cotton, corn, sesame seeds and fruit, in an interconnected agroecological system, along with chickens, pigs and fish in a pond.
She also has two oxen and two calves, which she proudly showed to IPS during the visit to her farm.
"Pig manure produces biogas more quickly, but I don't like the stench," the 37-year-old farmer who is the director of Women's Policies at the Afogados da Ingazeira Rural Workers Union told IPS.
The difference in the crops before and after fertilization by the biodigester by-product is remarkable, according to her and other farmers in the municipality.
She tends to her many crops on her own, although she is sometimes helped by friends, and has several pieces of equipment such as a brushcutter and a micro-tractor.
"But the seeder is the best invention that changed my life, it was invented by the Japanese. Planting the seeds, which used to take me two days of work, I can now do in half a day," Cordeiro said.
The seeder is a small machine pushed by the farmer, with a wheel filled with seeds that has 12 nozzles that can be opened or closed, according to the distance needed to sow each seed.
The emergence of appropriate equipment for family farming is recent, in a sector that has favored large farmers in Brazil.
Female protagonism clashes with male chauvinist violence
For the success of local family farming, the support of the Pajeú Agroecological Association (Asap), of which Cordeiro is a member and a "multiplier", as the women farmers who are an example to others of good practices are called, is important.
In family farming the empowerment of women stands out, which in many cases was a response to sexist violence or oppression.
"The first violence I suffered was from my father who did not let me study. I only studied up to fourth grade of primary school, in the rural school. To continue, I would have had to go to the city, which my father did not allow. I got married to escape my father's oppression," said Cordeiro, who also separated from her first husband because he was violent.
After living in a big city with the father of her two daughters, she separated and returned to the countryside in 2019. "I was reborn" by becoming a farmer, she said, faced with the challenge of taking on that activity against the idea, even from her family, that a woman on her own could not possibly manage the demands of agricultural production.
Organic cotton, promoted and acquired in the region by Vert, a French-Brazilian company that produces footwear and clothing with organic inputs, has once again expanded in the Brazilian Northeast, after the crop was almost extinct due to the boll weevil plague in the 1990s.
In the case of Das Dores, a small, energetic, active woman, she has a good relationship with her husband, but she runs her own business initiatives. Thanks to what she earns she was able to buy a small pickup truck, but it is driven by her husband, who has a job but helps her on the farm in his free time.
"He drives because he refuses to teach me how, so I can't go out alone with the vehicle and drive around everywhere," she joked.
© Inter Press Service (2023) — All Rights ReservedOriginal source: Inter Press Service